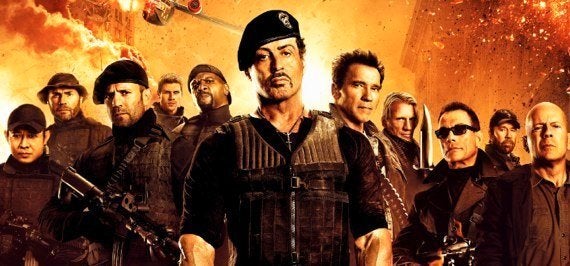 This weekend, Sylvester Stallone and company return to action in the sequel to "The Expendables" -- conveniently titled "The Expendables 2." There's been a lot of talk this week about just which member of "The Expendables" is the most or least expendable. We thought it would be fun to take a look at a good portion of the team when they were all at their most expendable. You know, back when Stallone was doing soft-core pornography and Bruce Wills was singing the theme song to Seagram's Golden Wine Coolers.
Ahead, a look at the early careers of "The Expendables" cast.
Sylvester Stallone -- "Party at Kitty and Stud's"
Infamously, Sylvester Stallone's first movie role was in something called "Party at Kitty and Stud's," which, yes, is a soft-core porn film. After Stallone became Stallone, the film was renamed "The Italian Stallion" because of course it was going to be renamed "The Italian Stallion". A new trailer made sure the viewer knew exactly who was playing Stud.
Arnold Schwarzenegger -- "Hercules in New York"
A 22-year-old Schwarzenegger makes his film debut (as the title already spoiled you) playing Hercules roaming around the streets of New York City. Here, Arnold as Hercules does not seem impressed by the athletes practicing their discus throws. Hercules then shows them how it's done -- well, at least if you happen to be a half-god. The best part of this clip is at the end when Hercules demonstrates his long jumping skills with perhaps the worst edited long jump in the history of cinema.
Chuck Norris - "The Wrecking Crew"
Norris' film debut was as a blink-and-you'll-miss-him extra in the fourth installment of Dean Martin's Matt Helm spy series, 1969's "The Wrecking Crew." Also notable: This was Sharon Tate's last film released before being murdered by members of Charles Manson's "family."
Jean-Claude Van Damme -- "Breakin'"
Yes, this is real. You can only see him at about 25 seconds into the clip, but, yes, there's Jean-Claude Van Damme dancing. Not just dancing, but he's dancing in the movie "Breakin'." And he looks so ... happy.
Jason Statham -- "Lock Stock and Two Smoking Barrels"
Jason Staham, known now for mostly action-orientated roles, made his debut in Guy Ritchie's 1998 film, "Lock, Stock and Two Smoking Barrels." Statham played Bacon, who is involved in a heist to steal money that is owed to a crime lord after a card game gone wrong.
Dolph Lundgren -- "A View To A Kill"
As we discussed with Lundgren, he traded in his career as a chemical engineer to become an actor. Here, alongside his romantic interest at the time, Grace Jones, Lundgren makes his film debut in the fairly terrible James Bond movie, "A View To A Kill." (Though, Duran Duran's theme sone was pretty fantastic.)
Terry Crews -- "The 6th Day"
"The Expendables" franchise is not Crews' first collaboration with Arnold Schwarzenegger. Crews, before he even retired from the NFL, starred alongside Schwarzenegger in "The 6th Day," a movie that took place in 2015 and saw Schwarzenegger fully cloned. (Reality now has less than three years to find the technology to fully clone an adult human being and invent the hoverboard.)
Sadly, no video seems to exist online of Willis' uncredited role in "The First Deadly Sin" or even his guest appearance on "Miami Vice." So, instead of just posting a clip from "Moonlighting," this seems as good as any excuse to watch Bruce Willis sing the theme song to Seagram's Golden Wine Coolers. "It's wet and it's dry. MY MY MY MY!"
Mike Ryan is senior entertainment writer for The Huffington Post. He wishes Bruce Willis would start singing commercial jingles again. You can contact Mike Ryan directly on Twitter.
PHOTO GALLERY
'The Expendables 2' Posters and Stills
Calling all HuffPost superfans!
Sign up for membership to become a founding member and help shape HuffPost's next chapter
BEFORE YOU GO