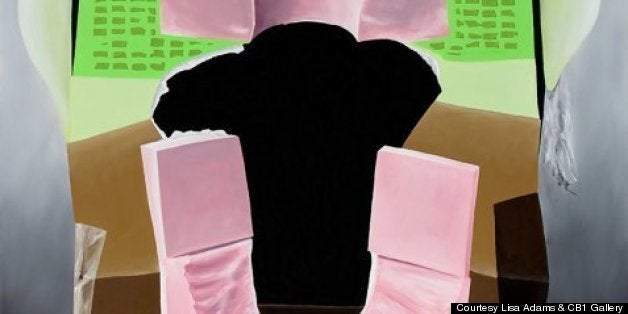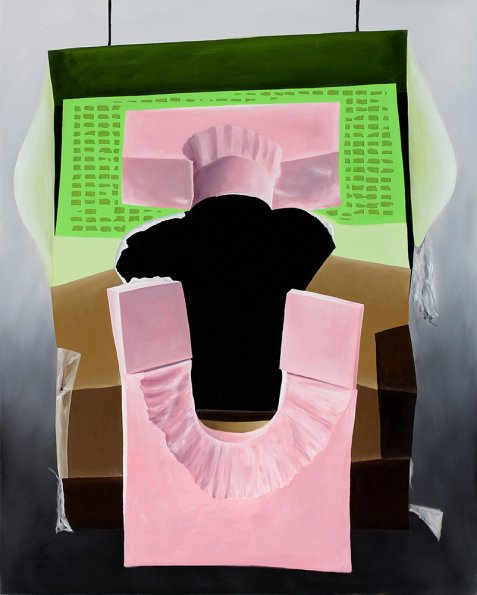 The Principal of Competitive Exclusion, 2012, 60" x 48", Oil on panel, Courtesy Lisa Adams & CB1 Gallery
"Second Life," is the title of Lisa Adams' show of new work at CB1 Gallery. The ambiguity between the show's title and the imagery in the paintings is no coincidence. Second Life is actually the name of an online virtual world, where users, aka avatars or Residents, interact with each other in different social settings. In other words, Second Life is the personal fantasy world you build, where you include and exclude whatever you desire. Adams' "Second Life," is it's own kind of virtual world. Adams has a voracious appetite for images and ideas, and she satiates this hunger with an agglomeration of film viewing, imagery perusal online, top watched video on Youtube, treks to the LA River and Angeles National Forest and taking snapshots. Adams is as easily fascinated by Werner Herzog's Lessons of Darkness as Jon Rafman's "9-Eyes." She admits to spending hours online researching, where a single thread of an idea leads to another and then another. She is constantly on the hunt for images that represent her definition of beauty, an intriguing combination of the exquisite and the abject.
I got a clear idea of Adams' notion of beauty as we walked towards the coffee shop in downtown Los Angeles, where we would continue our discussion of her work. As we talked, a guy passed us by covered in chains and tattoos. Adams quickly pointed him out and said, "Don't you love that?" On another block we saw a long line of small tents that the homeless were sleeping in. Adams talked about how many people are fearful when they are in this part of town but that it energizes her. She has lived in downtown LA on and off for a total of 15 years and told me that every city she's lived in has a neighborhood that is comprised of this dense urban living, which she prefers. This is another of numerous contradictions in Adams' life and work, because many of her paintings contain renderings of delicate plant life. Perhaps it is because Adams' knows this incongruity exists in each of us.
I think everybody is more or less like me, meaning that they are comprised of a mosaic of different ideas and backgrounds. I just think the difference is that most people don't embrace it because it's too complex and too confusing. It's easier to identify with one basic way of being, one basic set of ideas, with of course some variation a few degrees off center. It's like when I used to paint abstractly everybody I knew identified exclusively with being an abstractionist and I did not. And they would all go on to continue to do abstraction with the exception of one. When I started changing none of them could understand why I would do such a thing.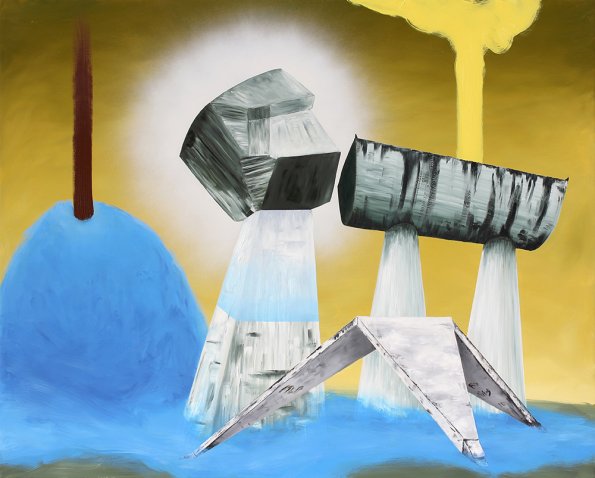 The Reality Breakdown, 2013, 48" x 60", Oil and spray paint on panel, Courtesy Lisa Adams & CB1 Gallery
There has been a lot of discussion about the real world collision of how Adams' external vision was impeded by the impairment of her physical vision. In August of last year, Adams was required to have emergency surgery to repair a detached and torn retina in her right eye. What could be more terrifying to a visual artist than to have her sight threatened? Much has been made of the intense drive that would come about after such an event, but the truth is, Adams has had the impetus to make art for as long as she can remember. It is the desire to experience and explore her own interior landscaping that has impassioned her since she could hold a crayon. As she explained it to me, her internal investigations are the places in which she prefers to live and the recreation of them in painting is akin to complex problem solving. Adams is more than a little like an architect who imagines, drafts and then fabricates.
Unlike most recent art grads, after Adams received her MFA from Claremont Graduate University, she did not immediately apply for teaching positions. Instead she went straight into a full time studio practice, which included four years in New York, where she made great headway in carving out a personal practice and style. After much success, which included gallery and museum shows in and around LA, a Brody award and a Fulbright Scholarship, Adams made a tough decision. To continue to be personally rewarded by her work, she needed to make a drastic change in her artistic explorations. In a move akin to Alice Neel -- who ignored the current trends of her time, like Abstract Expressionism and Pop Art, she continued her particular style of portraiture -- Adams decided to move from abstract work to recognizable imagery and the surreal. Because Adams is so driven to satisfy her own standards and goals, trends and movements have never been considerations in her work.
Adams' describes the internal pull that drove her to change her work so drastically:
I thought to myself, what do I feel is missing from my authentic interests? It was my true love of Surrealism since I was a child and what did that mean to me as an adult? The word "contemplative" came to mind and so I thought I would delve into my mind and emotions in a way that were more direct and also explore the world of representation which I had never done before. So I started the LONG (didn't know it would be that long) journey of going to the "other side." It took a good ten years to really start to find a voice/vision in this other world and to my surprise I was subconsciously bringing with me moves from the abstract work and using them along with recognizable imagery. It was really my internal world I wanted to focus on and as a result it's made me much more internal in real life, with a deeper need for privacy and seclusion. My art practice has always instructed my real life for better or worse, not the other way around.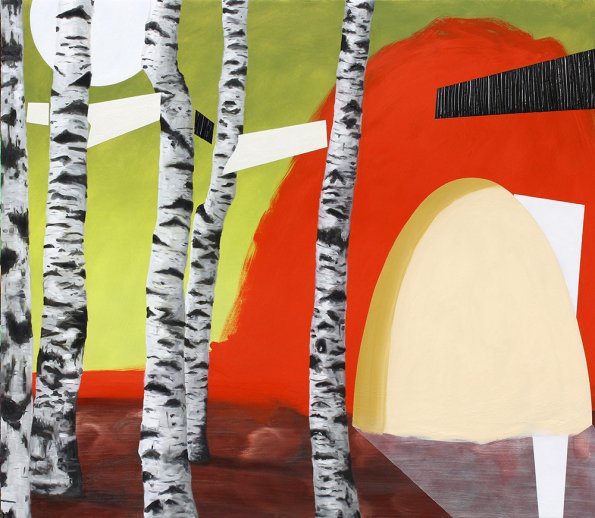 Almost A Forest, 2012, 40" x 48", Oil on panel, Image Courtesy Lisa Adams & CB1 Gallery
Adams' work exists in a crack. Her work cannot be classified as one particular style because she incorporates abstract elements with recognizable ones, a pop sensibility with graffiti spray paint and a hint of abject expressionism. On top of that, there is a subtly implied askew narrative:
It's a weird space to be in between abstraction and representation but I like it. For me it's like being fluent in two languages and I have always admired that kind of flexibility. Being bilingual gives you an insight into each culture more fully.

Narrative is something I share with film and maybe that is why I take such inspiration from film. "Story-telling" is NOT a bad word in film, and in fact there really is no other basis to film then story telling. I mean what are you going to make, an abstract film? Yes of course such films have been made by artists, but they are not really part of film's history. From what I can tell a filmmaker is always looking for a good story.
Adams' The Principal of Competitive Exclusion, is the perfect example of her many internal worlds meeting physical manifestation. Here we are faced with a torn construct, leaving an aperture that leads us into total darkness. The pink molded form is part barrier and part broken body. It's top half torn off, bends onto another plane and forces you into a chasm that is surrounded by a wall with a fragmented vision, like looking through a prism. The chartreuse green is an amped up grid of color that is both a screaming green light to go or a call to nature. The entire form is so off kilter that it's dizzying, like the way you would feel climbing a narrow lopsided staircase. The magnetic pull and the contorting push, beg you to enter an unknown dimension that is akin to a black hole. This twilight zone schism is derived from the foam face piece Adams used in her required face down positioning, post surgery. It isn't so much that she wants to make a personal statement about the trauma of her malady as much as this once useful piece of medical equipment has now become a part of her visual circumference and is incorporated with the same kind of fascination that a vine, school house, rose or birch tree might be.
Adams lives in an intimate interior and it is the communication of this private real estate, the place where she discovers her personal zeitgeist, which she flushes out in her paintings.
PHOTO GALLERY
The Exquisite and the Abject: The 'Second Life' of Lisa Adams

Lisa Adams' Second Life runs through May 12th at CB1 Gallery
REAL LIFE. REAL NEWS. REAL VOICES.
Help us tell more of the stories that matter from voices that too often remain unheard.