A rare woman is very difficult to describe-therefore I prefer to do an interview of Liana Yaroslavsky.
I met Liana several years ago in Paris and now she is planning to come and work in the U.S, designing furniture and decorating homes. Liana is an incredible and undeniably elegant woman. She has a tall physique, beautiful face, generous smile, and intelligent eyes. Her sense of style is considered "high fashion", yet she has an understated sophistication and grace that I feel comes with her colorful background. She usually wears her hair short and sleeked back. She wears haute couture and ready to wear collections right of the runway. She walks into a party like a noble aristocrat. She is on the guest lists at the most premiere fashion and social circles. She is a global woman of fine taste and character. She is a mother, an incredible artist and an interior decorator.
Liana's coffee tables are thought-provoking. Her designs are so original that the person with the most esteemed tastes would want to have her artful furniture in their homes. Each piece is more like a gallery art piece. Her life would actually make for an incredible Hollywood script. She is anything but ordinary. She is unforgettable and distingué.
What is your design and school background, do you think it helped your creativity or was that innate?
I went to Parsons School of Design in NY, graduated as a graphic designer and worked in that field for 13 years. Parsons was an amazing experience. NY at the end of the '80s was inspiring but I came with my "baggage" from Communist Russia and then Israeli army. Different cultures intertwined helps to have a different perspective. Later I changed to interior decoration and furniture design. It just came naturally and I have been designing for the last 25 years...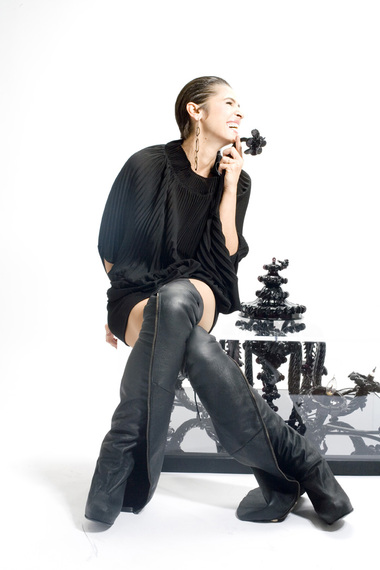 How did you grow into being an avant garde designer?
I just don't like anything ordinary- I want to push the boundaries and create things that are surprising with an historical reference.
I've been following Russian designers over the past few years, and they are ferociously taking over the art and fashion industries, Russians have an amazing sense of style and skill in design, why do you think that is?
Rich history and repression, is a great base for art and creativity to blossom.
Do you meet your new clients in social atmospheres or do they find you after having seen your work at galleries?
Mostly I design for clients that have seen or read about my work. I don't like to talk about my work at dinner parties, I much prefer to hear about others since I know all about myself already...
How do you think Paris style differs from LA? in NY there's a distinct aesthetic in furniture fashion- how do they differ in terms of the weather and culture in terms of designing?
LA is less formal, it is more about the outdoors and a relaxed atmosphere. Paris is focused more on history and formality. NY is more about the grunge.
Your coffee tables are magnificent, how was that unique design concept born?
The concept was born from designing a coffee table for myself. I couldn't find one so I designed it, after seeing the result and quite amazing reviews, I was inspired to design a collection The inspiration of the collection came from different fields; history, movies, music and found objects. I gave liberty to my imagination without thinking about the technical aspects. I derived from the idea- that there is always a way how to construct and make them- the idea came first, then the technical struggle, after. Some of the pieces I sketched first, then found a way to make them. Those are the limited edition series. For the one off pieces, I acquired objects from different times in history, deconstructed, reconstructed and associated them to other objects. It's like making an installation or conducting an orchestra. The result was surprising... an old object associated with a new way of presenting it radiated a unique energy and a new story.
Do you have any favorites among your designs?
I don't have favorites. All my creations are unique to me, each came from a different inspiration. You know, between the sketch, the concept, the technical struggle then when eventually the piece is born into real life. It is surprising and very emotional process, the result is not always what I expected, but I always found it to be better in real than on paper. It's like having a baby-you fall in love with it when it comes into the world. I cannot have favorites. Even though there is a margin of error and imperfection since everything is done by hand, I think it adds to the charm.
Your status as a sought after designer became a lot more evident after which recent showing? why do you think?
I think it is a combination of various publications, shows and awards but mostly it is a style that is unique. The show in Pratt Gallery in NY was very important but also the one in the Meurice hotel in Paris, where they actually kept my creations for a whole year since they felt it melted into their environment perfectly.
Why are you drawn to LA? and where is your favorite places to go? On that same note, where would you compare it to (or not) in your favorite places of Paris?
LA is a happy and sunny place, people work hard but they don't seem so stressed as in NY or upset as in Paris. My favorite place in LA is the Beverly Hills Hotel. I find it to be a perfection; the pink, the banana leaves, the hollywood glamour and the martinis. I cannot compare it to Paris and it is a good thing since it's unique. My favorite restaurant in Paris is Caviar Kaspia with its Russian food and French atmosphere facing the Madelaine church.
What is in store here in the future for you here in terms of commissioned work?
I am represented in LA by Twentieth Gallery which I think is the perfect place for me and it helps that I love their selection of designers and artists. It is quite an amazing place!
What do you look for in a man?
Oh it's simple, I want him to be intelligent, generous, affectionate, successful, confident, funny, tall and know which wine to choose.
Can you tell us about some of your upcoming projects?
Unfortunately I cannot mention any yet but there are quite few in perspective with central, monumental pieces and interior decoration. I will have to spend a lot of time in the U.S. for that and produce them locally, it is very exciting, new and challenging working with new vendors away from my comfort zone.
You have such presence when you walk into a party! Are you are aware of that, did it help that you were a model?
I was a model ages ago but I do not think it has anything to do with the way I walk into a party and no, I am not aware of my presence, maybe that's the key - not trying too hard.
You're great friends with several fashion designers that I admire...how do they differ from interior designers?
They don't but they are more under pressure since they have to produce at least 2 collections per year.
What is your beauty regimen?
Chardonnay.
What is your guilty pleasure?
Dark chocolate.
Where is your favorite place to travel for relaxation? inspiration? for fun?
Maldives for relaxation, Venice for inspiration and NY for fun.
I know so many people in LA that want you to design for them, how do you plan to work with them when you go back to Paris?
I don't plan to go to Paris, at least not for long. I have so many work opportunities here that this is the new place to be. LA become quite a center for art and design and it is still growing. I would like to be in a place that is developing. When there is a space art fills it up and LA is one. Seriously, I do have quite few upcoming projects in the U.S., I do feel that I can bring a new and fresh perspective and this is not saying that there are no great designers here because there are plenty.
What is your perfect morning? evening?
Sunny morning with coffee and Huffington Post and evenings spent with friends around a great meal that I didn't cook.
If you moved to LA, where would be the ideal location you'd like to live?
I really like West Hollywood. It has the privacy, nature and social life at the same time. Coming from Paris, I need something that resembles a center.
Could you describe to me your character in five words?
Spontaneous, creative-insecure (comes as a package), funny (my kids don't think so), passionate and curious.
What is important to you in a friendship? relationship?
Loyalty, laughs, open mind and love. Not very original.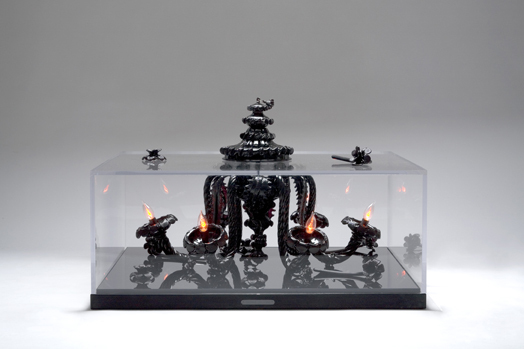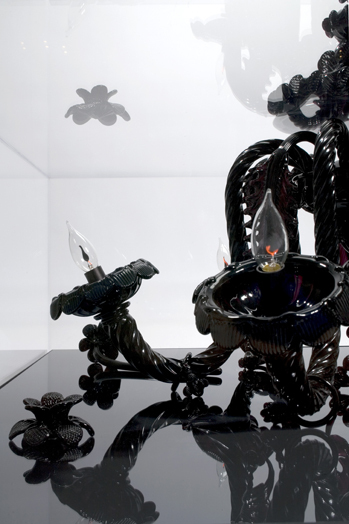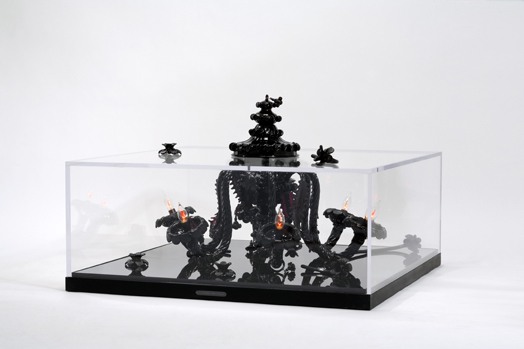 Maure de Venise
limited edition of 12
Crystal Murano chandelier (by Archimede Seguso), black mirror, plexiglass, steel.
Dimensions: 1100 x1100 x 460 mm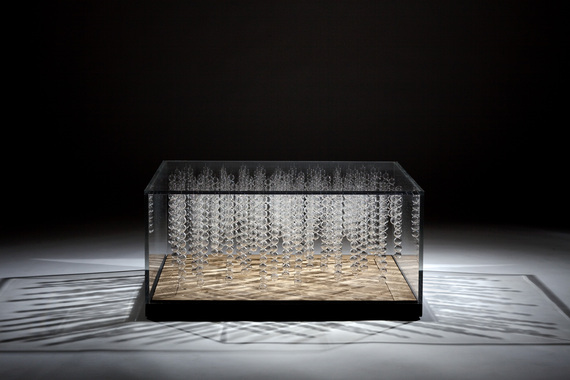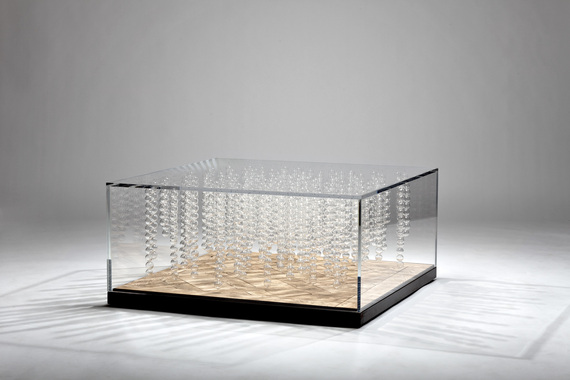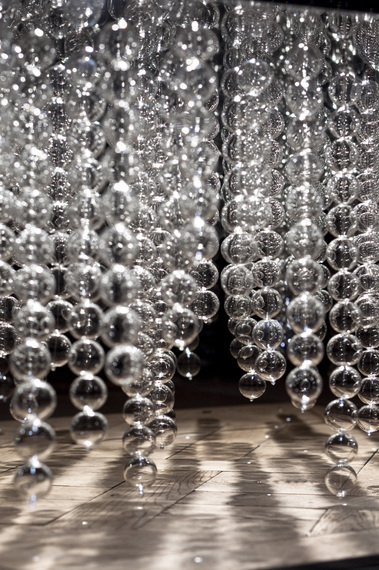 L'O
limited edition of 12
Murano blown glass upon a Versailles parquet floor dotted with LED lights, plexiglass,
steel.
Dimensions : 1036 x 1036 x 475 mm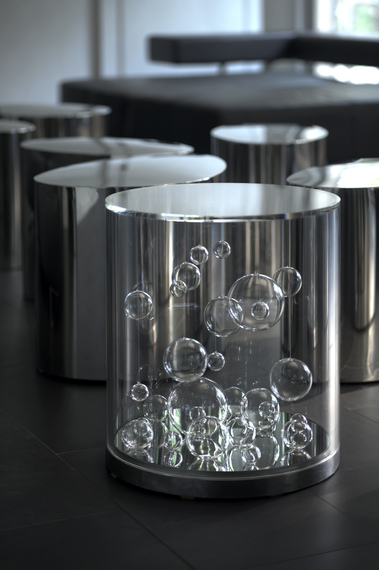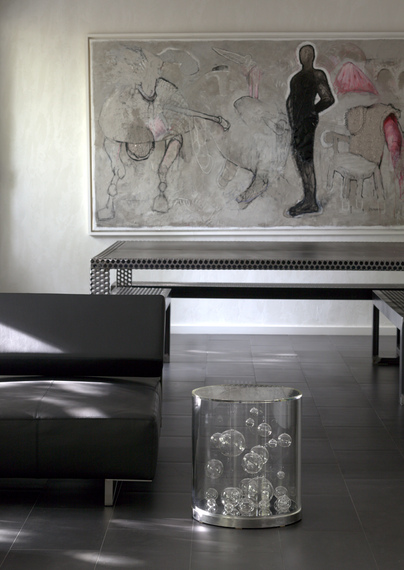 O2 Variations side table
Balls of Murano blown glass float above a one way mirror dotted with LED lights,
plexiglass, steel.
Dimensions: 400 x 450 mm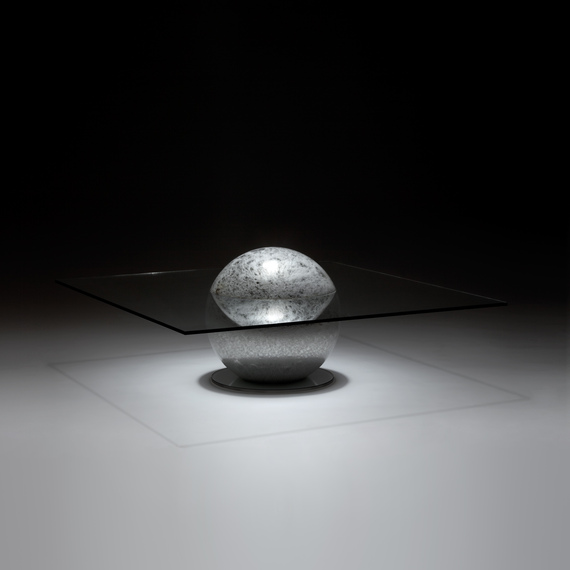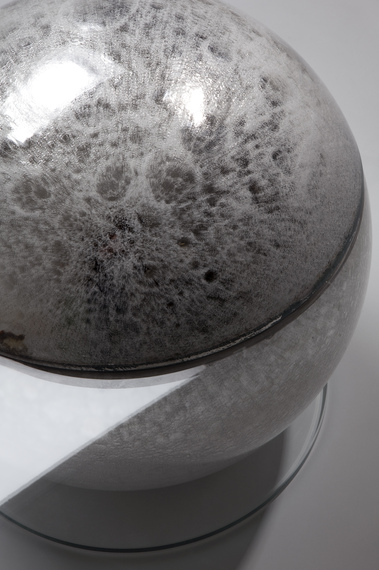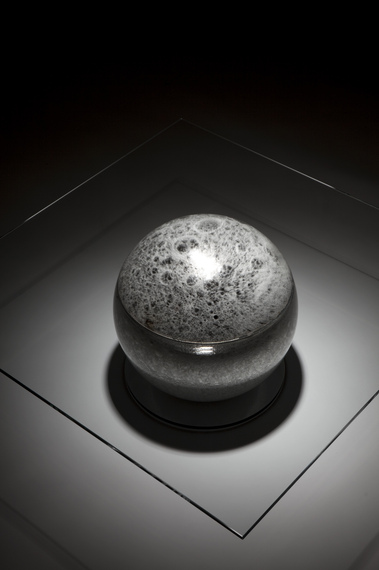 La Luna coffee table
Murano glass blown sphere with « pullegoso » effect, mirrored on the Inside
Dimensions : 1100 x 1100 x 330 mm

You can find more on Liana's original designs at www.lianayar.com and her pieces are also shown in LA at Twentieth, 7470 Beverly Blvd. Los Angeles, CA 90036 (323) 904-1200