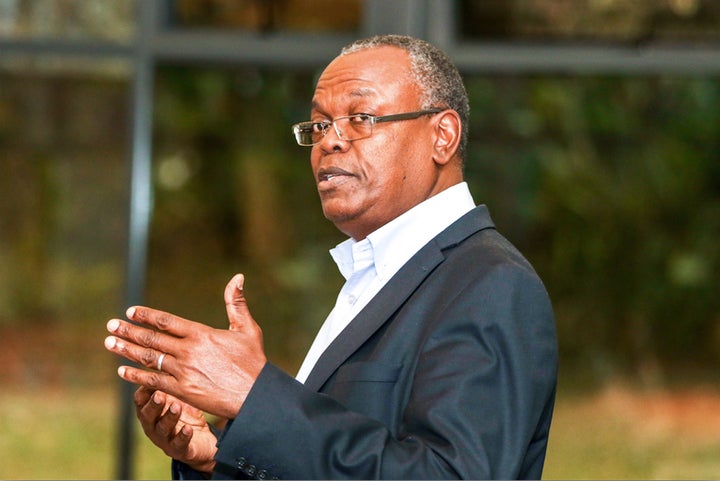 It's tough to get a phone call through to Dr. Phillip Muruthi, Chief Scientist for African Wildlife Foundation (AWF). He can be on three continents in any given week.
I just missed him in Kenya. He was incommunicado en route to Ethiopia, where I missed him again. I finally caught up with him in a New York hotel somewhere between presenting at a conference and fundraising.
After four rhinos arrived at my local zoo, I had to know more about the world they came from. I sought out the AWF because they are one of the oldest and most established wildlife conservation groups in Africa, and Dr. Muruthi has deep experience with rhino populations.
As a conservation scientist, Muruthi is at home talking about the movements of flagship species and the importance of keystone species to habitats. Yet he often finds himself in the thick of anti-poaching efforts, policing, ranger training, legal systems – that is, when he's not fundraising, advocating, or dedicating. It all seems far from the field glasses and data logs of textbook conservation science – welcome to the world of wildlife conservation.
Updates on illegal wildlife trafficking seem to follow Dr. Muruthi wherever he goes. Even as his internal clock was juggling Ethiopia to New York, he was receiving news of poachers.
"I just got a message yesterday – somebody who had been arrested at Nairobi international airport. This guy has been transporting ivory sticks, beads, rings, bangles."
Wildlife traffic crime doesn't rest.
From 2013- 2015, we kept hearing how both elephants and rhinos were being killed at a rate of 2 – 3 a day, driven by a heated black market for elephant tusk and rhino horn. Southeast Asia, China, and Yemen are just a few areas where demand for elephant ivory, rhino horn and pangolin scales has skyrocketed since the early 2000s. All of these animals are vulnerable species, the pangolin's situation being most dire.
In the nation of South Africa, home to roughly 70% of the world's rhinos and where the sale of rhino horn is now legal (since April 2017), poacher crime is a fairly common news item. The stories read like tales from the Wild West, except they're now. I read too many of these. For instance: An informant tip leads to a shootout between law enforcement and three wildlife traffickers, leaving one trafficker dead, one captured, and one escaped.
Whether it's a private reserve or a national park, providing security for the wildlife is a lot like funding a small army. In his talk at the Fall 2017 Wildlife Conservation Network Expo, Peter Blinston, founder of the Painted Dog Conservation in Zimbabwe, revealed that his organization spends $150,000 USD a year in anti-poaching security. This is in line with reports from private reserve owners, such as the infamous South African rhino ranch owner, John Hume.
As governments and NGOs deploy surveillance cams and trained ranger teams over reserves and parks, poachers alter their methods to avoid detection. They put a premium on killing silently and use silencers on their guns.
"They're using poisoning," Muruthi adds, "even elephants in Zimbabwe, they are poisoning."
From big export cities like Johannesburg to vast expanses of habitat in Tanzania's Serengeti National Park or Kenya's Maasai Mara National Reserve, solution-oriented NGOs like AWF find their mission creeping into every cranny of the poaching pipeline.
"You look at the whole chain," Muruthi says, assessing the current status of trafficking. "There is a lot of rhino horn out there. Traffickers have become very sophisticated."
AWF's long history of supporting elephant and rhino populations has led them into the heart of present-day anti-poaching efforts. When opportunity presents itself, they contribute to and cultivate intelligence networks.
"We're not just looking at airports, roadblocks," Dr. Muruthi recounts, "we are going to the places where intelligence is showing trafficking might be found."
It's a cycle, this Wild West world of trafficking. Protean intelligence rings evolve to match and outdo counter-intelligence rings as poachers and wildlife authorities compete for informants from among rangers, local farmers, lowly-paid ranch hands – anyone who might be bribed into complicity.
Since poverty and lack of opportunity fuel the poaching and killing cycle, AWF helps beef up school systems and offer training programs – ranger training, wildlife camp, tracker training, even dog handler training. It's a pragmatic approach to bring the next generation into the conservation fold. If protecting wildlife can create career opportunities, even stability for future generations, then the intrinsic value of wildlife becomes more tangible. Finding creative ways to link economic growth with healthy habitats has become a linchpin of contemporary conservation in Africa.
Judging from the way Dr. Muruthi balances realities on the ground with a visionary mission, he seems a nimble, strategic thinker with boundless commitment. He needs this. To protect endangered wildlife, he must operate at the intersection of overlapping goals. Human, wildlife, and habitat must all benefit from the same programs and expenditures. In terms of difficulty rating, it's probably akin to executing Triangle Pose across three horsebacks.
[Coming up in this series, how conservationists accomplish their special balancing act: part 2, Sniffer Dogs. This series is based on an interview with Dr. Phillip Muruthi of AWF about the state of rhino conservation in Africa. Among many primary sources, other resources include talks given by conservationists at recent Wildlife Conservation Network Expos.]
Popular in the Community