When I was a reporter for the U.S. Army in Vietnam in 1970 and 1971, I knew who was looking over my shoulder at what I was writing - Uncle Sam, of course, because I was forbidden to write a word that would hurt the mission (winning the war) or harm the morale of the troops. You could probably say the same about scrutiny (read surveillance) for the more than 5,000 journalists who covered the war in Vietnam between 1964 and 1973, which helps to explain how Daniel Ellsberg and The Pentagon Papers come in.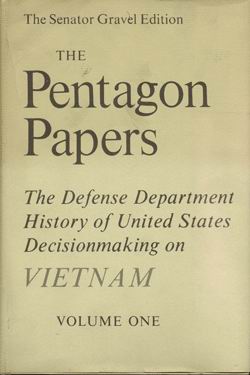 In some ways it's hard to believe that it's taken more than 40 years for the Ellsbergs of today - Bradley Manning and Edward Snowden to come forward. It's not like we stopped doing all the bad things we ever did or were going to do when we left Vietnam.
But that's another story, as yet to be written . . .
Much of today's hubbub reminds me of that great quote by James Madison, one of authors of the U. S. Constitution. Madison wrote, "A popular government without popular information, or the means of acquiring it, is but a prelude to a farce or a tragedy, or perhaps both."
The tragedy has to do with the Obama Administration's vigorous support of the Bush crowd's culture of mega-surveillance. The farce part has more to do with where I live, James Madison's namesake town in Wisconsin no less.
As reported in The Huffington Post, the Wisconsin Legislature's Joint Committee on Finance (JCF), the architects of the state's biennial budget for the next two years, included this in their biennial budget: "Prohibit the Board of Regents from permitting the Center for Investigative Journalism to occupy any facilities owned or leased by the Board of Regents. In addition, prohibit UW employees from doing any work related to the Center for Investigative Journalism as part of their duties as a UW employee."
As far as I can tell, the Center, which opened in 2009, exists to increase the quality and quantity of investigative journalism in Wisconsin while training the next generation of investigative journalists. It is nonprofit, nonpartisan and, is totally committed to accuracy and fairness. Its goal is to inform, not persuade, something James Madison would admire.
But this is 2013 where politics trumps everything, even sanity it appears. The amendment passed on party lines, 12 Republicans voting for it and all four Democrats on the committee voting against the measure and publicly denouncing it.
Most impressive to me were the sentiments of former students of the program. They wrote a letter in which they stated:
"We can attest that the award-winning Center's presence on campus has been fundamental to helping us begin our careers as journalists. At the Center, we exposed how college campuses fail to support victims of sexual assaults; a former governor's violation of state travel regulations; the exploitation of foreign workers in Wisconsin tourist zones, and conducted dozens of other important investigations. Many of us have built upon our experiences at the Center by later reporting for Wisconsin and national media including Bloomberg, the Associated Press and Forbes, in cities and towns across Wisconsin and the United States, and in several countries throughout the world."
So what does this have to do with Vietnam and surveillance and whistleblowers and James Madison?
Because whether Vietnam or Washington or Baghdad or Madison, those of us who value democracy, who understand that a government which functions in public is a government that does right by the people it represents, know that we all lose when we allow elected officials in Wisconsin or elsewhere to shut off independent watchdog journalism. And we know we lose when we silence the voices of those who speak the truth about what we are doing to others, and to our own citizens.
Which is why we need to put an end to this. As Neil Sheehan, who covered the war in Vietnam for The New York Times, wrote in 1966: "My quiet worry concerns what we are doing to ourselves in the course of prosecuting this war. . . in the process we are corrupting ourselves . . . and I hope we will not do this again."
Sadly, we have, and we are. Here, there, and everywhere . . .
Popular in the Community