A year after Egypt's feisty uprising challenged decades of autocratic rule, the most striking thing about the protesters still at Cairo's Tahrir Square is the plethora of eye-patches.
Waleed el Sayed, a lanky 23-year-old carpenter from Alexandria, wears a gauzy round bandage on his right eye. The cornea was destroyed, he told me, when he was hit by a rubber bullet during skirmishes with security forces last November. He feared losing the other eye when he was detained and beaten with truncheons in December. His brow was still visibly scarred and swollen a month later.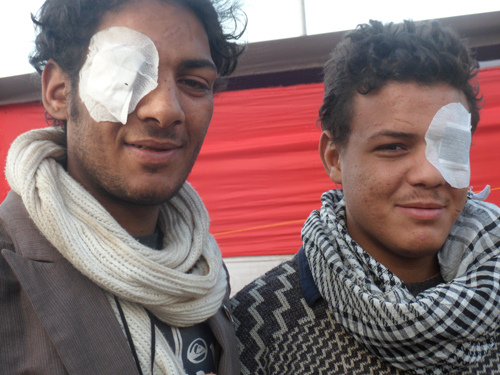 Bassem Abdel Nabi, who worked in tourism, wears a padded patch over his left eye. During the same street clashes, the 21-year-old from Suez said he was holding his hand up in a peace sign to signal non-violence when he suddenly felt pain in his eye and blood trickled down the side of his face.
I met the two of them in front of Sayed's tent of plastic sheeting and cloth this month. Despite the injuries and the winter cold, they have stuck it out in Tahrir Square. As I took this picture, Sayed reflected, "Between the two of us, one can see. But between the two of us, one is also blind."
The Eyes of Tahrir, as the problem is now known in Cairo, is one of many tangible human costs of the uprising, which will officially mark its one-year anniversary on Jan. 25. Some 3,800 Egyptians have suffered serious eye injuries in the unrest, with at least 1,500 losing one eye, according to ophthalmology conference this month. Human rights activists claim the firing of rubber bullets and pellet guns at protesters' eyes is a deliberate tactic.
But the young Egyptians also reflect a shift in the uprising's issues and players.
Egypt has set records for reversing political course over the past year. Phased seven-week elections for a new parliament wrapped up Sunday. The freest in Egypt's 5,000-year history, they gave the political edge -- close to 70 percent -- to Islamist parties long banned and politicians imprisoned or harassed by the previous government. The trial of former President Hosni Mubarak -- the first Arab leader to face justice -- is about to wrap up in the same courtroom where many of his opponents stood inside the same barred cage.
But a year of turmoil has also reversed tentative economic progress in the Arab world's largest country, which accounts for 25 percent of the 300 million Arabs spread across 22 countries. Egypt's economy, which is the fourth largest in the Middle East, has been tanking. Tourism is drying up. Investors have been scared off. And foreign currency reserves have plummeted.
Prime Minister Kamal el Ganzouri broke into tears last month as he told journalists that Egypt's economy was "worse than anyone imagines." The situation is sufficiently dire that the government has opened talks about a $3.2 billion from the International Monetary Fund, an idea it originally rejected as a threat to its sovereignty.
But to jumpstart the economy with an IMF loan, Cairo would also have to undertake reforms and reduce subsidies that could seriously increase public pain. By last October, 40 percent of Egyptians surveyed by Gallup already said they found it "very difficult" to get by, with nearly half of Egyptians saying they had faced times when they did not have enough money to buy food.
In an ominous sign for the future, youth unemployment -- in a country where 60 percent of the population is under 30 -- is currently estimated at 25 percent, with few of the young having any imminent prospects. Sayed and Abdel Nabi are among them. Many of the hardcore who returned to Tahrir last fall are the marginalized and unemployed, not the idealistic activists who launched the uprising.
Large numbers of Egyptians are expected to turn out Wednesday for various commemorations -- not all in common cause -- to mark the anniversary. But vast numbers also want the military-led government, which will rule until a new president is elected in June, to more urgently address their daily needs.
"I won't regain my eyesight," Sayed said, "But I don't want to leave Tahrir Square until I can reclaim my dignity."
Robin Wright, a joint fellow at the U.S. Institute of Peace and the Woodrow Wilson Center, is the author of "Rock the Casbah: Rage and Rebellion across the Islamic World."
Calling all HuffPost superfans!
Sign up for membership to become a founding member and help shape HuffPost's next chapter