The first film to explore 4th wave feminism through performance art will premiere during Art Basel Miami Beach on December 5th at the Coral Gables Art Cinema. Robert Adanto's documentary The F Word navigates the liminal space between 3rd and 4th wave feminism and between IRL and URL by capturing the work of Brooklyn-based artists who raise questions about self-representation, sexuality, and embodiment. Their work offers a glimpse of unbridled female power and sexual agency, and yet is not fully rooted in fantasy, often contending with the brutal realities of the male-dominated (art) world. Along with this dynamic cast of artists, The F Word includes commentary by scholars and professors alike -- including former Art in America senior editor Nancy Princenthal -- to add background and to contextualize the works and concepts he explores. After the premiere, three of the film's artists, Kate Durbin, Leah Schrager, and Katie Cercone will join the director in a post-screening panel discussion.
Adanto's film opens in silence with a close up of artist Leah Schrager's hot pink nails manipulating her camera, setting the stage for auto documentation. She poses effortlessly, staring ahead -- hair in her face, lips parted. Soon, a quote by Carolee Schneemann settles onscreen, foreshadowing the following hour and a half:
"I wanted my actual body to be combined with the work as an integral material -- a further dimension of the construction...I am both image maker and image. The body may remain erotic, sexual, desired, desiring, but it is well votive: marked, written over in a text of stroke and gesture discovered by my creative female will."
Within the first few minutes of The F Word, Adanto situates his young subjects in an art historical context by referencing Schneemann and Hannah Wilke, who defied the separation between artist and subject by incorporating their bodies into their practices. In the 1960s and 70s it was groundbreaking and even shocking for female artists to blur these lines -- and it remains so today.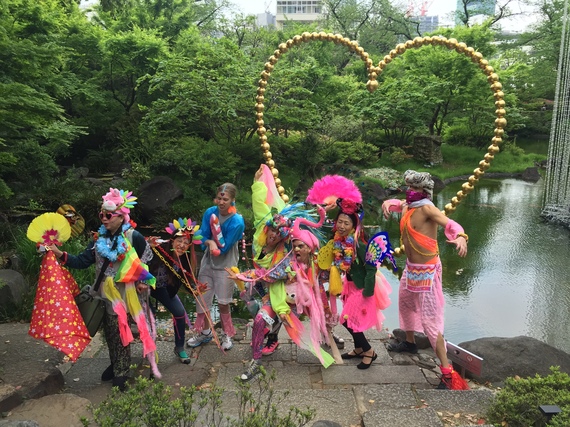 Go! Push Pops PRAY WILD Spirit Animal Workshop and Parade in Tokyo, Japan during Roppongi Art Night, with support from JUSFC and The International House Tokyo. Photo credit: Taro Hirayama​
Like Schneemann and Wilke, the artists Adanto features have faced accusations of narcissism and questions regarding the validity of their work because of its form and content. Schrager, known for her Naked Therapy project (amongst others) counters this idea, saying: "Just because something elicits arousal...does absolutely not make it not art."
Whether it's Michelle Charles tackling hip hop misogyny by embodying its sexist tropes, Kate Durbin elevating the selfie to an art form, Go! Push Pops protesting military rape as a performance piece, or Narcissister taking on each role in "Little Red Riding Hood" to channel the wolf within and subvert feminine ideals, every artist in the documentary grounds her practice in her own body. These women are able transform the tensions between sex, gender, race, porn, objectification, sexuality and feminism into work that is at turns uncomfortable, ugly, awkward, thrilling and vindicating -- but never boring to watch.
By using technology and digital spaces in uncharted ways, the artists in The F Word decenter the divide between artist and muse, self and other, watcher and watched. To put a twist on John Berger's famous line, these women both act and appear. They are independent agents, in control of their representation in ways largely unavailable to everyday women, and at times, are able to create a world -- if only a digital one -- that is far more open to transgressive possibilities than our own.
Calling all HuffPost superfans!
Sign up for membership to become a founding member and help shape HuffPost's next chapter