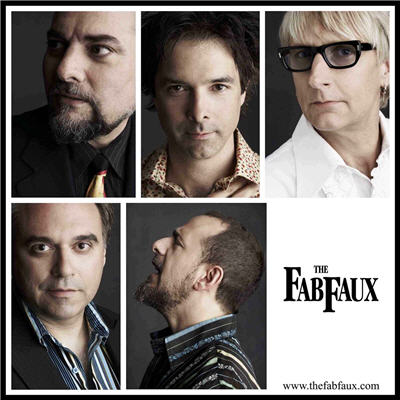 Legendary rock critic Dave Marsh once said of the Fab Faux, "All rock bands want to be like the Beatles; these guys have the nerve to BE the Beatles. Amazingly, they're so good at it you learn new things about the originals." And he's right. The band is quite literally a labor of love that was born years ago out of an elevator conversation between neighbors Jimmy Vivino (Music Director for Conan O'Brien) and Will Lee (bassist for Paul Shaffer's CBS Orchestra on the Late Show with David Letterman).
The band encompasses Vivino and Lee as well as drummer/producer Rich Pagano, keyboardist/guitarist Jack Petruzzelli, and guitarist Frank Agnello. The five principals contribute vocals and scads of multi-instrumental chops, most ably augmented by the four-piece Hogshead Horns (which includes alums from the SNL band, Blues Brothers, and Blood Sweat & Tears) and the Crème Tangerine strings. Their incredible stage shows have taken place at top venues in New York and L.A. as well as across the country and four times at Liverpool's annual Beatle Week.
Here let me interject that several years ago I went to see the band with some trepidation, being a dyed in the wool Beatles fan and having an innate horror of "tribute" bands who dressed up in collarless suits and shag haircuts. Not only was I pleasantly surprised by these fellows (who do nothing of the sort), but I literally was brought to tears by the incredible note-for-note accuracy of the material they played. It's one thing to listen to the original records - it's quite another to hear the incredible complexities of "Strawberry Fields Forever" or "A Day in the Life" or "Eleanor Rigby" and dozens of others played live, rounding out the Beatles' catalogue with live performances of songs they were never able to do on stage during their all too short performing career. For one thing, audiences screamed through their shows and made it difficult to hear anything - for another, the speaker systems of the time had not caught up to the technology needed to project music to a vast audience - and, most importantly, the Beatles stopped touring as their music got more complex (Revolver, Rubber Soul, Sgt. Peppers), being unable (and also unwilling) to reproduce those complex sounds onstage.
The Fab Faux stepped in decades later to fill an aching gap I didn't even realize was there, and believe me they've filled it beyond belief. I spoke to Frank Agnello about the John Lennon 70th Birthday Concert that they've planned for September 25th at New York's Radio City Music Hall. Lennon, had he lived, would have been 70 years old this year on October 9th. The band will be joined at Radio City by the Hogshead Horns and the Crème Tangerine Strings featuring the Nutopia Choir (Nutopia was a conceptual country invented in 1973 by John and Yoko, who declared themselves its ambassadors during John's immigration troubles with the U.S. government). There will be auxiliary players that evening to pitch in - including, said Frank, "our Bruce Johnson of the Fab Faux, Jim Boggia - he fills in when Jack or Jimmy is called away to do something, for instance the Conan tour," as well as redoubtable harpist Erin Hill.
"We've never done a show spotlighting a single Beatle before," Frank told me. "We've done albums and we've done a few Solo Years shows, but we've never done a show spotlighting a single Beatle - we're really excited!" He indicated that the set list of about 30 songs total would probably be two-thirds Beatles John and one-third Solo John.
The John Lennon 70th Birthday concert also marks The Fab Faux's return to Radio City Music Hall, following their sold-out 10th Anniversary event during which they delivered a marathon performance that began with "Magical Mystery Tour" and ending a full three hours later with "Hey Jude" with an audience of over 6,000 on its feet, swaying and singing along.
I asked Frank if there were any songs in the Beatles' vast catalogue that they had not yet tackled and the answer was only a very few: they've performed over 190 songs out of 213 total. They haven't done, for instance, "I Saw Her Standing There." Nor have they done the cover songs the Beatles recorded in their early career as of yet, tending towards the original material written by the band. And Frank has dibs on "'Till There Was You," just so you know.
How do they prepare the material, which is executed so impeccably in concert? Frank: "We all have headphones and we'll talk about who's going to play what part. Rich's parts and Will's parts pretty much take care of themselves and then it's just a question of deciding the other parts, how we're going to split them up. We don't do any lead vocal auditioning or anything like that, its all based on what songs we really have a desire to do, and that person will sing the lead vocal.... Jimmy had most of the lead guitar roles, when there was a second lead guitar Jack would usually step in, I would step in on lead guitar if both Jimmy and Jack were busy on keyboards, and other parts - I tend to get first call on the acoustic and on the electric 12-string parts. And we just divvy it up. Then at home we listen on the headphones, we get our parts as close as we can get them. And we'll come in for a couple of rehearsals after having worked on them separately at home. And that's how it all kind of comes together. We'll just fine tune from there."
I confessed that I'd cried with joy and amazement not once, but quite a few times when seeing the band perform songs I'd never imagined I'd ever have the chance to see and hear live. The records are great but to hear this material live in concert is a whole other dimension that we never had with the original band. Frank agreed, "Jack has said - people associate the Beatles with profound moments in their lives, and people will actually come to tears, the music's so important to them."
Have Paul or Ringo seen the band? Frank said no, but they are aware of them. "There's an interesting story that Will tells about Paul. When he played The Concert for New York in 2001 he told Paul about our band. He said, you know, Paul, I've heard you're not too keen on tribute bands but my friends and I, we try to do the stuff that you guys did after you came off the road. He said Paul without hesitation shot back, do you play "Tomorrow Never Knows"? That's all he wanted to know. And Will said, well yeah we do" (For those that don't know, Paul created the incredible samples that are famously heard in that particular song - and it happens to be one of the more incredible things in the Fab Faux overall repertoire).
The Beatles' music is so well known and well loved, that there's no way one could even attempt to do what the Fab Faux do - and do incredibly well - unless each musician were at the very top of their game. "I think people appreciate good musicianship," Frank stated. "We dig in when we play and we take the time to learn all the little details and play in a tight way. We have a really excellent rhythm section and Will is acknowledged of course as one of the best bass players probably in the world, so you cant go wrong with that, and I think people respond to good musicianship and a band that takes the time to do it right."
Of course I had to ask who Frank's favorite Beatle was, in the grand tradition of Tom Robbins in Still Life with Woodpecker (And I quote: "Bernard Mickey Wrangle had developed a psychological test of his own. It was short, simple, and infallible. To administer the test, merely ask the subject to name his or her favorite Beatle. If you are at all familiar with the distinct separate public images of the four Beatles, then you'll recognize that the one chosen reveals as much about the subject's personality as most of us will ever hope to know.") It's a question I like to throw into any interview with anyone from any walk of life, and of course it was even more appropriate in this one. The answer? John was his earliest favorite - and in fact at the age of six he was John for his first Halloween costume, but, "I've come to love them all."
If you're in or near Manhattan on Saturday, September 25th and you want to blow your mind to smithereens, get yourself over to Radio City and celebrate one of our greatest musicians and heroes of all time, John Lennon, with the Fab Faux. There is literally no group of musicians that could pay better tribute to this man and his musical legacy.
Tickets available here. A portion of the evening's proceeds will benefit Spirit Foundation - a charitable foundation set up by John Lennon and Yoko Ono.
Watch an extraordinary live, in-studio performance here of The Fab Faux recreating Side Two of Abbey Road
Popular in the Community