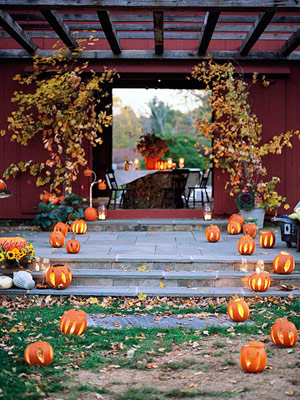 As soon as the mercury dips below 60 for three consecutive days, I get this unrelenting urge to roast squash, bake pumpkin pies and drink a good red wine. I feel the need to entertain. Sort of like a Thanksgiving party without the annoying relatives, the football and the pressure. Just me, my family and some cool friends enjoying a crisp weekend afternoon eating great food, sipping on Cabernet-filled goblets and breathing in some fresh air. It's really what fall is all about. The calm before the storm, so to speak.
October is the best time of the year to host a Fall Harvest Party. Once November arrives, it's all about Black Friday, Rudolph and fruitcake. Ugh.
A Fall Harvest Party is a fabulous way to get your friends together and just chill out. I put together a no-fail, no-fuss plan anyone can pull off, whether you live in a New York walk up or a country farm. I kept it casual, laid-back and hassle free.
Invites: I'm no Martha Stewart. I'm guessing you probably aren't either. Besides, who has the time for ordering invites, mailing, post office? No worries. Go check out one of my new fave sites, www.paperlesspost.com. It's totally cool, very inexpensive and you'll save a tree by emailing. This is way better than the de riguer E-vites of the past. See for yourself.
Decor: If you can do it outside, get yourself a few basic picnic tables from your local home improvement store. I've seen them for under $50. Use some basic burlap as a runner, plain white dish ware and inexpensive stemware. Try to avoid those red plastic cups. It's not a keg party. If you go to mass retailers like Target, Pier One and similar you can pick up things like this for just a tad more money and it makes all the difference.
Get a few bales of hay for added seating (or just for show), galvanized steel tubs for drinks and apples and an outdoor fire pit if marshmallow roasting piques your interest.
Simple, rustic and undeniably chic. The simpler it is, the cooler it is. Trust me here.
Food: Roast a big turkey and ask all of your guests to bring their favorite fall side dish. You'd be surprised, everyone has one. This way, everyone gets to participate and you just unloaded a whole lotta labor in the kitchen! Everybody wins. Especially, if you have foodie friends whose culinary skills far outweigh yours. I speak from experience. And the foodie set love to show off their latest recipes. Yay for us!
If you must make suggestions, a few I recommend are roasted fall veggies, crusty french bread with an assortment of cheeses, mashed potatoes, mesclun salad with cranberries and blue cheese, quiches, and other comfort food goodness.
For dessert all you need is pumpkin pie, apple pie and cinnamon infused vanilla ice cream and you're a rock star. Done. Easy and fabulous. You can score some So-Easy-A-Kid-Can-Do recipes on The Food network's site. Epicurious has some great recipes too, but leave those to your foodie friends. I'm trying to make this easier for you.
Cocktails: We cannot forget the drinks! Some nice red wines are always a winner. I would also get some cool beers with autumnal flavors like honey or pumpkin and some apple cider. Spike, if you wish! I Googled "fall drink recipes" and was delivered enough pumpkin spiced martini recipes one could possibly ever make. Don't bust out the good stemware for this party, especially if you're bringing the fete outdoors. Not necessary, just some basic wine glasses you can pick up anywhere will do.
For The Kids: If you are going to have children at your party, you're going to need some activities to keep them occupied. As the mother of two children under four years old, I can tell you this will make your day go much smoother.
Set up a table with little mini pumpkins and some arts and crafts supplies. They'll spend hours decorating their pumpkins and then they have something to take home. Kids like to take something home and this saves you the trouble of assembling candy corn filled favor bags.
I have found that anything where glitter, glue and construction paper is, kids are pretty much happy and content.
Enjoy yourself. Black Friday is just around the corner...

Check your local TV listings for more of Courtney Cachet's great ideas. You can catch her frequent appearances on NBC nationwide where she dishes out all the latest in home and lifestyle!
Related