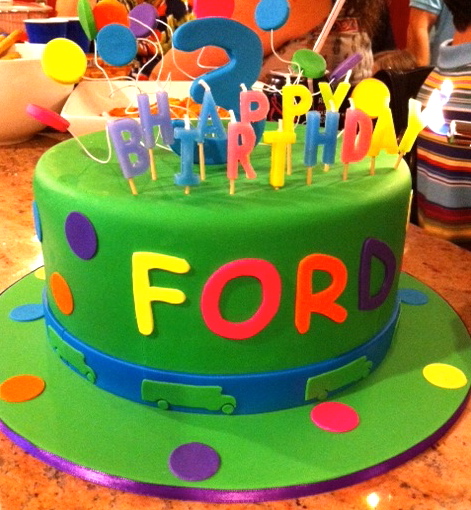 I have two children who are 3 and (almost) 5 years old. At these ages, birthday parties are a Really Big Deal. I am not one of those people who indulges in those ridiculous and oh-so-tacky-over the top kid's birthday parties. I don't care how much money you have, it's gross and screaming nouveau riche. It's like putting spinners on a Rolls-Royce! The challenge is, with the onslaught of Disney Princesses, Toy Story, Cars, Shrek and Sponge Bob, it's hard to avoid having a birthday party that's still kind of on the cheesy side.
I decided this year for my son Ford's birthday party we were going to keep it fun, bright and colorful without the side of cheese. Is it possible to throw a three-year-old a birthday party and still keep it up to snuff for the Chic Mama? You better believe it! Here's how.
While I wanted to throw a cooler party for my son, I still wanted it to be fun for him. After all, just because I'm a slave to all things hip and cool didn't mean he had to suffer and not feel like this was about him. I also wanted to stick to something that wouldn't force me to dip into the college fund or take weeks to plan. Where to begin? Simple, start at Party City. We all have one near us and that balloon filled mecca has come a long way as far as stylish pickings. If you don't, just order online at http://www.partycity.com. I decided to work with a theme based on primary colors: Red, blue, orange, yellow and green. White would be my base. I found oodles of choices that were way ( way!) better than themed and flimsy paper plates. Added the coordinating cups, napkins and cutlery and I was off and running! I was also able to find some more high quality items that were plastic, but reusable, which was an added bonus. A plastic ice bucket for $10 was a steal, nicer plastic cups for the parents and graphic cocktail napkins and colored cocktail forks that looked far more expensive than their $2.99 price tag. Love!
I also bought a machine that blows up balloons that saved a lot of money and I can reuse for my next party. For any parent who has ever driven with a car packed with balloons knows it's a drive filled with expletives and stress.
Lastly, I bought a bunch of glass containers, metal scoops and tons of candy and favors. I filled the glass containers with the candy and scoop spoons and they looked fabulous on the dessert table. Easy and a very big hit!
For food, we ordered pizza for the kids because that's what kids like to eat all I have to do is open the door and give the delivery boy a tip. Woohoo! For the adults, we served a bunch of h'ors douvres and kept it simple with some healthy options from the supermarket like crudite, salad and Hillshire Farms turkey sausages. Threw them on the grill, sliced them up with frilly toothpicks and Mommies and Daddies went to town (rave reviews, by the way!). I had one big punchbowl of Peach Infused Champagne Cocktail for the parents who all really need a drink. If I may say so myself, it helps to take the bitchy edge off some of those Momsters. Just saying...
For an added touch of cool, I ordered personalized Jones Soda from http://www.jonessoda.com that had a picture of my son on it. That was also a big hit. If you want, you could also use that as a favor and/or in a gift bag. They are really cute.
Dessert was a bright green cake with fondant balloons in all the corresponding colors we used throughout the party. A cupcake holder filled with cupcakes for the kids. Read: no slicing a million pieces means less work and kids dig 'em!
No cartoon characters, no cheesy themed paper plates and the kids loved it and it still looked stylish enough for Mama without sending us to the poorhouse. Gotta love that.
And remember, when you keep it simple, colorful and bright you'll be surprised how much stuff you already have that you can use. Enjoy and Happy Birthday, baby!!
Mama loves you so.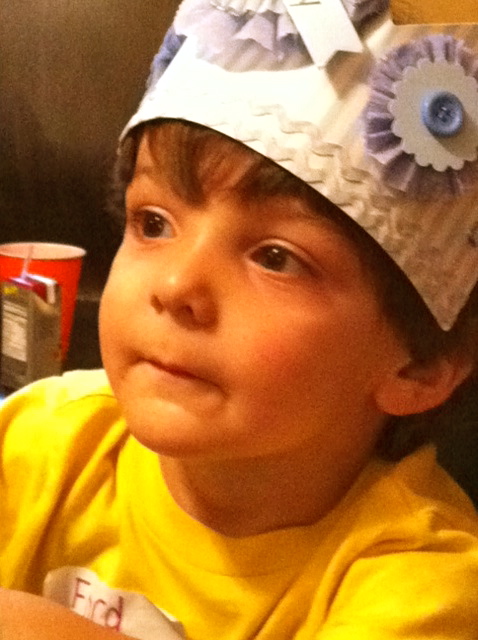 Check your local TV listings for more of Courtney Cachet's style ideas and tips. You can catch her frequent appearances on NBC nationwide where she dishes out all the latest in home and lifestyle! Keep up with her on Facebook and join the conversation!