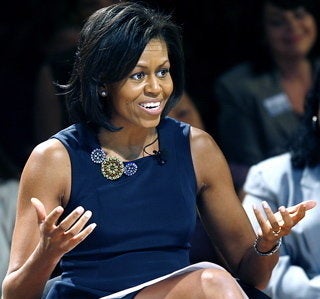 Forget lay offs and mortgage foreclosures, the real tragedy of this recession is the impact on our wardrobes.
The tall, tanned leather boots, the thick wool sweaters -- their price tags just seem a tad steep this season. Coveted? Yes. Responsible? No.
But don't go into hiding just yet. The "high-low fashion" movement -- mixing high and low end designs -- is gaining momentum and giving us a viable option to still look chic. The trend has quickly become a necessity for the cash-strapped this season. The greatest surprise ambassador of all? Michelle Obama. Some have called her an elitist, but nothing says Main Street like the clothes you choose to wear.

It began in June with the black and white floral Donna Ricco dress Mrs. O wore to co-host The View. Price: $148. Mrs. O revealed on air that the dress had been bought at White House / Black Market. Before the show had finished the chain's stores had been mobbed with women with sharpened elbows hunting down the dress. Google "Michelle Obama" and "White House Black Market" and see the 8,000 resulting posts.

On July 4th we saw the empire waist white and blue sundress bought from Gap for a modest $79.50. In September's Vogue, head designer Patrick Robinson said, with not a little glee, "Michelle's classic American style is reflected in the casual ease with which she wears this dress."
Most recently Mrs. O made fashion headlines when she wore a striped Narciso Rodriquez-esque dress from H&M while campaigning in Michigan. At just $34.90 it's really squeezing that dollar.

While the off-the-rack designs seem to elicit the greatest crowd response, they're frequently interspersed with designs from high end couturiers like Maria Pinto, Peter Soronen and Thakoon. Without breaking stride Mrs. O recently wore Thakoon and H&M in a single week.

This interplay of high and low designs and the toppling of the fashion hierarchy are gaining the spotlight, but it's the underlying message of responsible fashion that is truly speaking to people.
Many similarities have been drawn between Michelle Obama and Jackie Kennedy's style, but their approaches to spending betray different values. Jackie Kennedy's style, while impeccable, came at a hefty cost. "In the second quarter of 1961 Jackie Kennedy spent more than $15,000 on clothes in three months (more than $100,000 today), with a $4,000 bill to Givenchy alone," said Jay Mulvaney in his book The Clothes of Camelot.
In 2008 style comes with an economic conscience. We salute the new Mrs. O for being the face of the new fashion democracy. For proving that true style is about more than how much you spend.