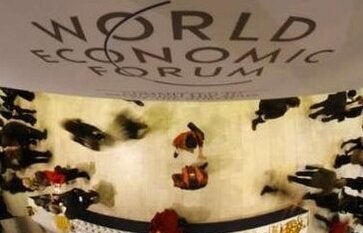 In celebration of International Women's Month I want to be selfish and talk about women who redefine what it is to be a woman in charge and in control. These women are murdering stereotypes leading on their own terms for the greater good of society. These women are bold. They have brass ovaries. They are brainy, beautiful and possess a bandwidth of power that demands attention. The first woman I am going to profile is Sheikha Lubna Bint Khalid Al Qasimi, Minister of Foreign Trade for the United Arab Emirates.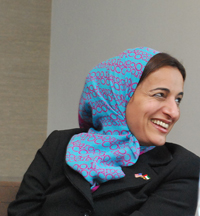 I first heard about Sheikha Lubna during the Dubai Ports Crisis in February of 2006. The issue was over the sale of port management businesses in six major U.S. seaports to a company based in the United Arab Emirates (UAE). There was concern of whether this sale would compromise port security. I remember how American citizens became very vocal raising serious concerns about how and why the United States would do such a thing since Americans were still suffering from the sting and psychological impact of 9/11 and were also very confused and frankly racist about Arab people. While then President George W. Bush fought hard to keep the sale alive, he did not have the political capital to stop Congress from ultimately delaying the sale.
During the crisis in came IT specialist Sheikha Lubna Bint Khalid Al Qasimi, then Minister of Economy. One of Forbes' 100 most powerful women, she was the first woman to be appointed cabinet Minister for the UAE in 2004, this petite woman with expressive eyes and proudly wearing her signature designer silk scarves, intimidated CNN's Wolf Blitzer during his visit to Dubai to see what he could sniff out about this controversy. Blitzer under estimated her, and he immediately discovered that the Sheikha was nothing to shake -- with quick responses, wit and perfect elocution she was a force to be reckoned with.
Wolf Blitzer: What do you know that you can share with American public that will reassure the US public, 60% plus who oppose.
Sheikha Lubna: This is a business deal. There is an impact on employment that will be positive. This is not the first port that DPW will manage. It is a world class port operator.
Wolf Blitzer: UAE recognized the Taliban. Two 9/11 hijackers came from here. Nuclear materials from AQ Khan's network were shipped through here. Money laundering for terrorists before and after 9/11 has been traced here. How do you reply to these objections?
Sheikha Lubna: We, the UAE, did not share the Taliban's ideology as evidenced by the fact that I, a woman, am the Economics Minister. We later broke relations with them. Two hijackers did come from here. Terrorists are really multi-national. Two don't make the UAE....
At that time, Sheikha Lubna had the toughest job in the cabinet. She was the face of the entire UAE handling a public relations nightmare. But, as we say in America's hood, "She handled her business." She handled it so well that Sheikha Lubna received a number of key recognitions, awards and received a major bump up being named Minister of Foreign Trade in early 2008. Her appointments paved the way for three other women cabinet Ministers as well as a growing host of young highly talented woman Ambassadors with considerable clout and power in their own right. She is the forerunner of the women's empowerment in the UAE; influencing positive change in the entire Muslim and Arab world.
Sheikha Lubna represents the 21st Century woman; not just as an Arab who would be ignorantly deemed by the West as an anomaly. She is cutting through veils of discrimination with serious substance, style and a smile. Recently at a private luncheon in Hartford, Connecticut, she told an intimate room of 40 guests that when she first received the call and offered the job of Minister of Economy, she instinctively replied, "I have to ask my mother first." When she mentions her mother, her face softens. For a split second, she becomes a little girl again, but she snaps right back to Minister in an instant.
While in Hartford, Her Excellency received another first becoming the first woman to become an honorary member of the Syracuse 8 -- "Eight African-American athletes at Syracuse University boycotted the 1970 football season in a collective effort to demand change and promote racial equality within the University football program....." After 36 years of protest, another woman of power Chancellor Nancy Cantor officially apologized for SU's history of racism awarding these men the Chancellor's Medal of Honor.
Sheikha Lubna is a blue blooded Princess -- the Qasimi family heads two Emirates in Sharjah and Ras al-Khaimah. She does not do any of dainty stepping however. She is always thinking and busy on her blackberry sending and receiving messages to and from leaders around the globe, she knows in her position she has fully replaced a size 10 man's shoe with a pair of pumps.
During the world's economic turmoil; her job has become even more paramount to the UAE. In Davos in January, she took part in an economic forum and held court in her suite having high level meetings. Literally nearly every week of her life, she has major engagements with world leaders such as Medvedev and Putin of Russia as well as her counterparts such as Lord Digby Jones, the UK Government's Minister of State for Trade. Having studied in the United States during her undergraduate years, she has a special love for the United States. She has been a great Diplomatic bridge between the two nations.
Because she wears a Hijab and is from an Islamic Federation with hereditary male rulers; a lot of us in the West actually search for where her power might be limited, but we are limited. The fact is this woman knows her own power and flies with the flag of the United Arab Emirates as her cape.
Related
Popular in the Community