New York's 2015 holiday windows are as festive and fantastical as ever! People come from far and wide to witness the spectacular scene and the ornate window displays carefully curated to show off holiday spirit and the latest merchandise. Here are some of my favorite department store creations to start off the season...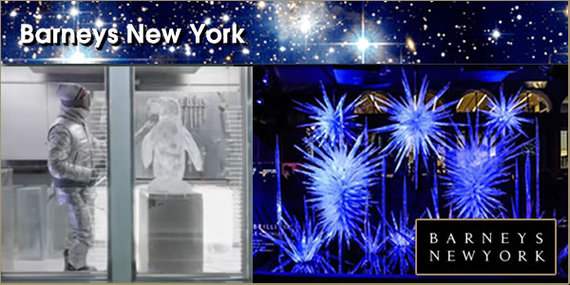 Barneys New York - 660 Madison Avenue
"Chillin' Out"

Literally, two of the windows are chilled to 5 to 15 degrees Fahrenheit for this dazzling display. Live ice carvers dressed in metallic snow suits designed by Thom Browne sculpt blocks of ice into penguins with power tools. A frozen installation by Utah-based Ice Castle, Artist Dale Chihuly's massive icicle sculptures and crystal-covered penguins zipping around a race track on little Lexuses.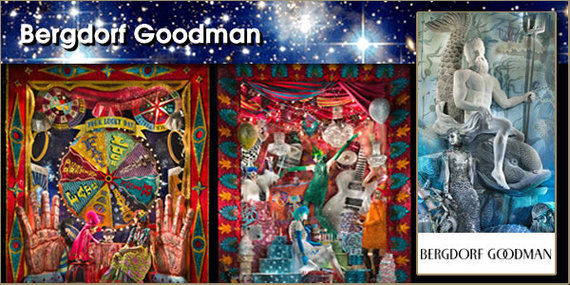 Bergdorf Goodman - Fifth Avenue and 58th Street
"Brilliant Holiday."
 
In honor of the Swarovski's 120th anniversary. Bergdorf's displays are going all-out with more than 7 million Swarovski sparkles and each window is presenting a different crystal theme:
 
"The Birthday Party," features a ballroom setting. Everything in the display sparkles, the wallpaper and furniture, a guitar and a chandelier. Even a set of 12 birthstone cakes is completely blinged out for every month of the year.
 
"The Treasure Chest" window features a sculpture of Neptune, and pearls take front and center in his world under the sea.
 
 "The Crystal Cavern" is an amethyst cave, a woman wearing a hard hat and holding a rope while standing among dazzling rocks.
 
"The Crystal Ball" is filled with wheels of fortune and zodiac signs, complete with a fortune-teller.
 
"The Crown Jewels" window has glittering suits of armor, golden lion sculptures, and a regal queen mannequin. The entire display is made to look like a jewel box cushioned with red velvet, and a giant sparkling crown hangs above.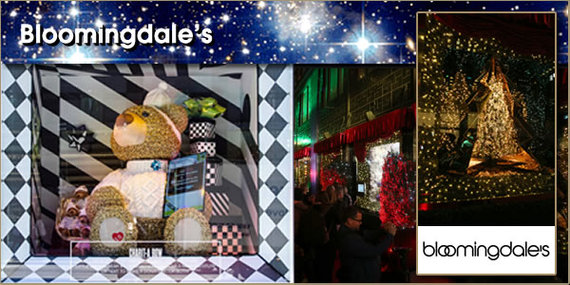 Bloomingdale's - 1000 Third Avenue at Lexington Avenue and 59th Street
"The five senses"
 
Delight in the holidays through the various senses! The focal point is mirrored sculptures and floral displays from world-renowned florist Jeff Leatham. There are sculptures of polar bears and snowmen and a golden deer made from thousands of gold ornaments. There is an element of smell, taste, sight, touch and sound incorporated into each scene.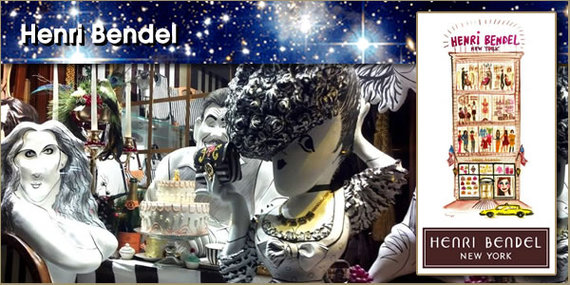 Henri Bendel - 712 Fifth Avenue at 56th Street
"Girls just want to have fun"
 
Henri Bendel, known for being "a modern girl's playground" celebrates the store's 120th anniversary as well as a 20-year relationship with fashion illustrator Izak Zenou. Illustrations and decorations are spread across the facade and the entire store. An extravaganza of lights 40 feet high decorates the front of the store. The shop's main window features a Parisian apartment-inspired display, and the atrium holds a two-story tree with giant versions of Bendel's holiday ornaments.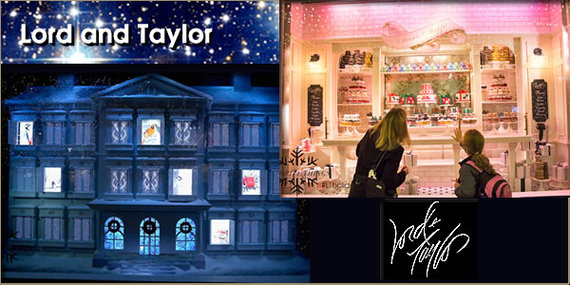 Lord and Taylor - 424 Fifth Avenue at 39th Street
"Holiday memories - a few of our favorite things"
 
"Holiday countdown" is a group of 24 windows that count down the days 'til Christmas, and the centerpiece of this display is a snow-dusted mansion. The shutters on each of the large homes' windows open up to reveal animated images from the holidays in New York City.
 
"Sweets Shop" window is a delicious and decadent Parisian bakery featuring a rotating display of cakes, a moving cuckoo clock, and a "Gingerbread Kingdom" display featuring dozens of dancing gingerbread men holding up a Victorian house made of gingerbread.
 
This is the 78th year that they have created animated displays that are the store's "gift back to the city it calls home". Walk through the magical path with thousands of twinkling lights surrounding you In front of the store and you can't help but feel the holiday spirit.
 

Macys - Herald Square, 151 W 34th St
"A Charlie Brown Christmas"
 
In honor of the 50th anniversary of "A Charlie Brown Christmas" Macy's is dedicating its window displays this year to Charles Schultz's Charlie Brown and the rest of the Peanuts gang. Each of the store's six Broadway-facing windows hosts a display depicting the holiday adventures. Highlights include 3-foot-tall versions of the Peanuts gang recreating classic scenes from the cartoon, from Lucy's psychiatric help stand to Linus and his blanket. You can touch an interactive screen to create your very own Peanuts character, who will pop up in the various windows. In another display, you can play the piano that the characters are dancing on. Innovative and impressive.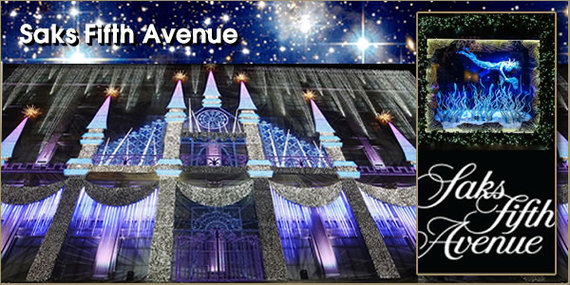 Saks Fifth Avenue - 611 Fifth Avenue
"The Winter Palace"
 
Saks windows is a feast for the eyes with snow and ice covered displays of some of the world's greatest natural and man-made wonders--an icy Coliseum, a snowy Great Wall of China, and a frozen Great Barrier Reef. The entire front facade of the store has been transformed into a winter palace complete with crystal spires and a dramatic light show.
 
I hope you enjoyed my tour of 2015's divine department stores that are dressed up in the most dramatic holiday style!
 
Happy Holidays and Happy Shopping!
Calling all HuffPost superfans!
Sign up for membership to become a founding member and help shape HuffPost's next chapter