Spending time with visiting friends and family is such a treat--why have them spend their overnights in a nearby hotel when it's so much more fun for guests to stay at your place? Make your company feel extra special by pampering them with all the comforts of home and then some, thanks to these retailers.
 
Inviting home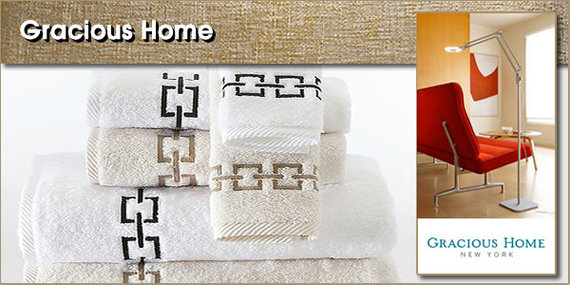 Gracious Home - 1220 3rd Avenue at West 70th Street - 1201 3rd Avenue at East 70th Street - 1992 Broadway and 45 West 25th Street
This business' name says it all. With four Manhattan locations, shoppers won't have any trouble finding just what they need to create a welcoming home for their guests. From lavish pillows, towels and sheets for bed-and-bath relaxation, to living room, dining room and kitchen comforts, your guests will be afforded every simple and luxurious need.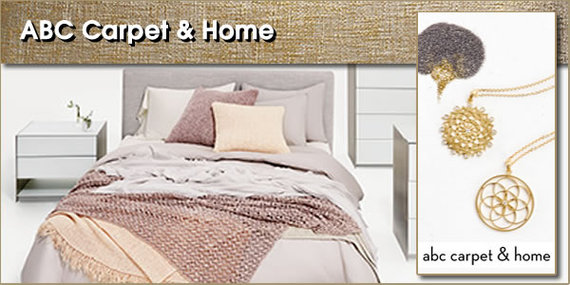 ABC Carpet & Home - 888 and 881 Broadway
ABC has any home covered with its collection of global goods, one-of-a-kind products and artisan designs. Shop the store's furniture selection for large-scale design and furnishings, home décor, lighting, kitchen, bed and bath, wellness and other goods to round out your home--and guests'--every need.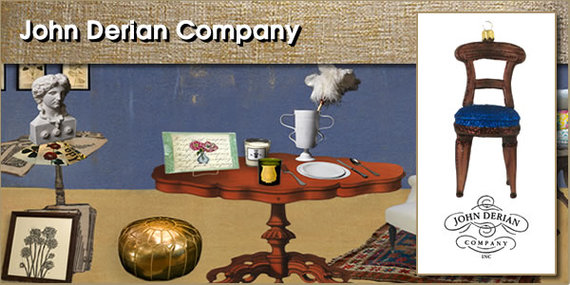 John Derian Company - 6 East Second Street, 8 East Second Street & 10 East Second Street between 2nd Avenue and the Bowery
Charm your visitors with a piece or two of curious, comfortable and quaint décor, furniture, accessories and art objects. Find decoupage and imported goods at the store's 6 East 2nd Street location; textiles, furniture, rugs and art at its 10 East 2nd Street site (across the street); and John Derian Furniture Collection by Cisco Brothers at the 8 East 2nd Street location. Why not gift your friends with an antique pocket mirror, a one-of-a-kind pin or hand-blown ornament? Paperweights from here are a favorite of mine.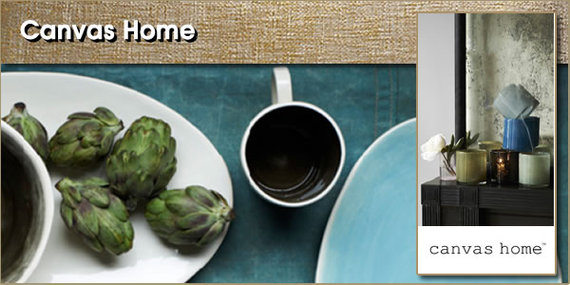 Canvas Home - 123 West 17th Street
Dress your home in modern, green goods for an earthy aesthetic. Made from reclaimed wood, recycled glass and sustainable materials, these décor, dining and kitchen, bathroom and furniture selections are as earth-friendly as they are refined, useful and luxurious. After all, who wouldn't delight in an after-bath indulgence of Apotheke all natural skin lotion scented with essential oils, or a shared meal from creamy stoneware plates, handcrafted with rubbed glazes.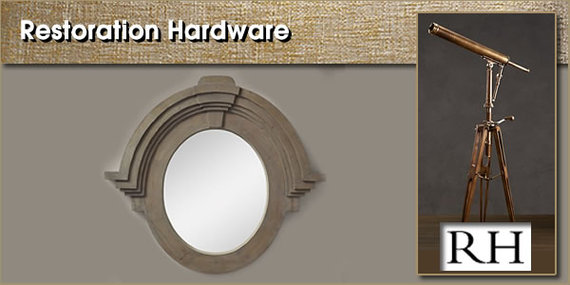 Restoration Hardware - 935 Broadway
Luxury furniture, lighting, textiles, bath ware, décor, outdoor and items for youngsters. Each collection features timeless style reflected in authentic reproductions and updated classics, for a refined home with a welcoming atmosphere.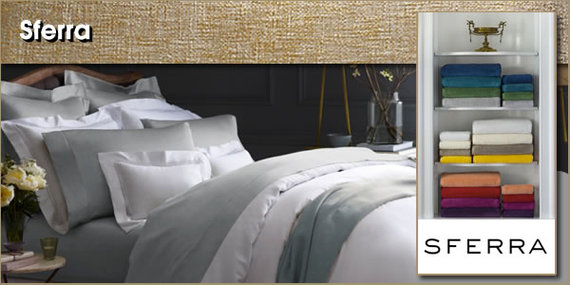 Sferra
This impressive collection of linens, date back to 1891 in Venice, Italy. Today the company's distinctive long-staple, Egyptian cotton-products are available from distinguished retailers throughout Manhattan, including Gracious Home, Fine Linens, Harris Levy, E. Braun & Co. New York, Stella, ABC Carpet & Home, and La Terrine, among others.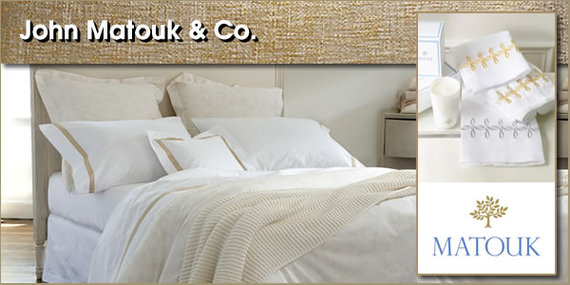 John Matouk & Co. - 118 West 22nd Street, 9th Floor
Matouk has a mission to enrich others' lives with "the most beautiful and beloved collection of bed and bath linens." Fine bed and bath coverings, plus towels, table linens, custom monogramming, embroidery, bedding and bath products, are offered.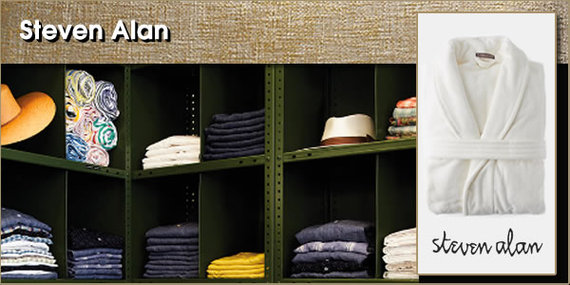 Steven Alan - 373 Atlantic Avenue, Brooklyn
Modern designs with a rich and indulgent sensibility. Pamper guests with plush bath towels, a velour robe, an alpaca tassel blanket and bedside book, like Phaidon Press's 'Eating with the Chefs' by Per-Anders Jorgensen. The store also has kitchen and table top wares, grooming essentials and more.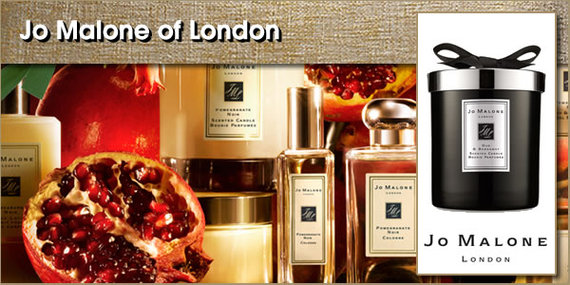 Jo Malone of London - 946 Madison Avenue - 330 Bleecker Street
Here, home and personal fragrances are an art form. Your guest's senses will be in heaven.
 
In the kitchen/dining room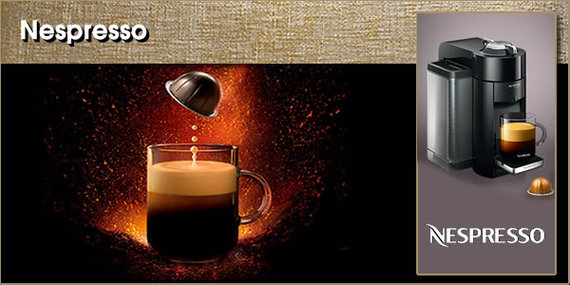 Nespresso - 761 Madison Avenue - 92 Prince Street
Serving the ultimate cup of barista style espresso coffee, the prefect warming tonic for any guest. In addition to the brand's flagships, Nespresso boutiques are located in Sur La Table at 306 West 57th Street, Macy's at 11 West 34th Street and Bloomingdale's at 1000 3rd Avenue, where the Nespresso system is available for retail, ensuring that each and every cup of coffee served to your guests is fragrant, delicious and delightful.
 
More In the kitchen/dining room stores for your shopping pleasure
Delphinium Home - 353 West 47th Street
An amusing and unusual selection of furniture, gifts, home accessories and games to keep guests entertained. What fun they'll have showering with the store's mustache shower curtain that's adorned with pictures of men's facial hair styles, or spending the evening in a rousing board game of Foodie Fight Trivia. For the quirky, look here.
 
Michael C. Fina - 500 Park Avenue
Your guests will dine on the very best in table settings. Whether casual, formal or vintage in style, your table will delight guests with the finest plates, flatware, stemware, service and bar goods.
 
Sur la Table - 1320 3rd Avenue
An exclusive selection of premium-quality goods for the kitchen and table. From the everyday stand mixer to unexpected handcrafted Japanese cutlery, this store's selection is wide and sure to please the most discerning host.
 
Alessi - 130 Greene Street - 30 East 60th Street
Renowned for its Italian kitchenware based in traditional design, modern functionality and a touch of whimsy, like designer Michael Graves' Tea Rex kettle, complete with a pre-historic reptilian whistle and Stefano Giovannoni's electric stainless steel citrus juicer.
 
Baccarat - 635 Madison Avenue
Find classic crystal tableware, fine serving pieces and decorative items, including cut-crystal vases and figurines, for an impressive table and home setting.
 
Fishs Eddy - 889 Broadway
Treat your guests with blasts from America's past with food servings on vintage and previously used dinnerware, flatware, glasses and more, from restaurants, clubs and other establishments. Keep it casual yet classic with dishes and tableware.
 
If a busy schedule leaves you with little time for in-store shopping, visit an online retailer to create that luxurious and inviting home for your guests. Some of my favorites are: modern furniture, lighting and décor by Inmod, modern décor and home goods by 2Modern, discounted brand-name home goods by Gilt Home, small-run artists' and rising brands' home designs and accessories by Of a Kind, and globally sourced, fair-trade treasures by The Little Market.
 
Happy Shopping! Time to get holiday ready!
Calling all HuffPost superfans!
Sign up for membership to become a founding member and help shape HuffPost's next chapter