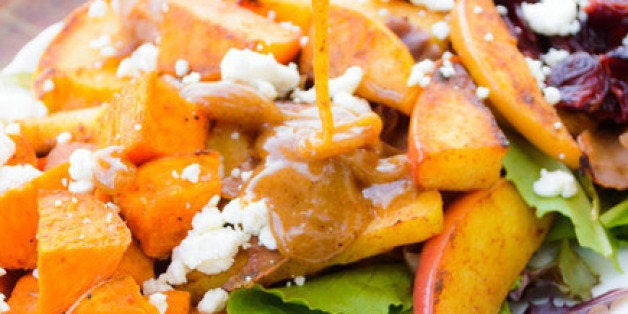 When I think fall I think orange. All the beautiful orange foods, flavors and colors that take over October and linger well into November.
It's quite beautiful, wouldn't you say?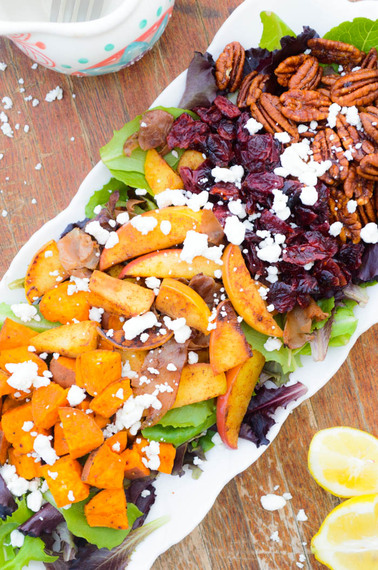 Frolicking through your local farmers' market is extra special during these fall months. There's pumpkin overload, apple lovers galore and ALL the squash. Oooh and sweet potatoes...yes we all have a love affair with those little orange potatoes, don't we?
This salad recipe is all of that and more. By more I mean it is LOADED with toppings that will actually keep you full and not aching for a slice of bread an hour later. And there is almond maple vinaigrette dressing involved. Oh my gosh don't even get me started on maple flavored things right now.
This time of year is simply the bees knees mainly because it's meant to be celebrated with comfort food, a new pair of boots and a cuddle buddy. The word "salad" may not scream cozy comfort food but that's because you haven't had a loaded fall harvest salad.
Think roasted sweet potatoes, sautéed apples, crispy prosciutto, chunks of goat cheese and sweet little cranberries. Oh and candied pecans for crunchy hunks of love. Seriously this recipe doesn't even need the greens but it's totally up to you whether or not you want to keep them in the equation.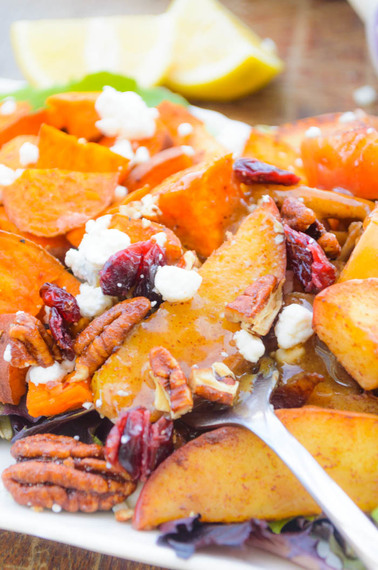 See the full post of this recipe HERE!
Ingredients
1 Tbsp olive oil
2 large sweet potatoes
Sea salt + chipotle seasoning to taste
2 medium apples, sliced + cinnamon to taste
4 slices prosciutto, diced
1/3 cup candied pecans
1/3 cup crumbled goat cheese
Handful of cranberries
6 cups mixed greens salad
Dressing:
2 Tbsp Almond butter
1 Tbsp maple syrup
Lemon juice (from 1 lemon)
1 Tbsp extra virgin olive oil
1 Tbsp aged balsamic
Sea salt to taste
Instructions
Preheat oven to 375 degrees Fahrenheit. Toss sweet potatoes with olive oil, sea salt and chipotle seasoning. Spread on a large baking sheet and bake for 20-25 minutes. While sweet potatoes are baking, sauté sliced apples and prosciutto in a pan over medium high heat, with cinnamon and a little olive oil. Sauté for 10 minutes until apples become slightly soft, then set aside.
Once sweet potatoes are done roasting, set aside to cool. Make your dressing by whisking together all the dressing ingredients. Place lettuce in a large bowl and top with sweet potatoes, sautéed apples, pecans, goat cheese, cranberries and prosciutto. Drizzle with the dressing, toss and serve.