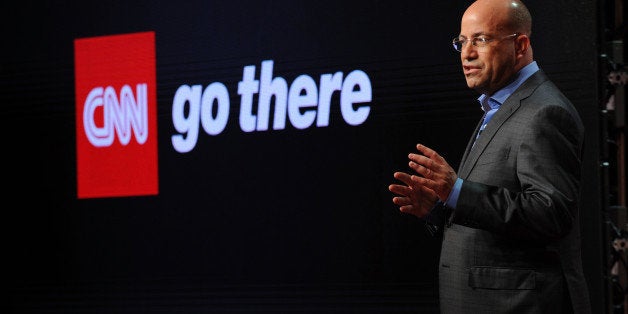 Time Warner CEO Jeffrey Bewkes and Turner Broadcasting CEO John Martin are both MBAs, and they both operate in the traditional manner of MBAs -- if your profits are dropping, cut costs then claim you're doing it in order to make a better product.
This week, it's Martin's turn. As Deadline Hollywood puts it, he describes their new plan as "shifting (of) resources... may mean staff changes... in fact I'll be surprised if it doesn't." In other words, fewer employees will do a better job than the people we have now. According to Deadline Hollywood, Turner "already has a major staffing change in the works with Turner Entertainment Network President Steve Koonin recently exiting the company." Martin also notes that "some of our largest most profitable and highest profile networks have experienced ratings headwinds." Just to finish the trifecta, Martin had described "TNT and TRU TV as networks whose rating performance was not satisfying," according to Deadline Hollywood.
CNN's CEO, Jeff Zucker, was appointed by Bewkes a year and a half ago. His presence has not improved CNN ratings. He was just finishing up as the Executive Producer of the failing Katie Couric show and previously had been ousted as the NBC boss when Comcast acquired the network. All too often, MBAs hire people who previously held important jobs but failed at them. They then of course blame the failure on the guy they hired and Zucker's head may already be on the chopping block.
I built CNN for 12 months, and as CEO operated for the first 23 months of its on-the-air existence. When I left it had a rating of one point, the highest rating its ever had over a six month period. Twenty years later, in 2000, when I went down to help celebrate its 20th anniversary, its ratings were at half a point. Since then, they've been stuck around there, bailed out by big stories, if and when they occur. We had people on staff like Bernie Shaw, Pat Buchanan, Lou Dobbs, Jim Miklaszewski, Mary Alice Williams, Mike Boettcher, Peter Arnett, Elsa Klensch and Jean Carper. Every one of them, even those whose names you might not remember, were among the most important journalists of their time. There's no one now at CNN in their league.
Phil Griffin, now the head of MSNBC, and Dan Patrick, the ESPN broadcaster/writer, both got their starts there under the best sports executive who ever lived, Bill MacPhail. Keith Olbermann was there too. It was a hell of a team. I hate to admit that I can't remember the name of one of CNN's current sports guys.
Over the past 14 years, first under Jim Walton and now Zucker, CNN has starred such personalities as Wolf Blitzer and Anderson Cooper -- both competent but neither a guy who has rating points and no one at CNN has introduced a new breakthrough program. CNN fails to thrive unless it's live.
I believe that it will take a lot of news intelligence and creativity to turn CNN around. Cutting costs and firing guys will not do it.
But to be fair to CNN, its online service dominates online news, leaving FoxNews and MSNBC in the dust. I'd suggest Bewkes take a look at Susan Grant, who was briefly my secretary when we started CNN and when I last heard was running CNN online. She's proved herself time and time again, and I hope she's still available. But then again, MBAs rarely take advice from another species.
Calling all HuffPost superfans!
Sign up for membership to become a founding member and help shape HuffPost's next chapter