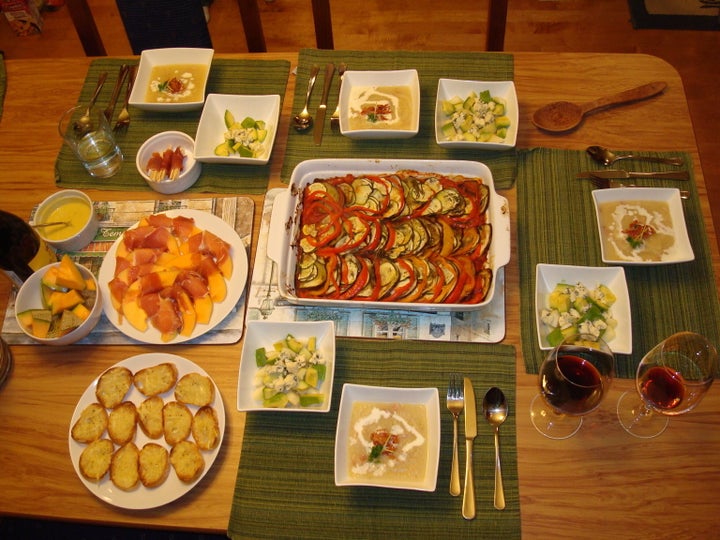 A little more than a year ago, I had a classic Oprah "Aha!" moment while sitting at the dinner table on an ordinary school night with my two teenage daughters. It was an epiphany that brought me a small but powerful sense of relief. Like many moms, I spend more than enough time beating myself up over all the parenting mistakes, big and little, I've made (and will doubtless make in the future). But this particular evening, I realized I had actually done something right, as a parent; that is, to insist, for the past decade, that my family participate in the ritual of family dinner. As I sat there, dessert long since consumed, both girls still chatting away, I was awash in the glow of all the gifts the many weekday meals have brought us over the years. Now that my kids are teenagers and everything is getting tougher (everything!), this ritual has helped keep them at the table talking to me, and some days that is all you can hope for. I can even thank family dinner for helping us get through the misery of divorce and reconnecting me with my ex, around that very same table.
It became crystal clear to me that night that there was a fantastic book waiting to be written on the concept of shared meals -- a book that could help other families, however they define themselves, recapture this endangered ritual that was once considered a nonnegotiable part of family life. Our parents and grandparents wouldn't have even considered the possibility of not sitting down as a family -- today this simple event is seriously falling by the wayside. The results of my light-bulb moment are out today in The Family Dinner: Great Ways to Connect with Your Kids, One Meal at a Time, and I am so excited to share it with you.
First, it's an amazing feeling to have all the delicious and healthy recipes that helped get everyone to the table, in one place and recorded for posterity. And second, compiling all the tips, tricks, games and topics we have used to keep everyone at the table over the last ten years, was a blast -- and brought back some great memories. Everything in this book was used at our own table and has been family and friend tested and approved! I hope the food and fun in The Family Dinner inspires and helps you too -- with making dinner and making memories.
In the course of writing this book I have had the privilege of interviewing many of my mentors and the experts I have leaned on over the years including Dr. Harvey Karp, Dr. Maya Angelou, Jamie Oliver, Mario Batali, Alice Waters, Mark Bittman, Arianna Huffington, Reverend Ed Bacon, Dr. Wendy Mogel, Susan Stiffleman and many others. Their words of wisdom are sprinkled throughout the chapters.
I started doing family dinner to create more cozy moments for my children and husband, but the truth is the benefits reach far beyond our table. It's not a coincidence that as the practice of family dinner has shriveled and shrunk over the last thirty years there has been an explosion of threatening new social stresses and health problems that were all but foreign to our grandparents.
The fact that half of all the children in America are considered overweight, and diet-related illnesses are exploding, is all part of the price we are paying by neglecting family dinner. We have doubled our spending on buying food away from the home, and our appetite for meat has become gargantuan and unhealthy (not to mention completely unsustainable). The new statistics on diabetes are terrifying; obesity is now epidemic, heart disease, cancer, allergies... all on the rise.
And that brings me right back to the dinner plate. What we are eating and how we are eating is a big part of these new threats. Until recently, family dinners were always the way children were nourished, mind and body. Dinnertime taught everyone how to communicate, to share, to be patient, learn manners, and acquire listening skills, how to try new foods, "eat your vegetables," and even grow some your own. It's every child's first experience taking part in a community: their family.
I deeply believe from my own experience that sitting down to a meal together, even if it's just simple peanut butter-and-jelly sandwiches, is a main ingredient to a happy, healthy, family life. All the more important since everything about our modern culture -- the invasion of screens of all sizes, two working and overwhelmed parents, and the "convenience" of microwaves and the trillion dollar processed, anything-but-fresh food industry -- seems bent on tearing it apart.
The simple, accessible, completely doable gift of dinnertime works wonders and will do more for the nourishment of the family than any multivitamin ever could. So tonight, sit down with your family and share a meal for an hour, because on top of everything else, and I say this with my whole heart, dinner spreads love too.
Related