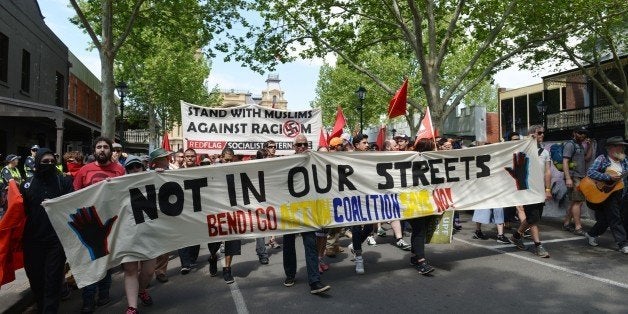 I have always been amazed at how easy it is for hate groups to make national headlines compared to how incredibly hard it is for groups that stand for peace, love, and justice to ever be noticed in the media. Latest case in point: The so-called "Global Rally for Humanity."
This "group" started posting on social media, encouraging U.S. "patriots" to wage protests outside at least 20 targeted mosques this weekend. No small number of major media sources picked up the story, from CNN to Newsweek, from TheDailyBeast to DailyKos. Yet in hindsight it appears that the "Global Rally for Humanity" was little more than a couple of hate mongers who spent a few minutes on Facebook and created an international scene with major help from mainstream media.
I realized something was not right when I typed www.globalrallyforhumanity.com into my web browser and found that this web address did not exist. Nor did the .org, .net, or .info versions. How does any organization hosting a national rally not have their own web domain?! No matter. I bought those web domains and re-directed them here: www.trifaith.org.
One of the mosques targeted by the Global Faith Rally is in Bremerton, WA, ninety minutes from Seattle. Since I am currently in the Seattle area on a book tour promoting my most recent book, Gifts of the Dark Wood: Seven Blessings for Soulful Skeptics (and Other Wanderers), I decided to pay a visit to the rally today and stand in support of the mosque.
When I arrived with a friend at the address listed by the Global Rally for Humanity, we found a church there, not a mosque. Turns out the mosque had moved over a year ago! Just what kind of effort did these Global Rally for Humanity folks put into this event, anyway? In fact, no protesters ever showed up to the protest - either here or at the actual mosque. Instead, 41 of us from a wide variety of faith traditions, from Christians to pagans, turned out to stand in the pouring rain to show our support of the Muslim community - many of whom had driven up to two hours for the privilege.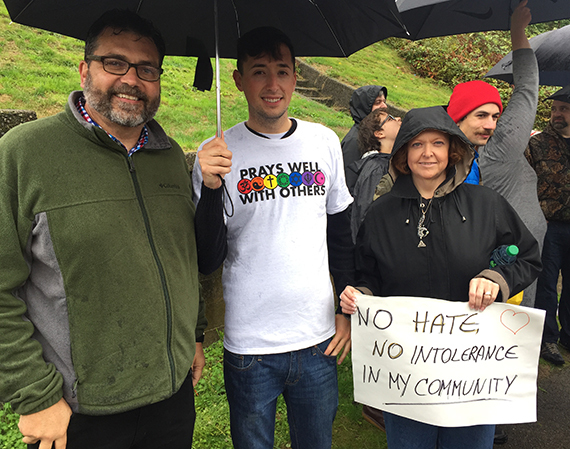 Bremerton was not the only place where the Global Rally for Humanity failed to attract so much as a single protester. According to Twitter feeds (#HateUnchecked), no one showed up at rallies in Georgia, Illinois, or New Jersey, and very few seem to have shown up anywhere but Arizona.
I wonder how many news agencies will even bother to mention what a farce the "Global Rally For Humanity" protest was - or how many everyday Americans from across the religious spectrum showed up to stand in support of the Islamic community.
The only real story here is not about the protesters. Nor is it necessarily about the counter-protesters. The real story is about how often tiny, unorganized groups of hate mongers are catapulted into the international spotlight and provided a broad platform for spewing their venom by the media while the painstaking work of thousands of individuals and organizations to promote peace and respect for our nation's rich religious diversity are almost completely ignored.
It is high time that mainstream media cop to the fact that they systematically filter out countless "good news" stories about peace-making in our communities while they exalt seemingly every "bad news" voice they can find, no matter how small, flimsy, or fringe the group may be. If the main way the public learns about an heroic peace-making effort like Omaha's Tri-Faith Initiative, for instance, is by being re-directed to the Tri-Faith website after typing what they think is the web domain of a hate group they heard about from multiple media sources, something is wrong.
As a religious leader, I thank God - quite literally - that a growing number of our nation's citizens are no longer content to rely on traditional media to tell the stories that need to be told. Instead, they are becoming the media. They're creating personal blogs and Facebook pages. They're joining the Huffington Post team. They're even creating their own internet television programs like Darkwood Brew did when a they got sick and tired of the media consistently privileging stories about Christian fundamentalism over Christian progressivism.
As much good as these grassroots media efforts are doing, I'm sure that many of the people behind them would prefer to set aside their laptops and video cameras to focus their attention on peace-making rather than promotion. Before this can happen, however, the mainstream media outlets need to do their job.
REAL LIFE. REAL NEWS. REAL VOICES.
Help us tell more of the stories that matter from voices that too often remain unheard.