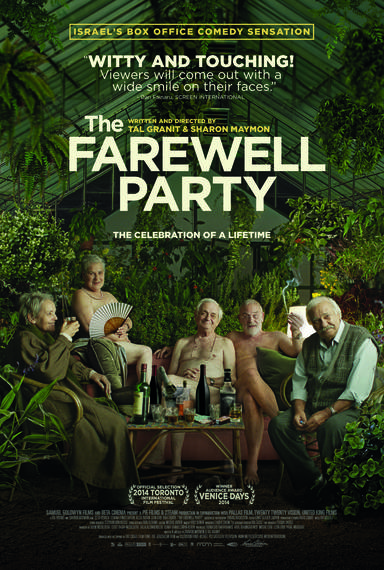 Is the media suddenly realizing that there are people who were born before 1945 who are still very much alive? And that there's whole bunch of them? According to the 2010 census, if I read Wikipedia correctly, the figure clocks in at 28,282,721.
No wonder Netflix is streaming Grace and Frankie, which stars Jane Fonda and Lily Tomlin as two septuagenarians who discover their spouses are gay and in love. The first episode ends with the discarded gals drinking a peyote mixture and tripping the light fantastic around a campfire.
Vicious, being aired on ITV and PBS, features Ian McKellen and Derek Jacobi as a pair of elderly, lovingly bickering homosexuals in their seventies whose pet hound is semi-comatose. (Season 2 premieres this summer.)
And this past Sunday morning, WNYC.FM rebroadcast a 2012 interview with Jane Gross, blogger of "The New Old Age" and author of A Bittersweet Season: Caring for Our Aging Parents --and Ourselves. Host Krista Tippet noted in her introduction: "It's a remarkable feature of our time. We are changing the nature of aging. Like all progress this has an upside and a downside. As Jane Gross's mother went through a long decline after her mid-eighties, she put it this way poignantly, 'We live too long and die too slowly.'"
Yes, we are not only occupying the Age of Botox, aka the Era of the Disgruntled Wrinkle, but we're also engulfed in the Time of Oldsters Should Be Seen and Not Heard and Seldom Seen.
Hollywood does tackle aging now and then . . . mostly then . . . with some insight, especially in Leo McCarey's matchless Make Way for Tomorrow (1937), in which a loving couple (Beaulah Bondi and Victor Moore) lose their house and learn not one of their five children have room for them both. For the first time since they've wed, Ma and Pa will have to sleep in separate beds under separate roofs, and there's a good chance this situation will never be resolved. Then there's Harold and Maude (1971) in which a Holocaust survivor takes up with a young serial-suicide committer as Cat Stevens, as he was known then, sings his heart out. As for The Bucket List (2007), who couldn't enjoy a cancer-ridden Jack Nicholson and Morgan Freeman buddying up to live out their dreams one by one?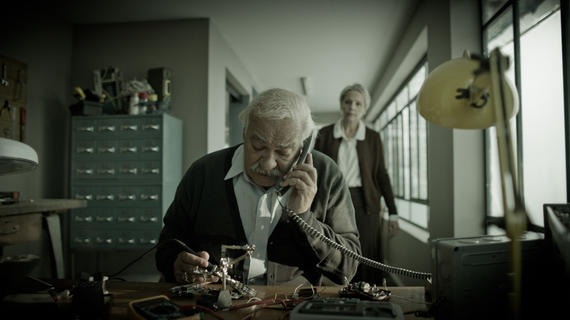 Ze ev Revah as Yehezkel and Levana Finkelshtein as Levana in THE FAREWELL PARTY. Photo Credit: Max Hochstein / Samuel Goldwyn Films

Now comes the Israeli take. With the superb, award-winning import, The Farewell Party, the film's co-writers and co-directors, Sharon Maymon and Tal Granit, explore the lives of group of seniors in a retirement home coping with the mental and physical decline of their loved ones. When is enough pain enough? they wonder. Is keeping someone alive who doesn't want to be an act of selfishness or a moral one? (By the way, this film is alternately comic and dramatic so don't expect a one-way trek to despair.)
The Farewell Party begins with Yehezkel (Ze'ev Revach), an amateur inventor, calling up Zelda (Ruth Geller), an ill neighbor who's tired of her endless ailments. Yehezkel, impersonating God by employing a voice distorter, tells Zelda there's no room for her in heaven at the moment, that she should hold out a bit longer. After the phone call, Zelda decides she has more to ask of the Lord, so she presses redial and gets Yehezkel's wife Levana (Levana Finkelshtein).
Zelda: "Can I speak to God?"
Levana: "He's in the toilet."
Meanwhile, the couple's best friend Max (Shmuel Wolf) is hospitalized and suffering great pain. His wife Yana (Aliza Rozen) begs Yehezkel to help her end Max's life. Slowly, Yehezkel gets convinced, and after much research, he comes up with his take on Dr. Kevorkian's "Mercy Killing Machine." Here the patient, after admitting on videotape that he wants to end his life, presses a button that will release a fatal sedative into his IV, and it's over.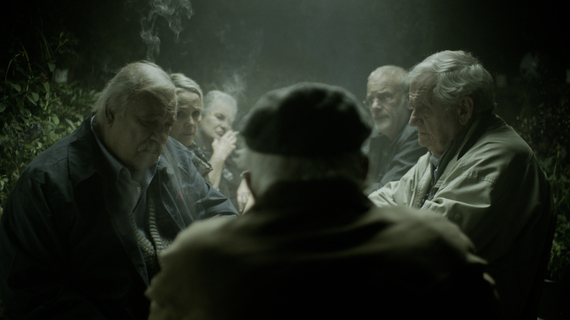 Ze ev Revah as Yehezkel and Ilan Dar as Dr. Daniel in THE FAREWELL PARTY. Photo Credit: Max Hochstein / Samuel Goldwyn Films
With the aid of a passionate but closeted gay couple in the retirement home, a bumbling crew is formed, and the deed is done. Bye, bye, Max! However, this success suddenly gets other folks asking for similar assistance.
Meanwhile, Levana, who's suffering from Alzheimer's, sees her disease getting more and more advanced. Will Yehezkel be able to utilize his invention on his wife if asked?
Once again, please note that are several laugh-out-loud moments here, and the directors mostly avoid any undue sentimentality. The Farewell Party moves about at a brisk pace with flawless acting, majestic cinematography by Tobias Hochstein, and a warm sensibility, while convincingly arguing Schopenhauer's point that "they tell us that suicide is the greatest piece of cowardice... that suicide is wrong; when it is quite obvious that there is nothing in the world to which every man has a more unassailable title than to his own life and person."
(The Farewell Party opens May 22nd in New York at The Angelika Film Center and on June 5th in Los Angeles at the Laemmle Royal, Town Center, and Playhouse 7.)
Popular in the Community