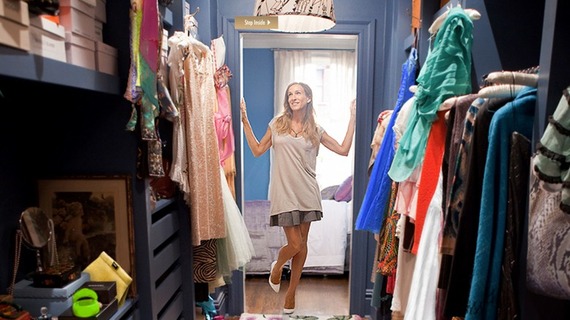 With Valentines Day coming up, there is one question on everyone's mind: What are you wearing this Saturday night?
With that in mind, I can't help but wonder if one's sartorial choices differ when getting dressed for a date rather than an evening with friends.
For the loud and daring dresser, you might feel compelled, or maybe been advised by friends, to tone it down a bit.
Say your favorite outfit at the moment is a pair of long black denim overalls paired with a black long-sleeved turtleneck, à la ManRepeller. But, as the bold style bloggers name suggests, do these outfit choices drive off members of the opposite sex? Is this reason enough to change clothes?
We all know that when Carrie Bradshaw wore a tight little nude dress, "that left little to the imagination," on a date with Mr. Big, the evening seemed to go in her favor. While yes, the dress was chic and flattering, it was clearly flagged as a "to be worn on dates only" ensemble.
Ultimately though, dates are about getting to know the other person, and showing them who you are as well. Who's to say that the person on the other end of that date won't like boyfriend jeans? If your date can't handle your wardrobe, it's better to find out sooner rather than later. Therefore, the guide to dressing on February 14th, or any other day, is actually quite simple: dress to impress...yourself.