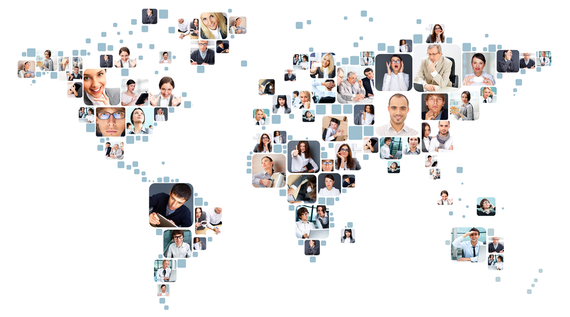 There are many ways to generate quality leads online. You may have already heard people telling you that you should be focusing on strategic guest blogging, content upgrade popups, webinars, SEO, Facebook advertising etc. The list goes on!
All of those are great strategies to help you grow your email list, build your authority in your industry, create brand awareness and generate leads, which you can then market too. But none compare to the latest marketing strategy I've witnessed a lot of entrepreneurs using online. It's called: Virtual Summits.
A virtual summit (same as an online conference/event/tele-summit) is a bit similar to a podcast interview show but on steroids. And it works in almost any niche. (changed this a bit because there's still a difference of course)
You interview around 15-50 influencers in your industry, either live or pre-recorded. Once you have done that you then promote the summit through social media, joint venture partnerships and other forms of online marketing. People then register for your summit to hear those interviews in a set period of time.
As you can see the positioning and the perceived value is so much higher from a virtual summit than just a regular podcast interview.
The similarity with a podcast is that you can still interview experts in your field via Skype video or Google+ Hangouts, and feature them on your summit.
But not only that, you can also grow your email list rapidly, borrow authority off the speakers so you can be seen as the go-to expert in your field, and here's maybe the best part... you don't have to create all the content yourself since you are interviewing influencers for your summit, and essentially they are creating the product for you by sharing some of their best content.
To gain a deeper insight into the power of creating virtual summits, I sat down and had a chat with Navid Moazzez, having successfully launched multiple summits he is now considered by many the world's leading authority when it comes to creating and promoting virtual summit.
Below he shares his top 7 tips on how to launch a virtual summit from scratch for any business owner or entrepreneur looking to build more influence, establish authentic, powerful relationships with key players in their industry, and most importantly generate more quality leads and revenue rapidly!
1) Narrow down your niche
Niching down allows you to target the needs and desires of your audience more specifically. Instead of trying to please everybody and appealing to nobody you can hone in on your target market. Your marketing will be more effective and you'll be able to communicate more clearly once you defined your niche.
For example instead of creating a more broad and general "online marketing summit", I would recommend that you go even more niche, and create a "Video Marketing Summit" or "Personal Brand Summit". Niche down until it hurts. That will set your summit up for success!
I would go as far as saying that the offer is more important than the actual name of your summit itself. With so many podcasts, online courses, blogs and webinars out there, you need to be different in order to stand out from the noise.
For example when I recently worked on the Self-Publishing Success Summit which generated over 25,000 registration, the offer was to "How To Write, Market & Publish Your First Book and Use It To Get To 6 Figures". As you can see very specific.
3) Plan your summit the right way to avoid overwhelm and stress
The work you do in preparation for your virtual summit will determine your success or failure. You need to decide when the summit will take place, how many days it will be, whether it will be free or paid and if it will be live or pre-recorded.
Once you know these metrics you then need to make a list of influencers in your niche you would like to invite on as speakers, create a summit agenda/schedule and plan how many interviews will go live per day, etc. Just like any other marketing strategy the key to success is in the planning stage.
4) Have a compelling, professional looking design for your summit
If you want influencers to be part of your summit let alone share your summit then you have to make your summit look as good as possible, from the landing page, thank you/order page, promotional graphics to the membership area.
If you're not a great designer, consider hiring someone to help you with this, or learn how to customize a template to make it look professional.
5) Build authentic, powerful relationships with influencers before you need them
This is something you can start doing today! If you want to create a summit in 3-6 months, then start building authentic, powerful relationships with influencers in your niche before you actually need them.
Start with making a list of the top influencers in your industry of whom you would like to invite on as guest speakers for your virtual summit.
Then, start adding value to them by leaving thoughtful comments on their blogs, sharing their content, interacting with them on social media, leaving a book review, etc. Just look for opportunities to help them without expecting anything in return.
Doing this will not only make it easier for the influencers to say to YES to be a speaker on your virtual summit, but they will also go out of their way to promote it to their email list and on social media to help you out.
6) Provide actionable content that can get your audience results
Focus on making the experience and the education you provide within the summit world class, go beyond the duty of call to ensure you not only meet their expectation but far exceed them.
It's important that your interviews with the speakers are actionable and the audience can walk away with actionable content of which they can implement into their business straight away.
If the speakers feel like they shared their best possible content on your virtual summit, they will also be more likely to promote the event (even if you're just starting out), to their email list and on social media.
Make sure you don't go on and on and talk about their story which they shared on 100 other interviews already, but rather jump into the content as quickly as possible.
7) Start promoting your summit 3-4 weeks before the event kicks off
Don't start promoting your summit the same week or the week before it all starts. That's a big, big mistake I see quite a lot of people making.
You need to build up some buzz beforehand on social media, and start promoting it to your own list (if you have one) around 3-4 weeks prior to the event starts.
Then, around 2 weeks before the summit is about to kick off, get the speakers and other partners to start promoting it to their email list and on social media so you drive lots of registrations and sales for the all access pass (the paid version from the free summit).
And one final tip, make it super easy for speakers and affiliates to promote your summit to their audience by providing them email swipe copy, promotional graphics and letting them know what the ideal dates are to promote.
This can literally make or break your summit, so make sure you focus on making all aspects of your summit as professional as possible, and treat your summit as a "product launch".
Related
Popular in the Community