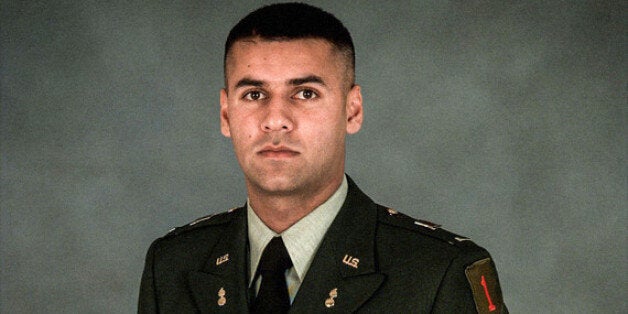 Humayun S. M. Khan was a University of Virginia graduate with plans to go to law school when he decided to enlist in the U.S. Army. Khan rose to the rank of captain, ultimately leading an infantry company in Iraq, where he was killed when a suicide bomber attacked his unit.
Khan was one of 14 American Muslims who died serving the United States in the ten years after the September 11 terrorist attacks. His family came to the United States from the United Arab Emirates, where Khan was born. Shortly after Donald Trump called for a ban on families like Khan's coming to the U.S., his father talked to Vocativ about the Republican frontrunner's comments and how he remembers his son.
"Muslims are American, Muslims are citizens, Muslims participat[e] in the well-being of this country as American citizens," Khan's father, Khizr Kahn, who moved to the U.S. in the late 1970s after growing up in Pakistan, said Tuesday. "We are proud American citizens. It's the values [of this country] that brought us here, not our religion. Trump's position on these issues do not represent those values," he said.
Captain Khan was killed just north of Baghdad on June 8, 2004. A car approached the gates of the base he was tasked with protecting. As soldiers under Khan's command prepared to inspect the vehicle, his father told us, Captain Khan screamed for his men to "hit the dirt" and walked towards it himself and demanded the driver stop. Inside the car were two suicide bombers and a large amount of explosives. As the car reached the gate, the bomb was detonated, killing Khan and wounding 10 U.S. soldiers. His father believes many more men might have died without Khan's warning. Khan was posthumously awarded the Bronze Star and the Purple Heart, two of the military's highest honors.
"We still wonder what made him take those 10 steps [towards the car]," Khan's father said. "Maybe that's the point where all the values, all the service to country, all the things he learned in this country kicked in. It was those values that made him take those 10 steps. Those 10 steps told us we did not make [a] mistake in moving to this country. These were the values we wanted to adopt. Not religious values, human values," he said.
When asked about the recent bloodshed in San Bernardino and other attacks, like the 2009 massacre at Fort Hood, where Nidal Hasan, a veteran, killed 13 people in the name of radical Islam, Khan remembers a conversation with his other son. Shaharyar Khan, the brother of the late Humayun, told his father that Muslim communities share in the responsibility for rooting out extremism.
"This is the time for us American Muslims to rat out any traitor who walks amongst us. This is high time for Muslims to stand firm [against terrorists]," the elder Khan recounted. "Among us hides the enemies of the value system of this country. And we need to defend it. And if it means ratting out the traitors who hide behind an American passport, that's what we need to do."
As outrage at Trump's remarks erupts across the political spectrum, Khan says he still believes the Republican candidate's incendiary rhetoric against Muslims doesn't represent the values of the United States. "I remember when my family arrived here and the first place we went was the Jefferson Memorial," he said. "[Jefferson's ideals] are the values that we have cherished as a family and as Americans."
Of his son who died, Khan said he believes the "values that he learned throughout his life came together and made him a brave American soldier. This country is not strong because of its economic power, or military power. This country is strong because of its values, and during this political season, we all need to keep that in mind."
More Stories from Vocativ:
Calling all HuffPost superfans!
Sign up for membership to become a founding member and help shape HuffPost's next chapter