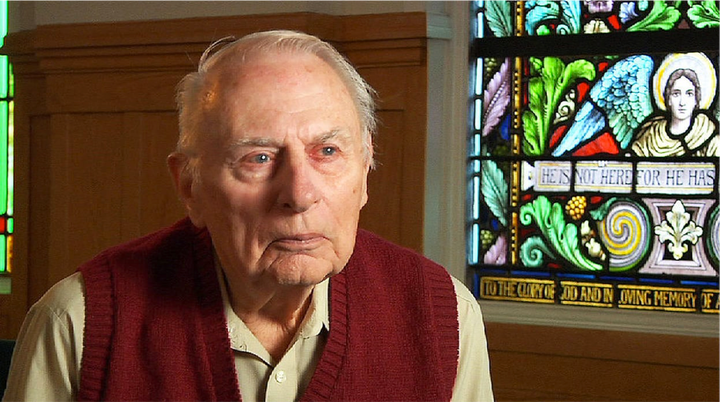 Frank Worthen, dubbed the 'father' of ex-gay ministry, died Saturday, February 11, 2017. He was 87. In 1973, Frank was one of the founders of Love in Action, once the world's oldest and most renowned ex-gay organization. Additionally, Frank helped organize what would become Exodus International, the umbrella organization under which conversion therapies would unite in purpose, though never in deed. The methods used to "change" someone from gay to straight ranged from Bible reading and prayer, to debunked psychological therapy, to abuse.
Frank's life was nothing, if not controversial. Frank was a wealthy businessman by the time he became a Christian at age 40. At the urging of one of his employees, Frank made an audiotape of his transformation from gay to straight due to his Christian conversion. He advertised the cassette, he said in his testimony, "in the worst sex paper in town," with an ad that read: "Do you want out of homosexuality? Send for a Brother Frank tape on a Christ-centered way out of homosexuality." With that, Love in Action was born.
On the outside, it's easy to dismiss Frank as a religious crackpot. His story divided people on both sides of his ministry. It's not difficult to find those who left Love in Action, or New Hope Ministries, which Frank established in 1994, broken and bitter. Indeed, the legacy of conversion therapy leaves in its path decades of divorces, broken homes, and suicides. But Frank, like most conversion therapy leaders, was much more complicated than that.
Former ex-gay spokesperson, John Paulk said on his Facebook page, "[A]lthough, I do not support nor endorse this movement any longer, I morn [sic] Frank's passing… No matter my journey, he always loved me unconditionally."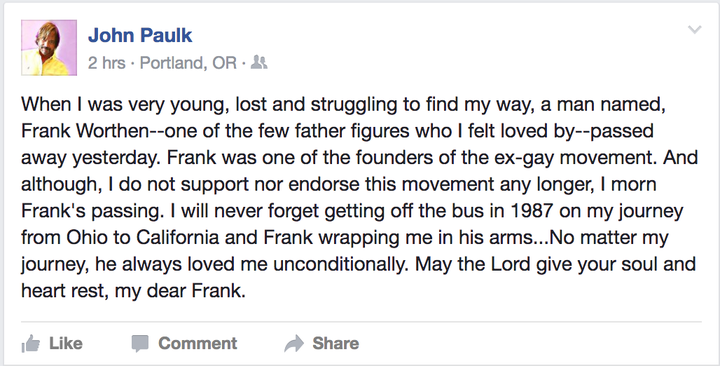 I met Frank Worthen in 1989 when I was a young, Assemblies of God minister. Frank and his wife, Anita, invited me to come to their Bible study at one of their residential houses. It was there that men and women, seeking to overcome same-sex sexual orientations, attended a yearlong program. I was one of those people looking for answers.
Frank was a good man. He was kind, compassionate, caring, loving, and convinced of his mission from God. He was so convinced, in fact, that he spent his own money, never taking a salary, to finance the ministry. At the time I met him, he and Anita were turning the garage of one of the residential houses into a studio apartment so they could give the entire house to the ministry.
He was a mild-mannered man who barely opened his mouth when he spoke. His quick wit, however, was never lost on anyone. His mouth turned up slightly and his eye twinkled while he subtly delivered a one-liner that was sure to break up a room.
Frank avoided the spotlight. He stopped doing interviews with the secular press when he felt they only distorted his message. And his message, "Freedom from homosexuality through Jesus Christ," was always on point. He never entertained the possibility that either his theology or beliefs were wrong. He was steadfast and certain about his faith, against any evidence to the contrary.
In 1991, when Frank and Anita started a new ex-gay ministry in the Philippines, they turned over the reigns of Love in Action to John Smid. While John took the ministry to new heights and new controversy before finally leaving and denouncing ex-gay ministry, Frank later voiced his regret for giving the ministry to John. In a blog post on Grace Rivers website, John said, "I can respect Frank's integrity. He remained faithful to what he believed throughout his being until the very end of his life."
But like most people leading conversion therapy, Frank's misdirected passion and zeal crossed a line. He was a product of the fundamentalist Christian right, unwilling, if not incapable of choosing compassion over creed; edict over empathy.
Michael Bussee, one of Exodus International's founders who left the ministry three years after he started it, said Frank already seemed like an old man when he met him in 1975. Michael described him as "soft-spoken" and "gracious," but also said, "I never knew he could be so harsh, judgmental and rejecting. I had no idea he believed in such a DARK theology. I was frankly shocked when he wrote me off to the fires of hell."
Darlene Bogle, who worked with Frank for many years, said, "He was a kind man, just a very narrow mindset. He spent years believing his own press. He was sure we're all going to hell, and could never accept that I could be a Christian and embrace myself as a lesbian!"
Frank embodied the fundamentalist Christian dogma, which built conversion therapy from the ground up. Extremist doctrines hijack believers' minds like a virus, blinding good intentions with a veracious certainty of gospel truth. The word maze and acrobatic interpretation of Scriptures keeps reason and human compassion locked at bay, unleashing threats of hell and damnation toward anyone who believes or acts differently. Those of us who leave the fold are quickly dismissed as followers of Satan, deceived, and enemies of Christ.
When Exodus International closed in 2013, Frank helped launch a new, more conservative, and more extreme version of the ministry called Restored Hope Network. Anne Paulk, the ex-wife of John Paulk, was given the title of executive director. Anne stated on the Restored Hope Network site, "How grateful we all are for you Frank, and oh, how you will be missed. No one can fill your shoes, my friend, nor should they. With respect and deep affection, I look forward to seeing you on the other side."
It is with deep devotion to "the other side" that relieves many of these leaders from guilt they might otherwise feel for they way they treat LGBT people. Their fear of hell forces them to disassociate with anyone who does not equally esteem their literal brand of theology. It is this fear from which "religious freedom" laws are formed and carried out in self-preservation. The doctrine of love-the-sinner-hate-the-sin cushions an otherwise cold-hearted Gospel of fear and hate.
Yes, Frank Worthen was a good man and loved everyone, as much as he and his theology were able. Unfortunately, Frank was never willing to look at the actual legacy of his work. Had he been able to do so, I believe he would have been devastated.
Popular in the Community