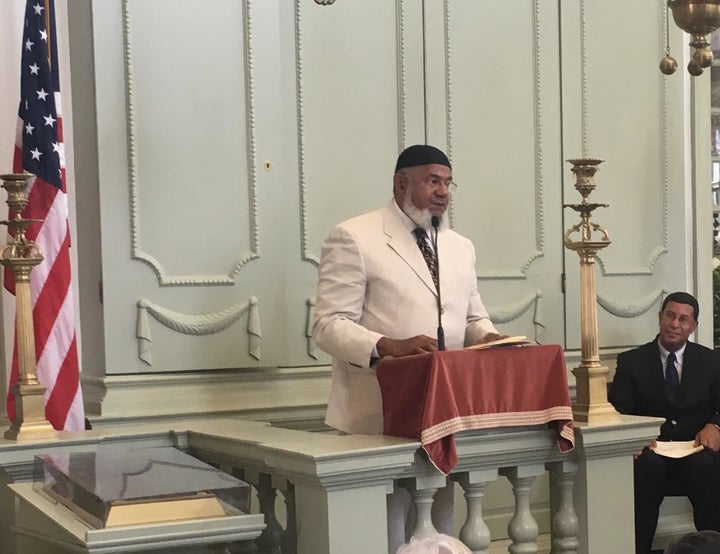 NEWPORT, R.I. ― What would our first president think of our 45th?
George Washington would be horrified by Donald J. Trump's claim that there were "fine people" among those who rallied in Charlottesville, Virginia, with neo-Nazis, Klansmen and white nationalists, and that they were morally equivalent to those who protested the event.
Read his famous letter of 1790 to the Jewish congregation here in Newport. It is arguably the first official commitment of the new federal government to religious and other forms of tolerance, written by the "Father of our country" more than a year before ratification of the Bill of Rights. It also was the first and clearest statement of a principle now honored worldwide, in theory, though sadly not in fact.
"It is no more that toleration is spoken of, as if it was by the indulgence of one class of people, that another enjoyed the exercise of their inherent natural rights," he wrote to the members of the Touro Synagogue. Stephen B. Kay, a descendant of prominent 19th century Newport Jews, read the passage aloud on Sunday in the restored colonial-era synagogue.
"For happily the government of the United States, which gives to bigotry no sanction and to persecution no assistance, requires only that those who live under its protection should demean themselves as good citizens, in giving it on all occasions their effectual support."
If you were in present at the historic synagogue 
on Sunday
, you would have been even more convinced, as the still-surviving congregation presented its 70th annual public rereading of the letter. Speeches given there by religious leaders of the three Abrahamic faiths, elected officials and Martha L. Minow, a professor and former dean of the Harvard Law School, reverberated throughout the house of prayer.
Among those who filled the two-story neoclassical edifice: Rhode Island Sen. Sheldon Whitehouse (D), Rep. David Cicilline (D), and Newport Mayor Harry Winthrop.
You need to be an 'upstander,' not a bystander. Whoever degrades another, degrades me.

Martha L. Minow, professor and former dean of Harvard Law School
Rather than attack Trump by name or directly, the speakers invoked the letter's words to shame him, suggesting that Washington's idea of being a "good citizen" implied confronting and taking personal responsibility for schemes of intolerance in America.


"What better sign is there to send at this particular time?" asked Imam Farid Ansari of the Muslim American Dawah Center of Rhode Island.
"It is the in the spirit of Jesus, and of Catholicism and Islam, to welcome all here," said Sister Jane Gerety, president of Salve Regina University in Newport. It was especially important to say so at "this particular time," she said.
President Trump, said Minow, needs to "remember and reclaim" the spirit and standard of Washington's letter. But just as important, she said, citizens could not be bystanders when they see or hear of religious, racial or other forms of intolerance.
"You need to be an 'upstander,' not a bystander," she said. "Whoever degrades another, degrades me," she added, quoting the poet Walt Whitman. In an era of social media and big data, she said, "targeting" for the purposes of degrading others is all too easy, and all too prevalent.
"Pick your target of oppression and defend it," she urged "Muslims, African-Americans, Trump supporters, colleges...We need to stand up to injustice and demand that leaders do the same."
Delivering such as message in Rhode Island has a special resonance now, and always has.
From its founding in the 17th century onward, it was known as a pioneer of religious toleration, not only for Jews but for Baptists, Quakers and others. But it also was, and especially for its size, a remarkably active participant in the slave trade, which infamously built the fortune of the benefactors of Brown University, among other institutions in the state. Brown University is now a leading center for the study of slavery, and the alma mater of Hamilton star, Daveed Diggs.
In defiance of Washington's administration and a law enacted by Congress, slave-trader John Brown mounted a slave trading voyage in 1794. He was convicted in federal court, and was made to forfeit the ship. He had named it "Hope" after the 17th century motto of the colony and state.
The state's motto remains "Hope." Hearing the 227-year-old words of George Washington made you want to do just that, even against a lot of current evidence. 
Calling all HuffPost superfans!
Sign up for membership to become a founding member and help shape HuffPost's next chapter
BEFORE YOU GO
PHOTO GALLERY
New Orleans March Against White Supremacy