Ouch. That's pretty much all I thought as I watched the film adaptation of "The Fault in Our Stars" with a bunch of teenagers during a fan screening in New York City on May 3.
I'm a 26-year-old fangirl (and I'm not ashamed to admit it), but I'm also a member of the press who was sent to cover the event for HuffPost Entertainment. I was looking forward to a Saturday night full of popcorn, Diet Coke and John Green. Instead, I got a pounding headache.
Before the screening started, Green came out to greet the audience with Nat Wolff, who plays Isaac in the movie. I couldn't really hear anything they said, though, since my ear drums exploded from all the yelling. I'm not sure how the acclaimed author felt as 13-year-old girls in "TFIOS" T-shirts screamed, "I love you, John!" as he walked down the aisle with Wolff, but I felt a little uncomfortable watching it unfold. (Plus, I was hoping I could let John Green know how much I love him while the teens were distracted by young Wolffy.)
To say emotions were high in the room would be an understatement. Young men and women holding their books and posters chatted about which scenes they were most looking forward to and how Ansel Elgort (aka Augustus Waters) was perfectly cast in the leading role. "He's going to be famous," one moviegoer said to her friend as they giggled with excitement.
At one point, the room went silent and everyone turned their heads to the entrance, hoping to see the cast stroll through the door. Instead, however, they got MTV reporter Josh Horowitz -- and you would have thought he was Oprah. "Oh my God, can we take a picture?" a handful of girls asked Horowitz as he found a seat. He cordially obliged. (I'm sure he was as thrilled as I was to discover he'd be crying alongside a group of teens that evening.)
Finally, the screening was set to start. As the lights dimmed and the music kicked in, audience members rustled in their seats, anticipating the moment when Hazel Grace Lancaster (Shailene Woodley) would grace the screen. When she did, shrieks erupted in the theater, and her beautiful narration, which I had been longing to hear, was inaudible. Many people tried to hush the noisy mob, but to no avail. And just as the screeching, laughing and sniffling -- yes, some individuals were crying before anything sad actually happened -- appeared to be dying down, pandemonium broke out seconds later as the opening credits flashed across the screen. Each actor received their own rousing ovation, with Elgort and Wolff garnering special attention from the crowd. (These moviegoers certainly had a type; sorry, Willem Dafoe.)
Once people started to realize that they should be listening and watching the movie rather than screaming at it, the commotion dwindled and I could finally enjoy the film. The occasional "awww" and "ahhh" could be heard every now and then, but for the most part, the teens had silenced their squeals. That is until Hazel and Gus' relationship picked up steam. The "awwws" and "ahhhs" became "eeeees!" and the vowel rang in my brain, which eventually got used to the high-pitched echo.
So as my body adjusted to its surroundings, everything seemed to be going smoothly. At least until the ending. Now, I am not one for spoilers, and I know there is a book, but I'm going to keep things confidential here and just say: People, this movie is SAD and tears and boogers should be expected. Tissues are a must.
Still, there's a B-I-G difference between tears and breakdowns. The hysteria that ensued in this theater was so soul-crushing that I wondered if someone should call an ambulance.
"My life is over!" one girl said as another could be heard ... ummm, convulsing?
That kind of frenzy continued until the movie came to a close, which probably made Twentieth Century Fox -- the studio releasing "The Fault in Our Stars" -- very happy. Me? I wasn't so happy. Don't get me wrong, it's an amazing experience to watch a story as beloved as this one unfold before the eyes of its No. 1 fans, but due to the fact that I was there to cover the film, the environment just wasn't ideal.
Fits of madness continued once the cast, Green and director Josh Boone surprised the audience to participate in a Q&A. Cries of "We love you!" could be heard throughout the chat, an expression of emotion that was adorable, and at the same time, annoying. My favorite exchange:
"I love you, Shailene, I just, have to say I love you, Shailene," a male member of the crowd told Woodley.

"And you don't love me?" quipped Elgort.

"Oh, I just want to let you know, I'm in looove with you," the guy responded, as the crowd erupted into laughter. "You're going to be a star, you're going to be faaamous."

"Thank you, I appreciate that," Elgort replied.
So, let's just say my experience at the fan screening of "The Fault in Our Stars" was a unique one. I appreciated getting a sense of how big this book really is and how much people are anticipating the movie's release, but I would have preferred to sit in a small theater next to John Green, eating popcorn and drinking Diet Coke ... or maybe something a little stronger.
Before You Go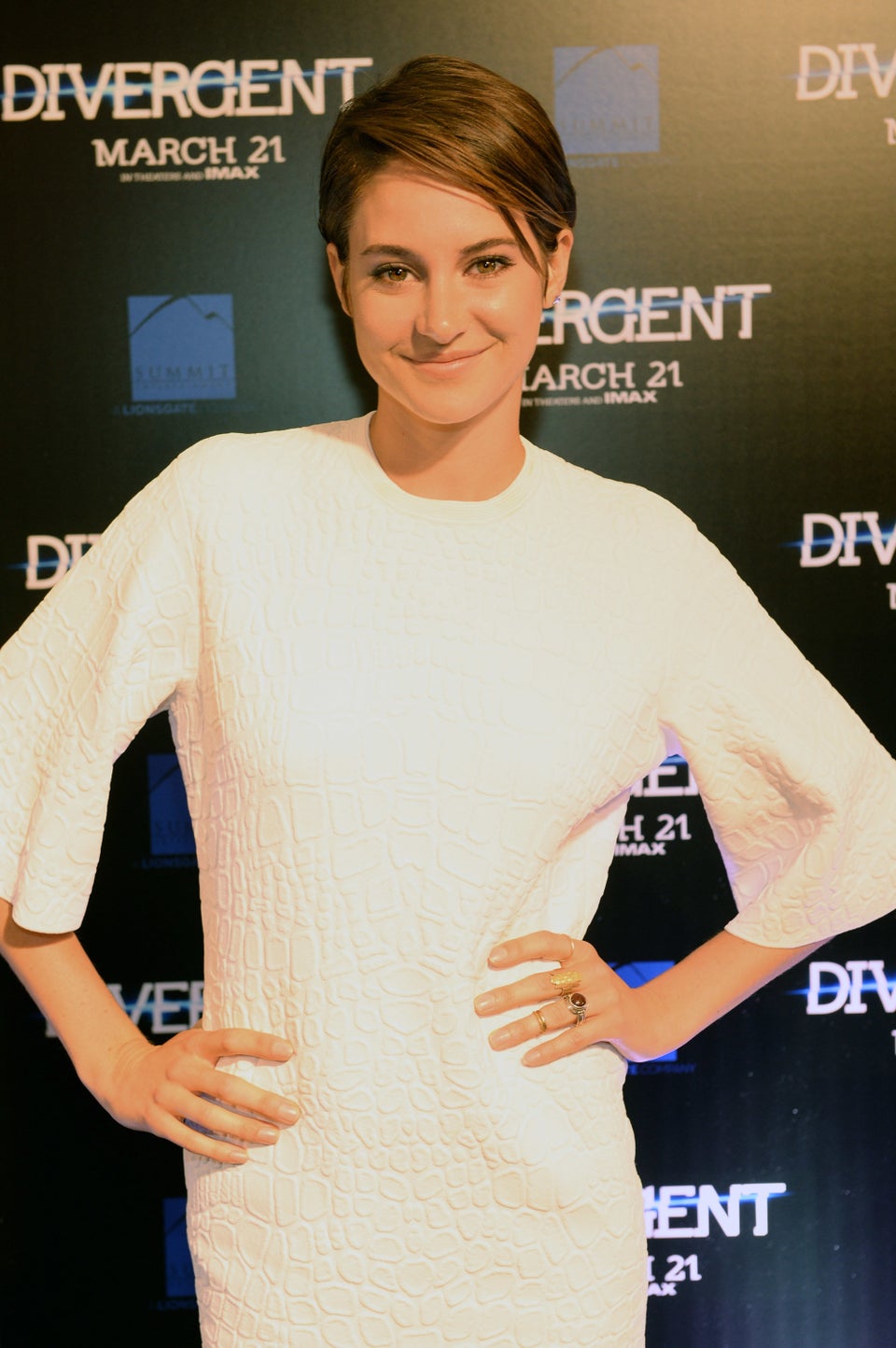 Shailene Woodley
Popular in the Community