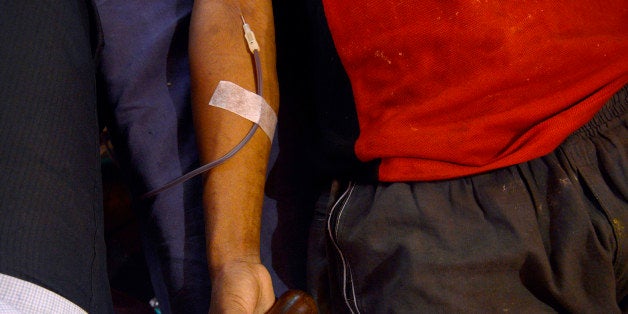 The FDA's ban on blood donations from gay or bisexual men has received renewed scrutiny after the mass shooting at Pulse, a gay nightclub in Orlando, Florida, on Sunday, June 12. Though the FDA has long claimed that its policy protects the blood supply, the truth is that it is unscientific and discriminatory. Here's why lawmakers are correct to denounce it:
Certain sexual practices put people at risk for HIV contraction; sexual orientation does not. While HIV is more common among "men who have sex with men (MSM)" than among other populations, gay men in monogamous relationships - who are banned from blood donation - are less likely to contract HIV than heterosexual men or women who have unprotected sex with multiple partners (who are perfectly free to donate).
Gay and bisexual men who have ignored the ban and donated blood in the past have had HIV rates lower than those found in the general population, according to a study that the FDA itself commissioned.
Other countries without the ban have perfectly safe blood supplies. Italy, for example, replaced a similar ban fifteen years ago with an approach based on sexual practices. This "individual risk assessment" approach did not harm blood safety.
The FDA's excuses for maintaining the ban are often incoherent. They've argued, for example, that individual risk assessments "would be very difficult to validate and implement in our current blood donor system due to resource constraints," but it's hard to see why they'd need additional resources to make a simple language change to their donor questionnaire, why such a language change would be hard to implement, and why such a language change would require validation that they've never before deemed necessary.
The FDA made a small and insignificant change to the policy at the end of 2014; whereas gay and bisexual men were previously banned from blood donation for life, they are currently banned for "only" a year since their last sexual encounter - meaning, of course, that there is still an effective lifetime ban on non-celibate gay and bisexual men. Especially since HIV can now be detected in blood "as little as just a week after exposure" and new technologies have almost completely eliminated the risk of HIV transmission through blood donated in high-income countries in general, there's little basis for such a long deferral period for people who have actually engaged in high-risk behaviors, let alone those, like many gay and bisexual men, who haven't.
If the FDA truly wants to "rely on scientific evidence," as White House spokesman Josh Earnest recently said they should, the agency must end the ban altogether.
Calling all HuffPost superfans!
Sign up for membership to become a founding member and help shape HuffPost's next chapter