When September 11 happens out of your bedroom window the first week of college, it is bound to change you.
For me, I had textbook Post Traumatic Stress Disorder. The physical symptoms - physical shakes in my body (fear literally trembling); the mental symptoms - falling asleep each night feeling as though I was falling (not in a good way, in a scare yourself awake kind of way); and the emotional symptoms - feeling so disconnected (looking out of the window and having life appear to be nothing more than a painting).
Of course, traditional medicine wanted to put me on medication in order to overcome PTSD. I tried Zoloft for a while, and mostly felt like I was floating. My head may have felt better, but my heart still felt the discord, and thankfully at 18 years old, I decided that was not good enough.
After transferring to a new college for the second half of freshman year - which I guess most people would consider a whole new level of stress, but for me it was just a new beginning - I found yoga.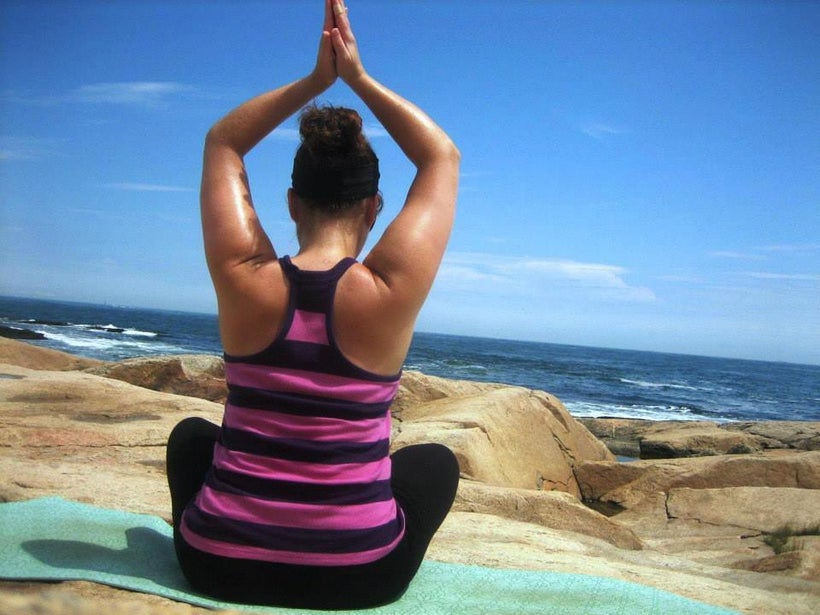 That's where I began to truly heal myself. I found space in my body and learned that emotions are not just stored in the mind, but also on a physical level. I began to unwind all of the pent up anxiety. I found space in my mind with each cleansing breath, and by dynamically linking my breath to my movement. Things started to get quiet - I had really missed the quiet. And, I grew more in-tune with my own spirituality and desire for a deeper knowing of myself. Since then, I have been on a continual inward journey of self discovery which is what made the space for me to follow my dreams - even if it was a bit scary. Rather than run away from your fear, you have to run toward it (like in the story that I share here in my blog: 5 Entrepreneurial Lessons You Learn By Hiking).
Fear is just an emotion. It is not a thought.
Learn how yoga can change your life at this free, virtual summit Oct 18-19. I will be sharing more about my my yoga journey, and how yoga has helped me to create a better life in all ways possible. You'll be inspired to either start a yoga practice for the first time, or get back to your mat with a new level of passion and commitment. I'll teach you the benefits of yoga, and how to apply those benefits to your life through a physical practice - starting today!
I work with successful woman professionals and entrepreneurs across the country. I inspire and impact them to acheive personal wellbeing, business freedom, and financial security so that they may have everlasting fulfillment. Much of my coaching is rooted in the yoga values of compassion, integrity, alignment, and authenticity. There is no better place to be exactly who you are than in yoga class or in a coaching session. If you're a woman seeking to take her business, life, and relationships to the next level; if you have a commitment to always be growing; a spiritual and adventurous side of you; and you know that you are worth it - then I'd love to see how I can help you acheive your greatest success. Learn more here: Megan McAvoy Coaching, LLC and email me at megan@meganmcavoy.com.
You can always join my email list for more inspiring lessons, opportunities, and business building ideas: Join Email!
REAL LIFE. REAL NEWS. REAL VOICES.
Help us tell more of the stories that matter from voices that too often remain unheard.
This post was published on the now-closed HuffPost Contributor platform. Contributors control their own work and posted freely to our site. If you need to flag this entry as abusive,
send us an email
.