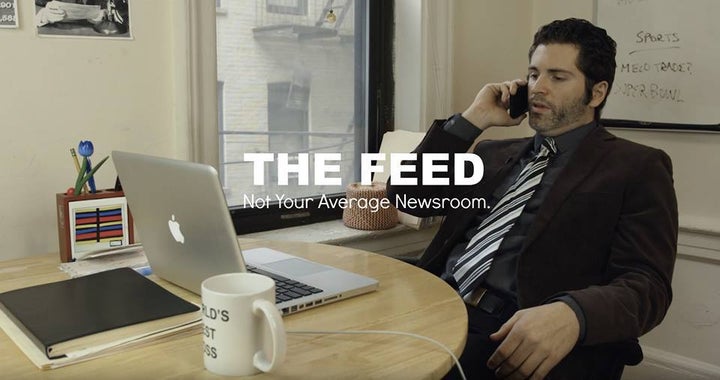 The idea of fake news is dominating headlines, as people take to social media to brawl over political issues. Since the controversial election of Donald J. Trump as president, the world of journalism has been flipped on its head, while the act of sharing status updates has become a point of contention for some. In short, a nationwide fatigue has set in as more allegations against the 'fake media' are made each day.
In the midst of this—dare I say it—shit storm, perhaps there is no better time for a pointed comedy to sweep in and make light of the situation. This is exactly what New York City comedian, Jeff Cerulli, did with his new online series, The Feed, which parodies the absurdity of social media and journalism today.
"The idea [for The Feed] came from the way people use social media, explains Cerulli. "We share articles and voice our complaints but in reality we are just shouting into an echo chamber."
Cerulli, who plays himself, stars in The Feed as a regular guy who runs away with the zany idea of turning his living room into a newsroom and his Facebook feed into a news publication. Hiring a small team consisting of an over achieving intern (played by comedian TJ Del Reno) and a disinterested field reporter with a famous war correspondent for a father (played by comedian Cate Weinberg), Jeff tries to scoop CNN, Reuters and by far his biggest competitor, Robbie Taylor's Facebook newsfeed (played by comedian Harry Terjanian).
Cerulli's fearless show holds up a much needed mirror to society and the disturbing trend of undermining quality reporting to prove a point. For journalists, The Feed points to the growing concern that anyone with a laptop and an opinion can label themselves a reporter, pushing out biased, unsubstantiated content that may sway public opinion. For the rest of us, The Feed pokes fun at the self-importance of our respective social media profiles, as well as the tendencies of people to incite political discourse.
"I feel that everyone used to look at the internet like it was the Wild West of information," says Cerulli. "But somewhere along the way, the internet changed into a tool where people will use anything to prove their point. Being right is now considered the most important thing rather than where the information came from. Fake news was always there, it is now just considered acceptable to use anything as a source to prove a point, The Feed takes a look at that idea that anyone can be a reporter if they claim to be."
Rather than create a Facebook page for his character, Jeff made the bold decision to use his own personal page for the show. "I wanted to use my real Facebook page instead of making a separate one for the character because I wanted to blur the line between reality and fiction," says Cerulli. "Everyone has an online persona—good or bad—it usually is how you want to act in real life but can't for whatever reason."
The Feed, which goes by the cheeky slogan of 'not your average newsroom' will begin releasing episodes on July 25th. Until then, you can watch the full pilot episode below.
Related
Popular in the Community