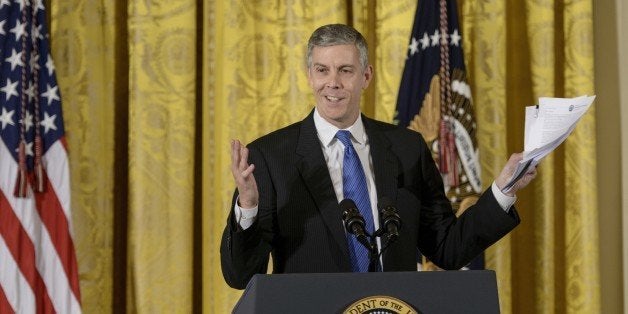 Prior-prior year income information is the closest thing to a silver bullet for the industry.
What if, with just one small change, we could give families an earlier estimate of college costs, reduce the need for duplicative updates of financial aid applications, and alleviate some of the administrative burden on schools so staff have more time to provide individualized financial counseling to those who need it most? It's possible -- and Secretary of Education Arne Duncan has the authority to enact it today.
This April, millions of families with students in college aren't just filing their taxes -- they're revising their initial financial aid application forms to reflect the most recent tax information, too. It's a yearly headache that causes delays in financial aid awards and creates confusion about college costs -- and it could be easily avoided with one simple change.
The Free Application for Federal Student Aid (FAFSA) becomes available every January 1, and currently requires a family's tax information from one year prior. Families are encouraged to file the FAFSA as soon as possible to maximize their odds of receiving financial aid. But with tax deadlines months later, most have to estimate their tax information on aid applications and make corrections later. In the worst case scenario, some families miss out on financial aid funds that are disbursed on a first-come basis.
Education Secretary Arne Duncan has the authority to enact a change that would fix this widespread issue. By using income from two years ago, otherwise known as prior-prior year (PPY) tax income data, families could file the FAFSA with tax information they already have, making the process quicker and easier. By taking advantage of the existing ability to import tax information directly from the IRS onto the FAFSA form, families will spend less time gathering paperwork and would make far fewer errors. Easing the burden on families while also improving accuracy and program integrity is a hard deal to pass up.
The use of prior-prior year income also presents an opportunity to align admissions and financial aid decisions and give millions of families more time to plan for actual college costs, rather than sticker prices or projections. And according to research commissioned by the National Association of Student Financial Aid Administrators (NASFAA), low-income families experience very little income fluctuation from year to year and most would not see a significant change in their eligibility for a Pell Grant with a switch to prior-prior year income.
Prior-prior year income is the closest thing we have to a "silver bullet" for an industry in search of meaningful solutions. Total student debt has topped $1.3 trillion, and many families feel stymied by a process that offers few definitive answers when it comes to the full costs they might expect. With earlier aid awards, financial aid administrators would have more time to help families evaluate their options and make informed financial decisions.
Perhaps most remarkably, this is a rare policy idea that enjoys broad bipartisan support in both the House and the Senate in a Congress that lately has been anything but agreeable. And while the interest and attention from Congress is encouraging and certainly welcome, the fact remains that their action is not wholly necessary. The Department of Education already possesses the authority to enact this change, and it is well past the time for it to act.
Prior-prior year is a common-sense and practical change that will make a meaningful difference in the lives of students and families. Let's flip the calendar back so that we can move forward together.
Related
Popular in the Community