When we returned to quaint and historic Milford, Pennsylvania a few weeks ago for a weekend reunion with friends, I was not expecting to come across a new favorite artist; especially not one like James Sheehan. Arriving into town, I was pleasantly surprised to see a noticeable increase in galleries, one of which being the Blue Stone Gallery. This is where I first encountered Mr. Sheehan's work.
Over a decade ago, my partner and I purchased our first home just a few miles outside of Milford. We opened our first art gallery in Forest Hall -- once Yale University's Forestry School -- at the town's busiest spot: its one and only traffic light. At the time, my artwork, not being traditional, sold mostly to out-of-towners and weekenders from New York City. The local art scene was dominated by paintings of flowers, barns, and farm animals... not that there is anything wrong with that. Sheehan's style is anything but quaint. It offers a breath of fresh air to the Milford art scene, and a solid promise that diversity and individualism have not only arrived but are there to stay.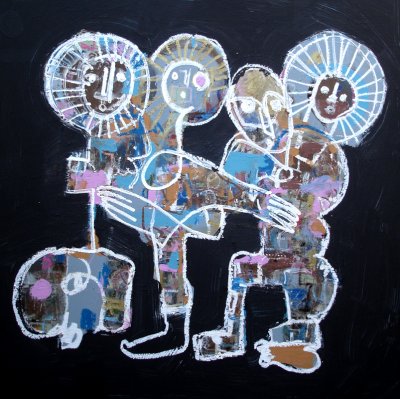 Family Cycle


JG: Walking into the Blue Stone Gallery I immediately gravitated toward your paintings. The faces, round and powerful like suns with human bodies, were first to engage me. There is a reverence conveyed by your figures, some suggest halos or emanating energy.
JS: My biggest visual influence is definitely tribal art: Egyptian, Mayan, Ethiopian. They were able to communicate in such a simple manner, with so much life and energy.
JG: How did your style develop?
JS: I was born and raised in upstate New York -- Orange County. As a kid and well into my teens, I was really into skateboarding and the underground culture that came with it. Punk music also affected the path I was on. Anything that seemed "alternative" appealed to me. When I moved to New York City to study at the School of Visual Arts, all the pieces fell into place. Nothing has had more influence on my painting than the feeling of living in the city. Graffiti, of course, also began to influence my work.
JG: You have found a great way to balance the influence of city life with that of nature. Libba Marrian directed and produced a documentary about you titled Trusting the Struggle. In it, you are shown painting in the woods in the middle of the night.
JS: There is nothing better than painting outdoors! There are so many variables that can dictate what and how I paint. Is it cold, hot, foggy, dark, raining, snowing, windy? It's all great. Nature is so powerful.
JG: There are complex grids in some of your paintings. I lost myself in them while trying to, in some way, decode them. Having this conversation, I can see how those might relate to city living.

JS: The grids are a new direction. One day, I just started filling in a figure with these lines. It was a great discovery! Eventually I started making paintings with just lines. It is definitely a stream of consciousness. I listen to music when I make these and try to portray the rhythms visually.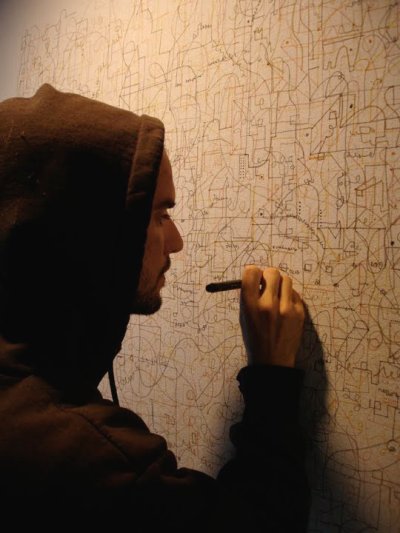 JG: There is a primitive and raw feel to much of your work. In the documentary, you say that you consider yourself a blue collar painter because your work is mainly about process. Is there much preparation -- mental or otherwise -- or does the outcome just happen?
JS: It's not easy, but at the same time, it is. I guess the mental prep is ongoing. I just have to take advantage and utilize the "feeling" when it strikes. James Brown said it best when he sang, "I got the feelin', baby."
JG: The "feelin'" is most definitely inescapable in your work.
James Sheehan currently teaches at the School of Visual Arts in NYC. He co-authored the interactive sketchbook/journal Draw With Me. His work is exhibited and sold by various East Coast galleries.

Calling all HuffPost superfans!
Sign up for membership to become a founding member and help shape HuffPost's next chapter