At International CES, a conference lined with prestigious keynote speakers, The Ipsos Girls' Lounge was honored to partner with AOL's MAKERS and have the woman leading technological advancement in the White House bring candor, insight and inspiration to our intimate space. Megan Smith, the Chief Technology Officer of the United States, who is an infectious whirlwind, shared so much inspiration that I literally sat speechless (a rarity), absorbing every word.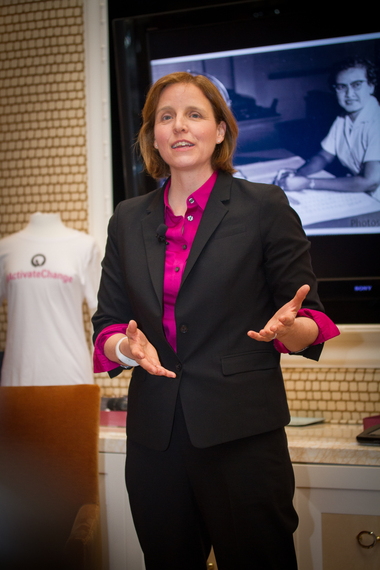 In a room filled with over 150 women, Smith drew us in, sharing stories from her childhood in Buffalo, NY in the '70s, Silicon Valley in the '90's and her early days at Google -- all which led her to the White House in 2014. As acting CTO in the Office of Science and Technology, her colleagues include scientists, brain and space researchers and an incredible team of techies across government and the world. Her role advises the President and his team on technology policy -- net neutrality, big data, regulations, precision health and protecting the privacy of American citizens.

She referenced the "TQ" Technology Quotient, that is a necessary skill set for her team. So, how do you get more people with "TQ" to work for the government instead of a hot startup? Smith said, "When you get the right culture... this kind of work will pull people. You're saving the lives of veterans... and families. Once you start to work on these problems... it brings out the service orientation within all of us."

Smith has worked to bring more women into the engineering and technology fields. At Google, she was actively involved in recruiting for the Women Techmakers program, stating, "Those of us who love science and math should also do service through innovation and invention to make the world a better place...and use technology to do that."

Women have always done these jobs -- even if they've been written out of the story. She referenced the Steve Jobs movie where there's no appearance by a character representing Joanna Hoffman, who was on the product team for the original Apple Macintosh. "We lose our history all the time, and it's really debilitating to young girls."

She went on to share a super powerful nugget for paying it forward -- "If you're teaching in this field -- start with impact! And then get to the math. Kids need to have hands-on experiences with this stuff and understand how not to just be consumers of technology, but how to be Makers."

This is why Dyllan McGee, the Founder and Executive Producer of MAKERS, has compiled the largest collection of women's inspiring stories from around the world on modern achievements and advancement, including the story of Megan Smith and Katherine Johnson. Many people don't know that it was Johnson, an African American woman, who successfully calculated the flight trajectory for Apollo 11's flight to the moon in 1969.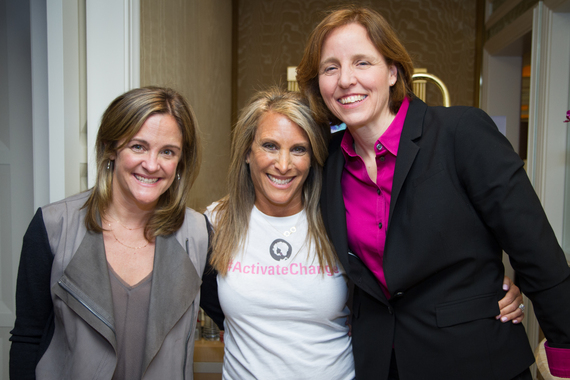 MAKERS also worked with Verizon on the "Inspire Her Mind," commercial to help raise awareness of gender stereotypes. In this specific commercial a young girl working on an elaborate science project is discouraged from muddying up her dress and from handling a power tool in lieu of her brother. It leaves viewers with an important question to process: "Isn't it time we told her she's pretty brilliant, too?"

This message became crystal clear when YULA High School girls from The Genesis Helping Hand Project stepped forward and presented a 3D printed prosthetic hand that was created over the course of CES in The Girls' Lounge. The 3D printed hand will be given with love to a young girl who has lost her own. These amazing young women hope to donate over 1,000 prosthetic hands to young people in need during 2015. Their selflessness and vision is an example of how a few small steps can start a movement.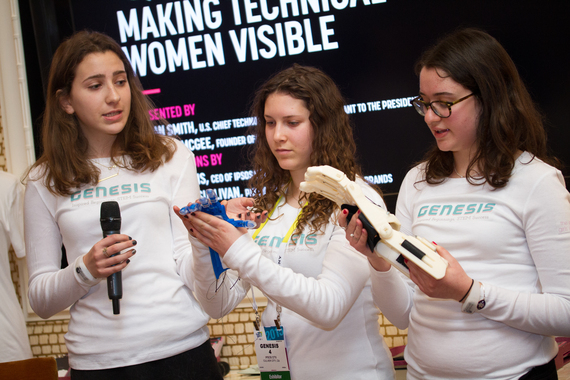 I agree that to truly activate change we must inspire the next generation and we must inspire each other. As a group, we have evolved together. Beyond networking, The Girls' Lounge has become an incubator for thought leadership and activation. Remember, if we could have done it alone, we would have by now. Stick together and lead the charge in revolutionizing the workforce and technology. Keep thriving and #ActivateChange.
Calling all HuffPost superfans!
Sign up for membership to become a founding member and help shape HuffPost's next chapter