Every year since its first broadcast in 1928, a magnificent tradition has been performed on December 24th (Christmas Eve) It's called The Festival of Nine Lessons and Carols and is performed by The Kings College Choir in Cambridge. The service includes carols and readings from the Bible. The opening carol is always 'Once in Royal David's City', and each year there's always a new, specially commissioned carol. The composer of this year's commissioned Christmas carol is British composer Michael Berkeley CBE. who has set to music the traditional 15th century Christmas text This Endernight. The carol will receive its first public performance on Christmas Eve at this years Festival of Nine Lessons and Carols.
As a young boy, I attended Lancing College, an English independent boarding school in the British public school tradition whose alumni include such literary icons as Evelyn Waugh (Novelist. Brideshead Revisited,) and Tom Sharpe (the satirical novelist). Other alumni include Sir Peter Pears (tenor), and my peers and fellow students in 1962,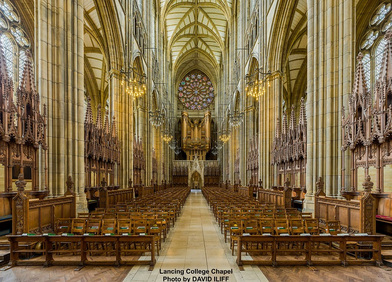 Sir Tim Rice (Lyricist. Jesus Christ Superstar) Chris Hampton CBE. (Playwright. Dangerous Liaisons) Sir David Hare (Playwright. The Hours, The Reader) and Jeremy Sinden (Actor. As Time Goes By, Middlemarch). The year before I arrived at Lancing I was chosen to sing the solo for "Once in Royal David's City," at my prep school Carol service. During my years, at Lancing (1962-1967) we were required to attend "chapel" twice a day (matins and evensong), seven days a week, and I would sit there lost in the pageantry and beauty of the music.I fell in love with choral music from the first day I sang "Once in Royal David's City in 1961, and continue my passion for it to this day. 4000 miles away in Arlington Virginia, around the same time, my future wife and musical partner was singing in The Rock Springs Children's Choir. She also, to this day, has an enduring passion for classical and choral music.
The Kings College Choir reputation resonates with millions of people around the world. They're one of today's most accomplished and renowned representatives of the great English choral tradition. The choir was first founded in 1441 by King Henry VI when he also founded its namesake college as part of Cambridge University.
Nowadays, Kings College Cambridge Choir comprises 16 boy choristers, between 9 and 13 years old, and 14 male Cambridge University undergraduates who're studying for various degrees. The 14 male chorister undergraduates all reside at Kings College, while the boy choristers are educated just across the river at King's College School where their education is the same as all their fellow students except that their choral commitments are handled before or after school hours.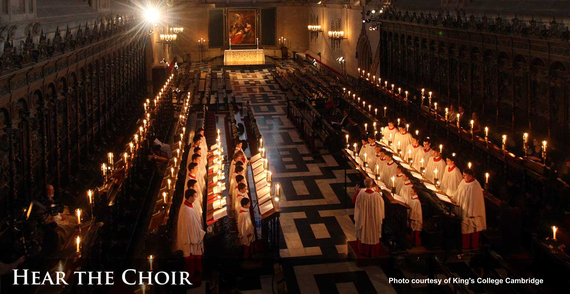 Henry VI specified originally that the "16 choristers were to be poor boys, of strong constitution and of 'honest conversation'. They had to be under twelve years of age when admitted, and able to read and sing. In addition to their choral duties singing Matins, Mass and Vespers, they were required to wait at table in Hall."
Much of the choir's fame derives from The Festival of Nine Lessons and Carols that is broadcast worldwide to millions of people on Christmas Eve. The Festival of Nine Lessons and Carols is a service of Christian worship celebrating the birth of Jesus. From 1931, the Festival of Nine Lessons and Carols has been broadcast consistently every year until modern day. The Nine Lessons, which are the same every year, are read by representatives of the college and of the City of Cambridge from the 1611 Authorized King James Version of the Bible. The singing is divided into "carols" which are sung by the Choir of King's College, Cambridge, and "hymns" that are sung by the Choir and congregation.
Stephen Cleobury CBE. is the Director of Music at Kings College Cambridge and Choir Master and Organist. He was born in Bromley Kent in 1948 to John and Brenda Cleobury,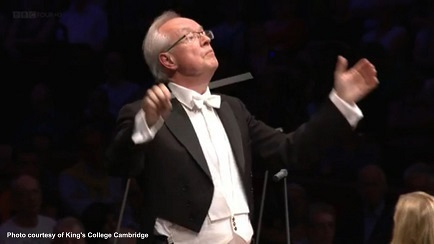 and educated at Kings School Worcester after which he became an organ scholar at St John's College Cambridge. During the mid-70's he was head of music at St Matthews Church Northampton and Northampton grammar school and in 1979 became Master of Music at Westminster Cathedral. In 1982 he took up the position of Director of Music for the Choir of King's College Cambridge which he holds to this day. In addition, he was conductor of Cambridge University Musical Society from 1983 until 2009.
Stephen Cleobury became the President of the Royal College of Organists from 1990 until 1992. Also, a Fellow of the Royal College of Music he became a visiting Fellow at the Louisiana State University School of Music for a year in 2013. He's married to Emma Cleobury, and they live in Cambridge with their two youngest daughters. He was appointed CBE. in the 2009 Queen's Birthday Honors for services to music. It's no surprise therefore, that all the accomplishments that have been bestowed on him during his tenure as Director of Music at Kings College have added to the true excellence of the Choir. Stephen Cleobury's dedication, artistic integrity, and passion for music is palpable in every King's College choir performance.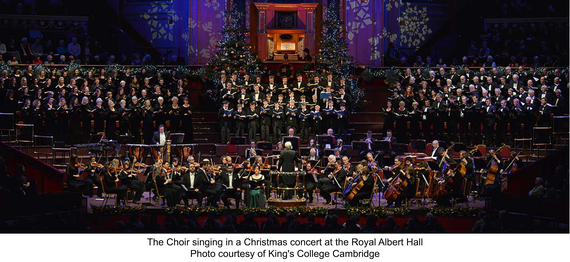 On November 29th 2016 The Prince of Wales and The Duchess of Cornwall visited Kings College. Their Royal Highnesses were on a visit to Cambridge to mark the bicentenary of the Fitzwilliam Museum and to celebrate the 600th anniversary of the Cambridge University Library. After their visit to the Fitzwilliam museum, The Prince and The Duchess visited King's College Chapel to attend a Choir rehearsal. They were escorted to the Chapel by the Provost and greeted by the Dean, The Rev Dr Stephen Cherry. After enjoying the rehearsal, the royal couple met members of the College and Choir. The Prince of Wales attended Trinity College (1970) and is also a Patron of the Cambridge Commonwealth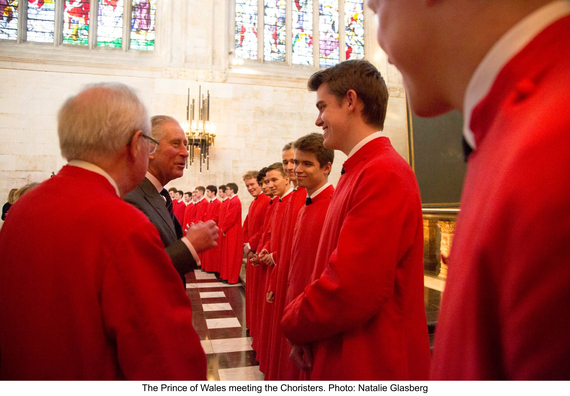 This festive season we will bustle around shopping, wrapping, and planning special meals to commemorate what we hold dear. We'll reach out to family and friends and, hopefully, a few strangers who need a bit of extra love. We'll walk our dogs, work and play, and probably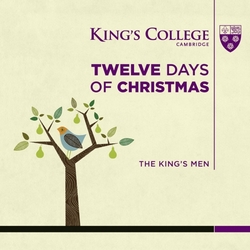 complain a little bit about how hectic it all is. When the glorious moment arrives, we'll gather together. and pop our champagne, crack open some Andes Gran Malbec, or warm ourselves with wassail. Everything'll be ready, everything'll be perfect. Hang on, what about the music? What music appropriately conjures the beauty, tradition, and the majesty of our most prized celebrations? We suggest, if you haven't had the privilege of hearing the Kings College Choir of Cambridge led by Stephen Cleobury, that you tune in on Christmas Eve to either watch the Choir on PBSTV, or listen on BBC Radio 4 World Service, as well as treat yourself to something splendid and purchase 12 Days of Christmas, The King's Men's latest album, which was released on Friday 14 October 2016. It's available in CD format from the Shop at King's or as a download from iTunes. Many other fine recordings and DVD's are also available for sale at The Official Shop at King's College.
"I am delighted that, after the success of the first King's Men recording on the College label, the Choral Scholars have recorded this outstanding new collection of Christmas music. That they have planned, rehearsed and performed for this recording themselves is testament to the professionalism of Choral Scholars at King's, and the results speak for themselves." STEPHEN CLEOBURY
It truly is amazing what mankind can achieve when we raise our voices together. The dedication and passion that fine arts musicians and vocalists put into their performances take a lifetime to achieve. They practice, and practice, and practice so they can offer us the perfect reflection of our hearts for a few moments. So, when we're toasting this year, raise a glass of respect for the truly accomplished artists who bring us such joy and meaning through music, making us proud to be human beings.
A Festival of Nine Lessons and Carols will be broadcast live on BBC Radio 4, World Service and relayed on hundreds of stations across the US at 3pm GMT on Christmas Eve. In the Boston TV viewing area, A Festival of Nine Lessons and Carols will be broadcast on WGBHPBS at 10.00 am on December 24th. Check your local PBS and BBC Radio 4 World Service stations in your area to receive current schedules.

If you're interested in finding out more about what's involved in becoming a chorister at King's, please contact Sarah Williams at choristers@kings.cam.ac.uk or visit the King's Chorister Website
We wish everyone a very Happy Christmas, Joyeux Noel, Feliz Navidad, Happy Hanukkah and Joy to the World.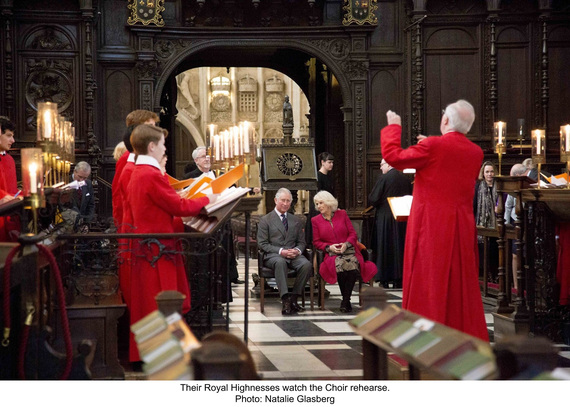 Calling all HuffPost superfans!
Sign up for membership to become a founding member and help shape HuffPost's next chapter