From one-night stands to marriages that have lasted six or seven decades, romance has always been a curious ingredient in relationships. Primitive cultures that relied on agriculture for survival often practiced fertility rites designed to please the gods in the hope of being blessed with abundant crops.
Today, the folk dances of many cultures contain reminders of the celebration of human sexuality that was focused on the propagation of the species. In Sexual Behavior in Pre Contact Hawai'i: A Sexological Ethnography, Dr. Milton Diamond explains that:
The Western concept of marriage did not exist in Hawai'i, and even if a common definition of marriage is applied, sexual/genital interactions were socially accepted in many 'nonmarital' and non-committed relations. The concepts of premarital and extramarital sexual activities were absent, and it was probably true of Hawai'i, as it was said to have been true of much of Polynesia, that 'there are no people in the world who indulge themselves more in their sensual appetites than these.'
Within the culture, genitals were addressed in song and story. Traditional Hawai'ians had public names for their private parts, and they were proud of their endowments. Hawai'ian royalty, and commoners as well, had their own mele ma'i, a genital chant. These chants described, sometimes figuratively and sometimes literally and openly, the individual's sexual organs. Queen Lili'uokulani's mele ma'i told of 'Anapau (Frisky), her frolicking genitals that went up and down. King Kalakaua's mele ma'i described the large size of his penis.
These mele ma'i were composed with respect and affection. Typically, the genitals of ali'i were named in infancy, and the songs were written when the individuals were young so they might be predictive or set role expectations. During the celebration of a young ali'i's first birthday, and often a young commoner's, poets, chanters, and dancers composed dances, chants, and songs to that individual. Among these songs and poems were mele ma'i describing the genitals as being valuable for begetting future generations.
For centuries in many cultures, women were looked upon as chattel that could be used to broker a union that would benefit both families. In societies where love lies further down the list of priorities than integrity, fertility, and fidelity, monogamy can seem overrated. Honesty is constantly tested. In some relationships, sterility can lead to multiple sex partners or artificial insemination.
Romantics may pick at flowers while murmuring "She loves me, she loves me not," but the hook-up culture does a lot more to provide instant gratification for one's sexual desires. As Tina Turner famously posited: "What's Love Got To Do With It?"
With today's growing acceptance of same-sex marriage, throuples, and many other types of sexual expression, it's interesting to see how works from the classical repertoire hold up in light of current societal standards.
Is today's hook-up culture so much different from the way things were 338 years ago?
Is the search for a devoted partner who will be loyal and true any different than it was 224 years ago?
Inquiring minds were recently given a chance to examine how religion impacted a person's concept of purity, monogamy, and career goals in days gone by.
The Shotgun Players recently unveiled a new production of The Rover, Aphra Behn's 1667 sexual romp in which a young woman destined to join a nunnery decides to take a walk on the wild side before deciding if she really wants to take the veil. Set in Naples during the masked celebration of Carnival, Behn's plot allows both men and women to hide their true identities while determining if the objects of their lust might lead to stable, loving relationships.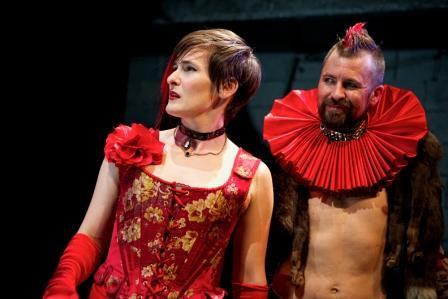 Elissa Beth Stebbins (Lucetta) and Dan Saski (Sancho) find
themselves an easy mark during The Rover (Photo by: Pak Han)
The evening begins with two sisters fantasizing about their romantic future. Florinda (Siobhan Marie Doherty) can't stop pining for the handsome Colonel Belvile (Alex Lydon), an Englishman she recently met. Unfortunately for Florinda, her father wants her to marry the elderly Don Vincentio while her brother, Don Pedro (Dan Saski), wants her to marry his wealthy friend, Don Antonio (who is the son of the Viceroy). To make sure he gets his way, Don Pedro has strictly forbidden his sister from marrying the man she loves.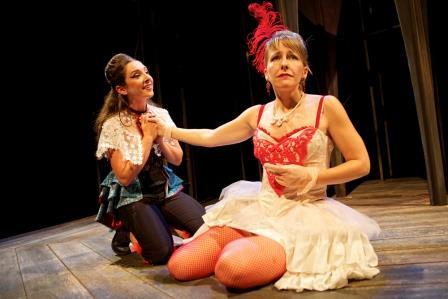 Hellena (Caitlyn Louchard) and her sister, Florinda (Siobhan Marie
Doherty) talk about love in The Rover (Photo by: Pak Han)
Florinda and her sister, Hellena (Caitlyn Louchard), decide to explore the local festivities while masked. While Florinda manages to slip a note to Colonel Belvile in the crowd, Hellena starts flirting with Belvile's friend, Willmore (Jeremy Kahn) who, as the titular Rover, is hoping to get laid as often as possible while promising each woman he meets that he will be faithful only to her.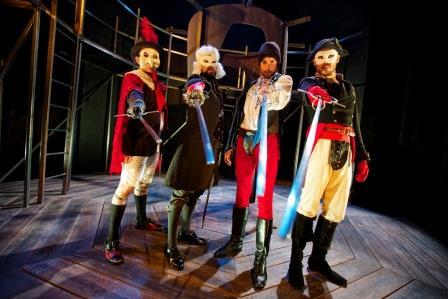 The men of The Rover (Photo by: Pak Han)
Traveling with Belvile and Willmore is Blunt (Justin Gillman), an Englishman from the provinces who has been holding onto all their money and, in no time at all, proves to be an easy mark for Lucetta (Elissa Beth Stebbins) and her friend, Sancho (Don Saski). It doesn't take long for Willmore to arrange an assignation with Hellena (who is disguised as a gypsy) and then put the make on Angellica Bianca (Lauren Spencer), an expensive courtesan who has recently arrived in Naples.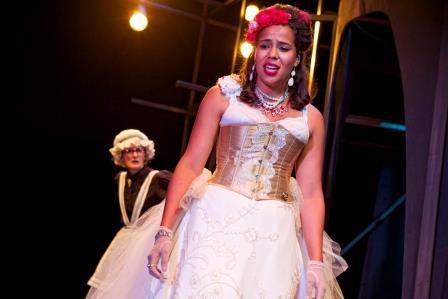 Angellica Bianca (Lauren Spencer) confides to her maid
(Elissa Beth Stebbins) that she has given all her money to
Willmore in a scene from The Rover (Photo by: Pak Han)
Shotgun's rowdy production has been blessed with Theodore J.H. Hulsker's excellent sound design and Heather Basarab's lighting. Christine Crook's period costumes handsomely capture the fantasy element of Carnival for its participants while highlighting the kind of soldierly swordplay that can inspire plenty of erotic fantasies (come for Behn's play, stay for the bulging codpieces).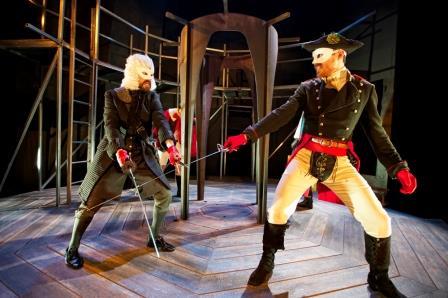 Don Pedro (Dan Saski) spars with Colonel Belvile (Alex Lydon)
in a scene from The Rover (Photo by: Pak Han)
Although Maya Linke's metallic unit set is stationary, the floor of the playing area easily reminds one of the merry-go-rounds that allow children to hop on and off while speeding up the action with their feet.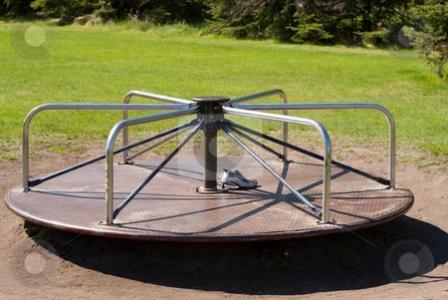 A standard merry-go-round
This is a high-energy production, meticulously directed with an appropriate sense of wanton lust and licentiousness by M. Graham Smith. While the women of the ensemble (Siobhan Marie Doherty, Caitlyn Louchard, Lauren Spencer, and Elissa Beth Stebbins) are either seen agonizing over the cost of love or taking their future into their own hands, the men often come across as clueless fools, most especially in Justin Gillman's portrayal of Blunt.
The evening's breakout performance, however, comes from young Jeremy Kahn who, as Willmore, was simply on fire. Whether delivering lines dripping with sexual innuendo with a grinning, insatiable hunger, or falling from one woman's arms into another's with the comic timing one associates with such great actors as Kevin Kline and Douglas Fairbanks, Kahn was a stage animal completely in his element. His portrayal of Willmore was never less than thrilling.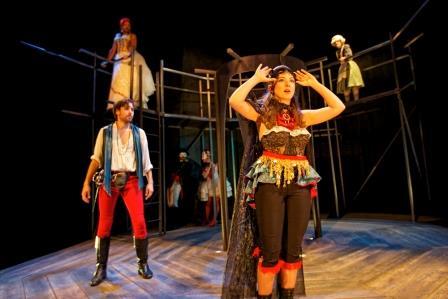 Willmore (Jeremy Kahn) lusts after Hellena (Caitlyn Louchard)
in a scene from The Rover (Photo by: Pak Han)
Suppose you're a handsome young prince traveling in a foreign land who gets the shit scared out of him by a fearsome serpent. When you finally come to your senses, you encounter a strange creature who seems to be half man, half bird.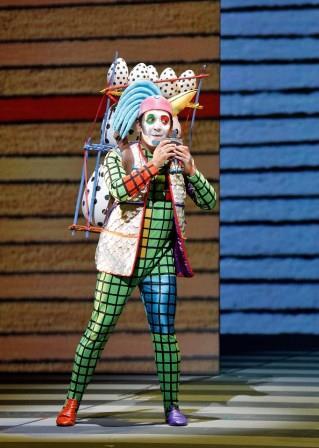 Efrain Solis as Papageno in The Magic Flute
(Photo by: Cory Weaver)
Then three mysterious ladies pop up out of nowhere, handing you a portrait of a beautiful young woman they want you to rescue. But there are complications. According to the young woman's bitchy mother, Pamina was spirited away from the Queen of the Night by an evil sorcerer. If you're willing to kill off this villain (Sarastro), she'll let you marry her daughter. If you're really lucky, she'll shut the hell up and leave the two of you alone.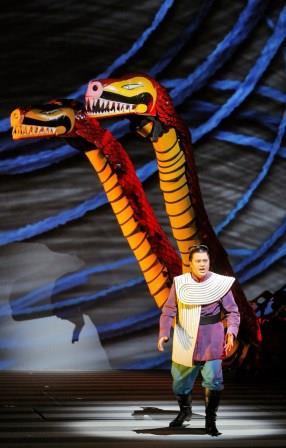 Paul Appleby as Tamino in The Magic Flute
(Photo by: Cory Weaver)
The San Francisco Opera, which revived its 2012 production of The Magic Flute in October, has added the following analysis of Emanuel Schikaneder's complicated libretto to its godawful series of Puppeteasers. Not only are these pathetically misguided attempts at edutainment a huge embarrassment to the opera company, they're pretty fucking stupid. If you really want to understand the plot of Mozart's 1791 masterpiece, you'd be much better off spending a half hour of your time merrily listening to the great Anna Russell lecture an audience gathered at the Sydney Opera House.
When this handsome co-production with the Washington National Opera, Opera Carolina, Opera Omaha, and Lyric Opera of Kansas City made its debut three years ago, it received great praise for Jun Kaneko's delightful sets and costumes (enhanced by Paul Pyant's lighting design). Although Harry Silverstein's staging was intelligent and often quite clever, there was quite a bit of grumbling about David Gockley's adaptation of the libretto.
In a game of musical chairs that could drive any operatic impresario to distraction, Diana Damrau (who was originally scheduled to star in the San Francisco Opera's new production of Lucia di Lammermoor) was forced to withdraw from that production in order to get some vocal rest. Damrau was replaced by Nadine Sierra (a former Adler Fellow who was scheduled to sing Pamina in this year's revival of The Magic Flute).
On October 28, Sierra took ill and the role of Lucia was taken over by Albina Shagimuratova, a soprano from Tashkent, Uzbekistan, who had sung the Queen of the Night in the company's 2012 production of The Magic Flute and was happily repeating her success this Fall. As a result, Kathryn Bowden replaced Shagimuratova as the Queen of the Night in the October 25 and 29 performances of The Magic Flute. Got that?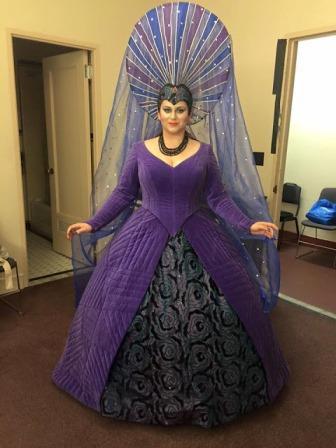 Soprano Kathryn Bowden in costume as the
Queen of the Night in Mozart's The Magic Flute
One singer's cancellation is another's opportunity and Bowden proved to be quite impressive in the role, with secure and firm top notes that never became strident. Of the singers heading the 2015 cast, Sarah Shafer (who replaced Nadine Sierra) was an appealing Pamina whose lush voice did a beautiful job with the Act II aria, "Ach, ich fühl's." Maria Valdes was an exuberant Papagena. The three ladies were sung by Jacqueline Piccolino, Nian Wang, and Zanda Švede.
Paul Appleby's Tamino was more robustly sung than many I've heard in the past (with a tendency to belt out his high notes) and a steadfast foil to the cuddly, playful Papageno of Efrain Solis. The more somber performances by Alfred Reiter (Sarastro) and Anthony Reed (The Speaker) were a welcome foil to Greg Fedderly's campy Monostatos.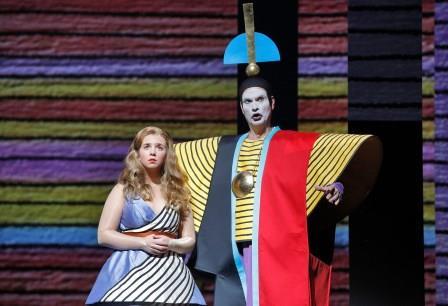 Sarah Shafer (Pamina) and Alfred Reiter (Sarastro) in a
scene from The Magic Flute (Photo by: Cory Weaver)
In smaller roles, Richard Walker (First Priest) and Edward Nelson (Second Priest) had brief but satisfying moments while the three Genies were sung by Michael Sacco, Pietro Juvara, and Nicholas Hu. Despite solid conducting by Lawrence Foster and Ian Robertson's reliable work as chorus director, something was decidedly missing from this otherwise highly efficient performance.
This is one of those mysteries that occasionally haunts operagoers. Why? There are evenings when all of the proper elements (sets, costumes, singers, orchestra) are in place and, taken on their own, working remarkably well. But for some reason, this performance felt as if the air kept leaking out of Act II's tires.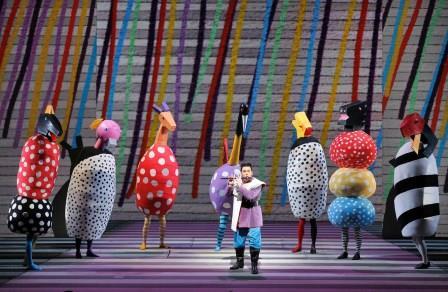 Tamino charms the animals in The Magic Flute (Photo by: Cory Weaver)
Jun Kaneko's production is beautiful to watch, but an unexpected side effect of his animation may well be that, much like a screensaver, it loses a great deal of impact on repeat viewing. Still, that doesn't explain why the performance I attended kept feeling as if the evening's energy was steadily being sapped from the stage. Musically and dramatically, the evening was on sound footing. What went wrong? Damned if I know! Here's some footage from the production.
Calling all HuffPost superfans!
Sign up for membership to become a founding member and help shape HuffPost's next chapter