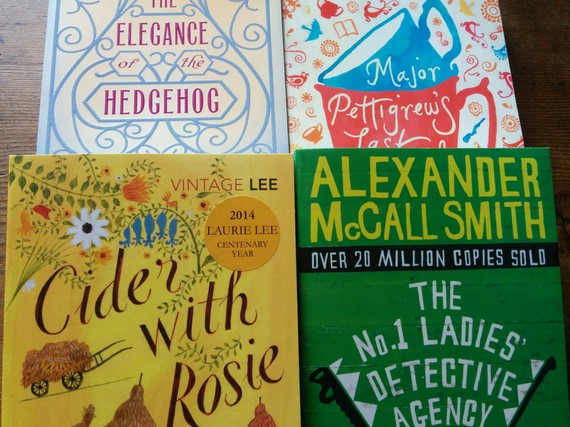 Reading fiction can help you understand yourself a little better, prepare for difficult situations and even help improve your well-being. I know it's helped me: Consciously reading the right books for my mood marked a turning point in my well-being, and helped me overcome Post Traumatic Stress Disorder back in 2011.
Using books as therapy is accessible to us all, is free with a library card, and even has a name: bibliotherapy.
Here are a few ways to apply bibliotherapy to your own life and create your personal fiction first aid kit for challenging feelings and situations:
1. Commit to memory one or two lines from poetry.
Poems learned by heart can stay with you long after other things have gone, and, in the words of a wise university lecturer of mine, they will even keep you strong if you have to spend time in prison. Reinforce your mental fortress with words that will bring you strength and tranquility when you most need it, like this stanza from "If" by Rudyard Kipling:
If you can keep your head when all about you
Are losing theirs and blaming it on you,
If you can trust yourself when all men doubt you,
But make allowance for their doubting too;
If you can wait and not be tired by waiting,
Or being lied about, don't deal in lies,
Or being hated, don't give way to hating,
And yet don't look too good, nor talk too wise...
2. Reread a novel that made you smile the first time round.
Rereading a favorite book "reignites" the positive feelings we felt on our first reading and results in a "renewed appreciation" of the experience, research suggests. Whether the book is Pride and Prejudice or Bridget Jones's Diary, if it ignites happy feelings, it's worth rereading.
3. Give a friend a book, and then talk about it.
By giving a friend a book, we not only provide them with a great gift, but also open up the opportunity to share our own stories, experiences and goals with them. Treat a fellow bookworm to a copy of one of your favorite novels, and consider adding a thoughtful dedication on the book's inlay pages to make it even more personal.
4. Choose a feel-good book to help lift your mood.
If you've been feeling a bit low recently, or if you'd like a quick pick-me-up from fiction, spend some time with a book solely for the purpose of feeling good about yourself. Read Where'd You Go, Bernadette by Maria Semple and join the slightly eccentric protagonist on her escape to Antarctica, or laugh at the hilarious impossibilities in Jonas Jonasson's second novel, The Girl Who Saved the King of Sweden.
5. Consider whether gloomy books work best for you.
Your bibliotherapy picks do not have to be of the uplifting, funny and summery variety if you don't feel these suit you. Reading Cormac McCarthy's apocalyptic novel The Road might help you feel better about your own circumstances, or you may relate to the isolated narrator in Notes From Underground by Fyodor Dostoevsky.
6. Discover novels which contain the same situations or feelings you're facing.
Whether you need a book for anxiety, depression or something entirely different, ask a well-read friend for suggestions or browse bibliotherapy recommendations online. The Fault in Our Stars by John Green can help us deal with illness, Kate Atkinson's Life After Life contains great lessons on growing up, and anyone who has suffered from unrequited love can relate to The Lover's Dictionary by David Levithan.
"It was a mistake," you said. But the cruel thing was, it felt like the mistake was mine, for trusting you."
― David Levithan, The Lover's Dictionary

7. Read an inspiring novel to kick you into gear.
When you "lose yourself" inside the world of a fictional character, you may actually end up changing your own behavior and thoughts to match that of the character, researchers suggest. As a result, reading positive and inspiring books can help us to make better decisions and create real changes in our own lives, even if temporary.
No matter what's going on in your own life, you can cultivate a reading habit to help you live mindfully and happily. Books can act as our best teachers, therapists, sources of inspiration and topics of conversation. What better way than reading to spend our free time?