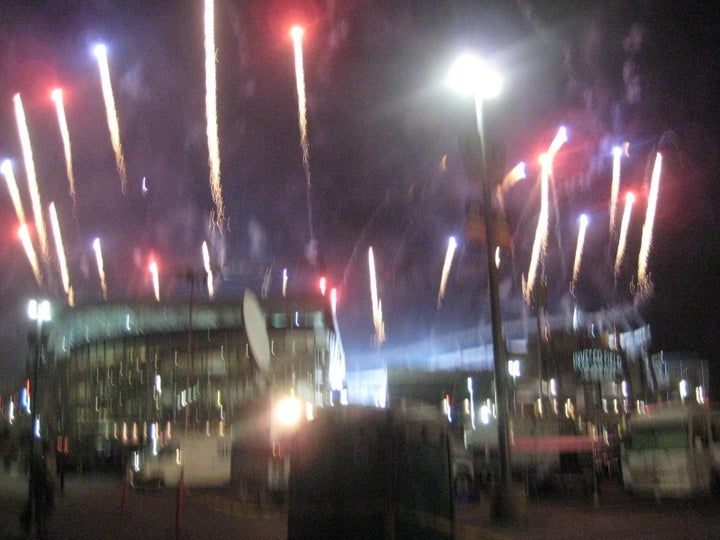 Enough! Enough of the failed policies of the Bush years - but never enough original photos from Invesco Field, where tonight Barack Obama accepted the nomination as the Democratic party candidate for president, in between chiding John McCain for not doing much to effect change over the past 26 years and failing to chase Osama bin Laden to the caves of Afghanistan (a line which the journos in the press box really liked).
Anyhow! We have lots of pictures that we will post when we don't have a smoothly-organized Google/Vanity Fair party to attend -- but for now I will leave you with the view of Invesco as we raced outta there ahead of the crowds (yay beating the system!), which included glorious fireworks shooting into the sky over a jumbotron that we could still see in the distance, showing a smiling Obama and his running mate, Joe Biden. Below is proof, plus two wee videos for the "being there" experience. For more of my updates, check my Twitter feed (yeah, I'm doing it. What do you want, I need to change and get outta here). Enjoy, and we'll be bringing you much, much more tomorrow, now that this convention is finally over.
View from the 100-level seats, pre-prime time speechifying:
The Fierce Urgency Of Taking A Picture Now: Flashbulbs as seen from the press box
REAL LIFE. REAL NEWS. REAL VOICES.
Help us tell more of the stories that matter from voices that too often remain unheard.