Benedict Cumberbatch leads an all-star cast in "The Fifth Estate," the new film about Julian Assange and WikiLeaks that DreamWorks is set to release on Oct. 18. Just don't assume Assange will be there on opening day.
"No, it was a complicated thing. He sort of was against us right from the beginning," director Bill Condon told HuffPost Entertainment before the "Fifth Estate" trailer debut. (Watch the excellent teaser in the window above.)
"The Fifth Estate" is based on the books "Inside WikiLeaks" by former WikiLeaks spokesperson Daniel Domscheit-Berg, the Guardian book "WikiLeaks," and "an endless supply of articles and documentaries," according to the filmmaker. (Josh Singer is the film's screenwriter.) Condon, an Oscar-winning screenwriter for "Gods and Monsters" and director of "Dreamgirls" and both parts of "The Twilight Saga: Breaking Dawn," said he has long wanted to make a political movie like "The Fifth Estate," but found it difficult in the current Hollywood climate.
"It's not an easy thing to do -- certainly within the studio system," he said. "So it was thrilling that this one was happening. This is a movie that includes complicated issues. There are such good arguments on all sides of this. Having the chance to explore it for a year seemed really exciting."
Cumberbatch, the breakout "Star Trek Into Darkness" star, plays Assange in "The Fifth Estate," with Daniel Bruhl co-starring as Domscheit-Berg, Assange's partner and future antagonist. The film tracks their relationship as WikiLeaks becomes the "underground watchdogs of the privileged and powerful." (Laura Linney, Anthony Mackie, Stanley Tucci, Dan Stevens, Alicia Vikander and David Thewlis are also in the "Fifth Estate" cast.)
Assange, who is the subject of a sexual assault investigation, declined to participate in "The Fifth Estate" (according to Condon, Assange did, however, discuss the project with Cumberbatch over email). Despite that, Condon said that the film paints a balanced picture of its subject.
"What you want to do is try to understand him," Condon said. "You're trying to burrow deep into who those people are. In the good movies about real events, there's never a big split between people's personal life and what they do [as professionals]. It's who they are that makes them do something extraordinary. So, in this case, exploring who he is really helped inform both the greatness he achieved and the mistakes he made. I think you'll find it is certainly not -- in any case, in any way -- a white-wash of history or celebration of him. It's also not an attack on him."
While Cumberbatch will likely receive a lot of deserved attention for the film (Condon said the actor's uncanny vocal impression "was very hard work because of Assange's odd speech pattern"), it's Bruhl who makes a big impression in the trailer. "The Fifth Estate" is one of two high-profile films coming out this fall for the Spanish-born German actor (the other being "Rush," Ron Howard's drama about Formula 1 racing), but it almost didn't happen. Actor James McAvoy was originally sought to star as Domscheit-Berg.
"There was a moment when it was going to be him, but Daniel was always in the mix even then," Condon revealed. "The exciting thing about Daniel is that it does feel as though that -- because he's German and he so understands the way this guy moves and acts -- you're getting a little peek into the way things really unfolded."
HuffPost Entertainment will have much more on "The Fifth Estate" as the film's release date creeps closer. For now, watch "The Fifth Estate" trailer above.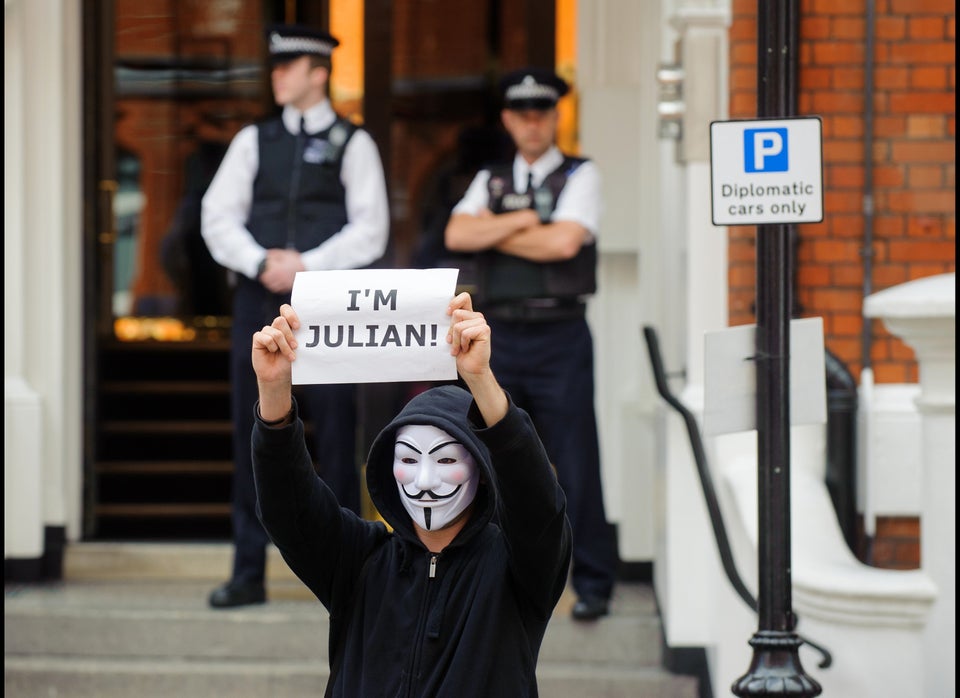 Julian Assange
Popular in the Community