As health systems around the world get stronger and more vaccines are available to more communities, it can be easy to grow complacent and forget that this absence of disease is the result of ongoing efforts that must be sustained. The most destructive Ebola outbreak in history provides a valuable reminder of the terrible toll of epidemic infectious diseases. Earlier this year, Germany and the United States experienced their first measles deaths in years and just last month, polio crept back into Ukraine. Now, as governments and heroic health workers continue working to treat ill patients while increasing efforts to reach more communities with vaccines, global attention may be tempted to shift elsewhere.

But it shouldn't.

Yellow fever—a disease with a storied past, highly problematic present, and the ability to cross international borders rapidly—currently threatens 900 million people in 46 endemic countries in Africa and Central and South America. For communities in these countries, it is a constant fear that an infected mosquito could transmit the virus at any time. Fear of yellow fever is well earned. Up to 13 percent of people affected by severe yellow fever die, and there is no treatment to cure those it inflicts.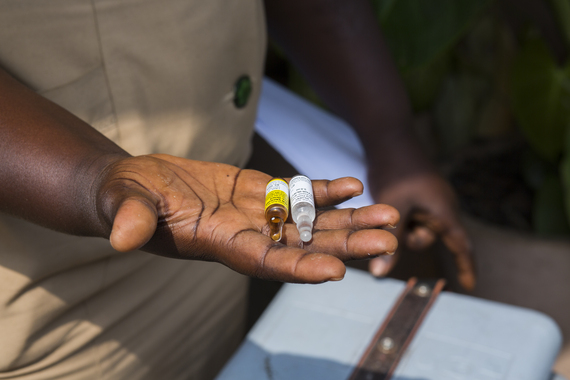 Unlike other diseases afflicting tropical regions like malaria, HIV, Ebola and others, we thankfully have had an effective vaccine against yellow fever since the 1930s. This vaccine is the best way to prevent yellow fever and keep people safe from its deadly symptoms, possibly for life.

The problem is that our supply of the vaccine is in jeopardy.

The world is facing a supply shortage of the yellow fever vaccine—and the consequences of this scarcity could be devastating. Demand for the vaccine, as forecasted by UNICEF for 2015 through 2017, averages 64 million doses per year—exceeding the amount currently predicted to be supplied by 42 percent. The unsustainable combination of increased demand coinciding with limited supply has set alarm bells ringing for global organizations like WHO; Gavi, the Vaccine Alliance; UNICEF; and PATH—and has propelled them to search for ways to protect vulnerable populations.

For a disease that endangers so many, you might be surprised to learn that there are only four manufacturers of yellow fever vaccine in the entire world. Given the present lack of demand for the vaccine outside international travelers and military markets, the vaccine does not command a high price in low and middle-income countries—incentivizing few new manufacturers to enter the market.

Moreover, the process of actually producing the vaccine is complex and requires extreme precision. The procedure involves incubating germ-free chicken eggs, followed by manually injecting the embryos with a live virus, and then painstakingly formulating the vaccine's components through an intricate series of steps. Even the tiniest deviation from the method can render an entire batch unusable.

Fortunately, the four manufacturers that comprise the current market—located in Brazil, Senegal, Russia and France—have spent decades honing and perfecting the manufacturing process.

At the Bill & Melinda Gates Foundation, we view supporting these proven manufacturers as the world's surest shot at increasing supply—and preventing a widespread yellow fever outbreak. For example, we are supporting the Institut Pasteur in Dakar, Senegal by providing funds to support training for their technicians and refurbishment of their existing facility. Our goal is to ensure that this manufacturer can more efficiently produce a greater volume of vaccines, and thereby safeguard more people from yellow fever.

Today, 21st century transformations like climate change, urbanization and international travel mean that yellow fever can reach further, faster. We know from other disease pandemics that our best defense against a nimble virus is a vaccine that works. With an effective yellow fever vaccine in hand, we're already at an advantage. By supporting vaccine manufacturers to continue to improve their vaccine production and meet demand, we're even stronger.

With continued global attention, we can ensure that all people—no matter where they live—have access to the life-saving vaccines they need to live a healthy and productive life.
Support HuffPost
The Stakes Have Never Been Higher
Related
Popular in the Community