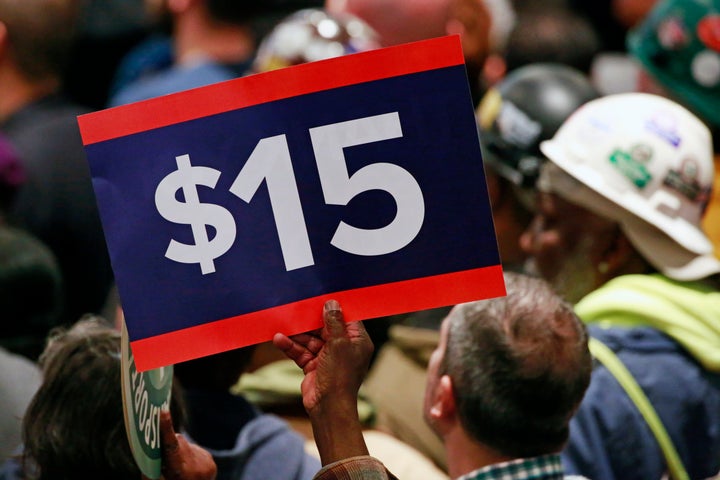 Over just the past week, the Fight for $15 made major gains in the American heartland and beyond that positioned the $15 minimum wage as an emerging national standard. Illinois became the first Midwestern state to pass a $15 minimum wage, and sent the bill to Governor Bruce Rauner's desk. In Minnesota, Gov. Mark Dayton vetoed a corporate-backed move to block cities from raising the minimum wage or adopting paid sick days protections, clearing the way for Minneapolis to approve a $15 minimum wage this summer. And in Congress, most Democrats in the House and Senate rallied behind a $15 federal minimum wage.
Each represents a big leap in the mainstreaming of the $15 minimum wage – which just a few years ago was viewed as realistic only in places like Seattle or New York. Now $15 – together with other key working families' planks like paid sick days and paid family leave – are quickly emerging as key litmus test issues that will figure prominently in 2018 governors' and congressional races across the country.
In Illinois – where Chicago's minimum wage is already on its way to $13 without any negative effect on employment – the $15 minimum wage approved this week would raise pay for close to 2 million workers by an average of $2,400 a year for a directly affected worker once fully phased in, according to analysis by the Economic Policy Institute.
In Congress, progressive and moderate Democrats also came together last week to introduce legislation calling for a $15 minimum wage by 2024. With the federal minimum wage frozen at just $7.25 since 2009, the Raise the Wage Act would raise pay for 41 million U.S. workers by about $3,500 a year. That's enough to make a tremendous difference in the life of a preschool teacher, bank teller, or fast-food worker who today struggles to get by on around $20,000 annually.
But with the Republican majority in Congress and the Trump Administration focused on rolling back worker protections, no one is expecting action in Washington anytime soon. Which means that the minimum wage and other basic worker issues are likely to figure prominently in the 2018 elections.
For example, if Rauner vetoes the $15 Illinois increase, it is likely to return as a major issue in what is shaping up to be a tough reelection fight next year. The same is true for Wisconsin's Scott Walker, who has blocked action on the minimum wage and repealed local paid sick days laws in his state, and for Maryland's Larry Hogan, who just vetoed paid sick days legislation and could see a minimum wage bill on his desk before next year's election.
As we're seeing in the New Jersey and Virginia governor's races this year, Democratic candidates are likely to run on a $15 minimum wage and paid sick days platform ― and push to make the elections referenda on these economic fairness issues. That's when voters will get to decide whether they want to reward candidates who are standing up for working families – or those like Scott Walker, Larry Hogan and Mike Pence who side with corporate lobbyists to block help for those most in need.
Related
Popular in the Community