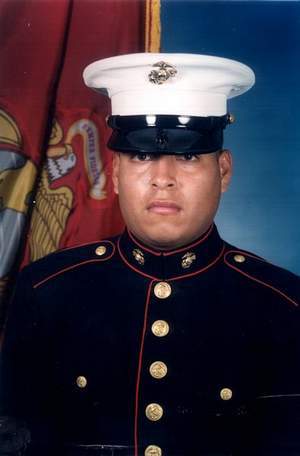 During a beautiful and emotional ceremony full of Navy tradition, the USS Rafael Peralta was commissioned at Naval Air Station North Island, San Diego, on Saturday, July 29, a "culminating event in a string of maritime rituals — ship naming, keel laying, christening and launching — that hearken back to 1775, when the Continental Navy commissioned the Alfred for combat duty against the British."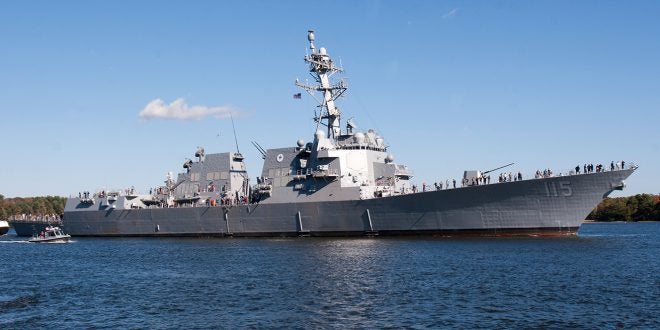 The Navy's newest Arleigh Burke-class guided-missile destroyer is named in memory of Marine Sgt. Rafael Peralta, a young man from San Diego, born in Mexico, who gave his life in 2004, during the brutal Second Battle of Fallujah, Iraq, protecting and saving the lives of fellow Marines.
His story of valor and sacrifice and the long struggle to award this hero the Medal of Honor he so rightly deserves has been told repeatedly. It is summarized here and updated here.
Many political, military and civilian dignitaries attended the time-honored tradition, including three members of San Diego County's congressional delegation.
Also attending were Sgt. Peralta's mother, Rosa Peralta; his brother, Ricardo, who also served in the Marine Corps; and two sisters, Icela and Karen.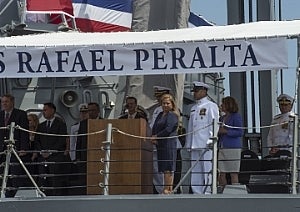 Absent was Rep. Duncan D. Hunter, R-Alpine, a man who has steadfastly fought to have the Medal of Honor awarded to Marine Sgt. Rafael Peralta.
Hunter's efforts were "rejected by defense officials amid questions about whether he consciously pulled the grenade under his body to save fellow Marines."
Instead, Peralta was posthumously awarded the nation's second-highest award for battlefield bravery, the Navy Cross.
Duncan D. Hunter was also instrumental in having the destroyer named after Rafael Peralta.
Congressman Hunter was represented at the commissioning ceremony by his father, Duncan L. Hunter, a former U.S. Ranger who served in Vietnam and a Congressman from California who chaired the powerful Armed Services Committee during the battle that took Peralta's life.
While I did not think that the lamentable story of how and why Peralta has been denied the Medal of Honor would be mentioned at the commissioning ceremony, the elder Hunter did exactly that.
Recounting his son's years-long fight to have the Medal of Honor awarded to Sgt. Peralta, the elder Hunter – the dad of a Marine (Duncan Jr.) who fought in the same city where Peralta made the extraordinary sacrifice ― told those assembled that they needed to know the story of "how we got here":
Duncan fought in Fallujah, followed Rafael Peralta's Medal of Honor nomination, watched it go through the Marine Corps, coming up the Department of the Navy and ultimately being stopped by the bureaucracy in the Pentagon ... they said, you know, our experts really don't think that grenade went off underneath Sgt. Peralta.
Well, my son went out and tracked down the armored vest that Sgt. Peralta wore on that deadly day, found it in an old equipment locker and there, imbedded in that armored vest, was the fuse right up against his chest ― the fuse of the grenade that went off, that took his life ― it was embedded there like a badge of courage ... and Duncan took that back to the Pentagon and said, "Now tell me again how the grenade did not go off underneath Sgt. Peralta." But they came up with a different reason not to award the Medal of Honor.
After crediting his son for having the new destroyer named after Peralta, the elder Hunter continued:
[I] Talked to [my son] just before the ceremony, and he gave me a message to give to all of you:
Where does America get such men, who would volunteer to leave their homes and travel six thousand miles into a deadly desert battlefield, into a tough little town full of cement houses called Fallujah.
And there, in 110 degrees heat they go in, room by room, and exchange machine gunfire at 15 ft. with the terrorists and sometimes they give their live for their comrades in arms and for our nation.
Well sometimes those men come from San Diego, California.
And they come from a loving family with a Mom named Rosa and brother Ricardo, sisters Icela and Karen.
And they go into the Marine Corps and they keep a copy of the U.S. Constitution with them, and sometimes their name is Rafael Peralta.
Duncan said that it was appropriate that this ship, which is a warship, not a supply ship, not a tanker – a warship – was named after Rafael Peralta because Rafael Peralta represented America's warrior class.
Those are the people who go out and fight in difficult places around the world so that we can be free
Duncan [Jr.] closed his message to me with these words:
"When America has no more Rafael Peraltas we will have no more freedom."
He asked me to say one other thing. He asked me to tell Rosa that this fight for the Medal of Honor is not over [applause] and he said, you tell them, Dad, I have already contacted a general named Jim Mattis who just happened to be the Marine general in command of the 1st Marine Division in Fallujah.
I have asked General Mattis, now Secretary of Defense Mattis, to take another look at this Medal of Honor and he said..."the Marines are going to win this one, you tell that to Rosa"
Referring to the commissioning ceremony, Chris Jennewein, editor and publisher of the Times of San Diego, "a proud contributor to the commissioning committee," writes:
The USS Rafael Peralta speaks volumes about both a Marine hero and the idea of America. :: The founding principle of the United States — "that all men are created equal" — wasn't qualified by country of origin, family background, religion, or color of skin, and generations of Americans fought to prove this. Like generations before and hopefully to come, Rafael Peralta's family immigrated to the United States in search of a better life. Their son repaid the opportunity with his own life. The United States needs more immigrants like Rafael Peralta. His story, and the majestic Navy ship named for him, are both shining examples of the real America and an inspiration for all of us.
Please view the commissioning ceremony of the USS Peralta below.
Calling all HuffPost superfans!
Sign up for membership to become a founding member and help shape HuffPost's next chapter
This post was published on the now-closed HuffPost Contributor platform. Contributors control their own work and posted freely to our site. If you need to flag this entry as abusive,
send us an email
.