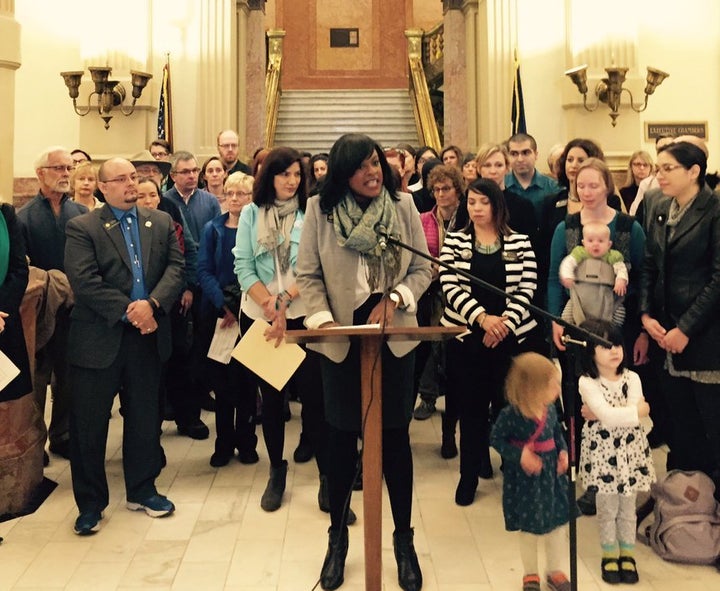 More than one million women (and men) rallied at women's marches all around the country and the world on the first day of Donald Trump's presidency. The rally here in Denver drew over 200,000 people and there were many more rallies all over the state. Many had their own reason for marching, but for many of us were there to send a message to policy makers that women will stand up and fight back on governmental attempts to limit or infringe on women's rights.
Yet, I worry about women's rights going forward. During the campaign, this presidential administration promised to defund Planned Parenthood and repeal Obamacare, which will limit access to reproductive health care especially for poor women. With the dawn of the Trump-Pence administration and Republicans control of both chambers of Congress, there is reason to fear for the future of women's health.
I've heard it said that no battles remain won. There couldn't be a better example of this statement than in the area of access to reproductive health care. Although the right to an abortion was declared firm 44 years ago in the landmark case Roe v. Wade, we continue to fight everyday to make certain that right remains intact. Indeed, in President Trump's second day in office, he signed an executive order, referred to as a Global Gag Rule. The rule forbids foreign non-governmental entities from receiving U.S. Family Planning funds if they perform, counsel or refer women for abortion services, or advocate for the liberalization of abortion laws where they work. This rule endangers women's lives around the globe.
Also, just days ago, the President nominated Judge Neil Gorsuch to the Supreme Court. Although Judge Gorsuch has not crafted an opinion that addresses the abortion issue specifically, it can easily be deduced that he will not be a champion for women's reproductive rights.
Here in Colorado, Republican lawmakers have introduced four different bills in this legislative session that push myths and misinformation and create special requirements to make reproductive health care harder to get and more expensive to obtain. These kinds of policies are not about women's health and safety, though they are couched in those terms. To the contrary, obstacles to this type of care have negative outcomes for both the individual's health and the financial stability of the family. Quite simply, these initiatives are wrong headed and dangerous.
This is why I, alongside my colleague Representative Joseph Salazar, introduced a resolution affirming that reproductive health care is health care. This resolution sends a loud and clear message that all Coloradans should be able to obtain affordable, quality services when they need them and policies regulating the provision of care should be based on science and evidence, not politics or personal agendas. Specifically, this resolution makes clear that the Colorado legislature supports individuals having all the information and services they need to prevent unintended pregnancies, to have healthy pregnancies and become parents when they are ready, and to raise and care for their children in a safe and healthy environment and with dignity.
However, due to limits on reproductive health coverage and barriers created by income, many reproductive health services still remain out of reach for far too many people. This is in spite of the fact that these services are essential, safe and common. More than 90% of women have used contraception. Three in ten women will have an abortion in their lifetime and more than half of all women will have a child at some point in their life. Clearly, reproductive health care is an essential part of women's lives. Yet obstacles have been created that target the providers of reproductive health care and the women who seek these services.
It is not enough to defeat proposed legislation that proposes more obstacles to accessing reproductive health care. We should also affirm that all Coloradans have a right to this type of health care.
As a lawmaker, I truly believe that it is my job to do all I can to meet the needs of all Coloradans. The "Ensuring Access to Reproductive Healthcare" resolution and laws that help to expand and ensure access to the full range of health services are a critical first step to achieving this goal. We can do more and we can do better to ensure not only the reproductive health, but also the dignity of women and families in Colorado.
REAL LIFE. REAL NEWS. REAL VOICES.
Help us tell more of the stories that matter from voices that too often remain unheard.