x25 miles southeast of Kabul, Afghanistan near the border with modern-day Pakistan rests an ancient Buddhist city. This ancient city - named Mes Aynak, or "little copper well" - was once at the heart of the bustling Silk Road, the revolutionary trade route that tied together China, India, the Middle East and the Mediterranean. Buddhists from all over Asia made pilgrimages to worship at Mes Aynak, and for thousands of years, it flourished as one of the most important cities in the region. As its importance waned through the centuries, it was slowly abandoned and eventually, this once mighty city was forgotten, its history lost to the sands of time.
After being re-discovered in the 1960's, it took decades for archeologists to make their way to the site, and sporadic rescue excavation of the ancient city did not begin until 2009. Since then, what they've unearthed is truly astounding: dozens of unique and never-before-seen stupas and temples, enormous monastic complexes, vivid murals, thousands of precious artifacts, and around 600 large Buddha statues -- similar in style to those destroyed by the Taliban in 2001 at Bamiyan. Archaeologists have also begun to find written material -- bitch bark manuscripts representing some of the oldests Buddhist writing ever discovered.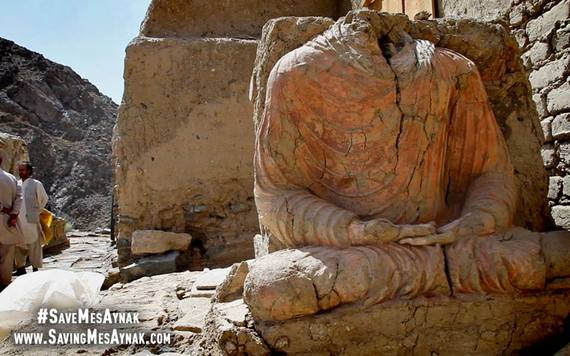 Archaeologists have also found evidence of an older Bronze age site beneath the Buddhist city, meaning there is at least 5,000 years of civilization at Mes Aynak. Although only 10 percent of the site has been excavated, what they are finding is already rewriting the history of Buddhism, Afghanistan and the world.
Tragically, this ancient civilization is in dire peril. Mes Aynak sits on the second largest copper deposit in the world, and in 2007 it was sold by the Afghan government to a Chinese State-owned mining company, who plan to harvest that estimated $100 billion dollars worth of copper. MCC, or China Metallurgical Group Corporation, plans to open-pit mine at Mes Aynak. What does that mean? It means blowing up Mes Aynak and reducing it - and an entire mountain range -- to rubble. It means the forced evacuation and relocation of countless native Afghans from the area, who will never be able to return to their villages due to permanent toxicity from the mining. It means leaving a giant crater where there once was a sprawling 500,000 sq meter city. It means erasing from the face of the Earth all of the culture and history that Mes Aynak contains.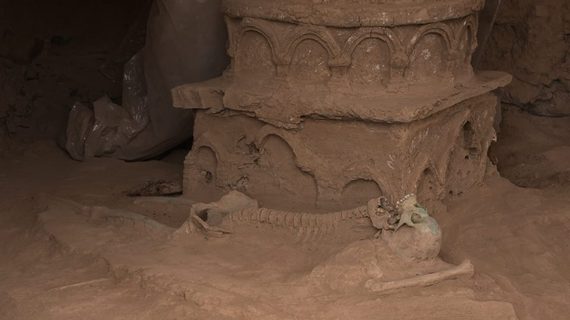 I first read about Mes Aynak in the New York Times in 2010. The story focused on the potential economic development in the war-torn region -- the Chinese project represents the largest private investment in Afghanistan's history setting up in volatile Logar province -- Taliban country. The Buddhist archaeological site was barely a footnote in this story.
I later learned that the archaeological ruins were massive, comparable in size to sites like Pompeii and Machu Picchu. At any moment the entire ancient city would be completely destroyed. I needed to see Mes Aynak for myself before this demolition. I first traveled to Mes Aynak in 2011, and over the next four years I have been documenting the archaeological effort, the race against time by specialists to save small movable artifacts before the bulldozers come in.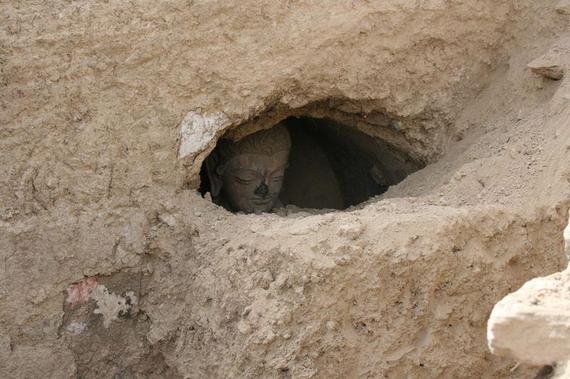 It seemed that the Afghan government and MCC thought no one would mind if some old dusty statues and buildings vanished overnight. Maybe they felt no one would ever know? As lone witness to this impending international tragedy, I felt it was my duty to expose this story to the international community. To me this was a story of corporate greed and corruption versus the most significant archaeological discovery of our time.
Every day that I rode to Mes Aynak from Kabul, the threat of death by roadside IED or landmine was always on my mind. The archeologists at the site worked under a continuous death threats from the Taliban. Death loomed large, but it was a risk we were all willing to take.
My first impulse was to document all the incredible discoveries at Mes Aynak so that after the site was destroyed there would at least be some visual record of its existence. But the more time I spent at Mes Aynak and saw its epic beauty and importance, the more I realized that I couldn't just film the site; I had to do something to permanently stop its destruction. The desire to save Mes Aynak wasn't shared by me and the archeologists alone, however. In 2012, in response to the media coverage of China's proposed actions at Mes Aynak, there was an outcry from Buddhist communities around the world. In Thailand, Vietnam, Sri Lanka, Budapest, India, China, Malaysia, and even China, the reaction was strong. In Thailand, the Dhammaykaya Temple's Dhamma Media Channel spread the word about Mes Aynak's impending destruction. The Temple's monks distributed two official petitions in schools and universities throughout the country, one appealing to Afghan president Harmid Karzai (see References below) and the other to UNESCO. Both petitions gathered over 60,000 signatures each.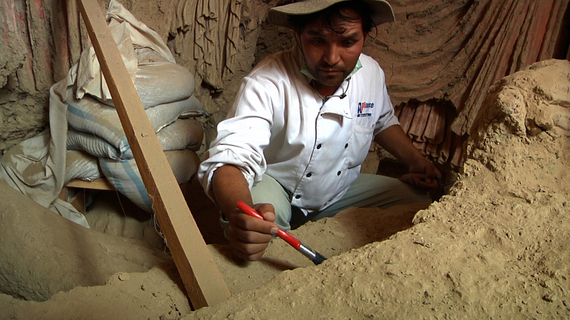 During this time, I took to social media to spread the word about Mes Aynak, and decided to turn my footage into a documentary: Saving Mes Aynak. Awareness on Facebook and Twitter grew by the thousands... and then the tens of thousands. Due to public outcry and the attention my film received, MCC and the Afghan government delayed the destruction until the end of 2013. When that deadline approached, I took to social media to raise even more awareness, and again due to mounting pressure, MCC delayed the destruction. But time is quickly running out. Despite the delays, the Chinese State-owned mining company still has immediate plans to demolish Mes Aynak at any moment.
Afghanistan is trading its history (also humankind's) for a quick buck, one that will fail to benefit its citizens economically, since China's proposed three billion-dollar payment will most certainly be lost to corruption within the Afghan government. The destruction of Mes Aynak will only benefit China and temporarily at that. It will permanently erase this important piece of Afghanistan's history and leave enormous toxic craters in its stead.
We as a global society must do something about it. One way that Mes Aynak can be saved is if the Afghan government intervenes to stop demolition, and petitions UNESCO to make Mes Aynak a World Heritage Site. Only the Afghan government can petition UNESCO. My film Saving Mes Aynak is ready to screen worldwide, and I am mounting a global campaign through the film to raise awareness about the impending demolition, thus creating an international movement to put pressure on the mining company and the Afghanistan government. This is how we ensure that this irreplaceable ancient Buddhist city can be fully excavated by professional staff, and preserved for future generations.
We need help, however. As a filmmaker, I believe in the power of documentary to provoke empathy and move people to action. So I've recently launched a campaign for #SaveMesAynak Day on July 1st, a global event where supporters everywhere will stand in unity together to save this precious history. The more people who see and talk about our film and know the beauty and importance of Mes Aynak, the greater the chance of Mes Aynak being saved. All our funding and efforts are aimed towards this mission. Through social media, we plan to use this #SaveMesAynak Day to spark worldwide protest, conversation, and action. I also aim to return to Afghanistan for the local premiere and present the Afghanistan President Ghani with a copy of a petition with 100,000 names on it. We currently have 76,000! We hope that united, our voices of protest will be too loud to ignore... and not even he can ignore 100,000 (or more) synchronous voices.
The idea that corporate profit can erase 2,000 years of Buddhist history and 5,000 of human history is unfathomable, yet it could happen. And we cannot let this senseless act occur. I believe that my film and subsequent awareness campaign give us the best chance at saving this beautiful, historic and important cultural heritage.
We need your help, so I please ask you to join the global movement to #SaveMesAynak. Together we can make history by saving history.
Related
Popular in the Community