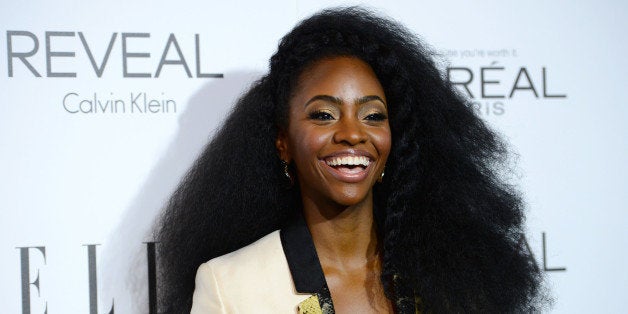 "On your knees." Those were the three deliciously naughty words uttered by Tessa Thompson's character Samantha White in the opening sex scene of the well-hyped film, Dear White People. And in that moment, as her F-Buddy obeys her wishes and gets on his knees ready to satisfy her, the theater I was attending burst into applause, and shouts of "yes, girl" and "I know that's right" were hurled at the screen.
It's not often that female characters in film or on TV for that matter are the ones commanding sex scenes. Generally speaking, they are often used as props and outlets for the man's desire -- and if the actress is black, well I can count those authoritative sex scenes on one hand. If it wasn't for Beyoncé's recent foray into her flawless sexual prowess, black women's sexuality and the reality that we too LOVE sex, would still be under lock and key.
Director and creator Justin Simien's Dear White People, flips the script in a variety of ways -- from its use of satire to open up conversations about race, to its characters' journeys to self-realization. However, it's the two female leads in the film that present a level of sexual power, identity and feminism that we haven't seen in black cinema as of late.
Sam and her nemesis Coco, played brilliantly by actress Teyonah Parris, are both at odds with their identities throughout the film. Sam is the biracial film student who owns her militant blackness while Coco, a dark-skinned video blogger, is choosing to identify with the affluent white kids on campus. What's fascinating about these two women is that although their struggles are internal, they choose to deal with them publicly, each commanding their artistic mediums and Sam also running for head of house. This is the feminist twist that brands DWP, as Indiewire called it, "a smart hilarious satire of the Obama age."
The two female leads of DWP are literally directing their own lives -- for better or for worse. They turn to the men in their lives for sexual pleasure and support without ever turning over their control. In fact, it's the men that are looking to them to be leaders, command the stage and build a movement. You never once throughout the film feel as if either woman is victimized by her circumstance, rather the audiences are allowed to take part in their self-actualization.
In an interview I did with Justin he said, "The film is about who you really are... really and authentically as a human beings and how we are perceived. You have to make decisions [in your life] about how you identify -- it's a part of realizing your total potential."
Sam and Coco are both coming to grips with their power and the perceptions that others have of them. Once they assume their leadership roles, Sam as head of house and Coco as the face of the Hip Hop turned blackface party that goes terribly awry, they wonder like many women do if they really "want to have it all," or better yet what aspects of the "all" they truly desire.
Each in their own way, both Coco and Sam are playing the politics of the campus and what it means to be a black face in a white space. "Sam is keeping it 100 all the time, but she comes to a point where she doesn't know what and who is really helping her do that -- while Coco on the other hand is consciously playing the game," says Justin.
In a culture where advertisements, reality TV, music and more, dictate who we are, how we should present and what to buy into -- these characters choose to press pause on the noise, and define themselves for themselves. "Television has created a generation of young people, and older people for that matter who believe that by throwing a drink, cursing someone out and pulling off a person's wig you can be a star...even seemingly intelligent people go there," Justin explains. Which is why he used the backdrop of a potential reality TV show on Winchester's campus as a means to showcase his character's struggle in creating her own identity or, as Audrey Lorde wrote, "being crushed into someone else's idea of who you should be."
Dear White People's flawed and fabulous female leads remind us that when it comes to our individual path to identity and self, we can either be the directors of our own lives or be directed -- the choice is entirely ours.
REAL LIFE. REAL NEWS. REAL VOICES.
Help us tell more of the stories that matter from voices that too often remain unheard.