"What have we always said is the most important thing?"
Arrested Development began with a deadpan exchange between father and son, tucked comfortably within their sleeping bags. From the housing community whose name sounded like salad dressing, to what could have been "F*ck Mountain," emerged the most amusing characters to ever enliven our television screens.
And they're coming back this Sunday, sending bluepies into a tailspin as fast as Buster bicycling too close to the sun.
This news makes me exuberant, more than you'll never know, because it promises to assemble a bunch of greedy, selfish people who have the same nose. After shouting "booyah" at the top of my lungs, dancing around my house like a chicken, and gathering my AD DVDs for a tea party, I decided to recall some of my favorite Arrested Development moments for fellow Bluepies.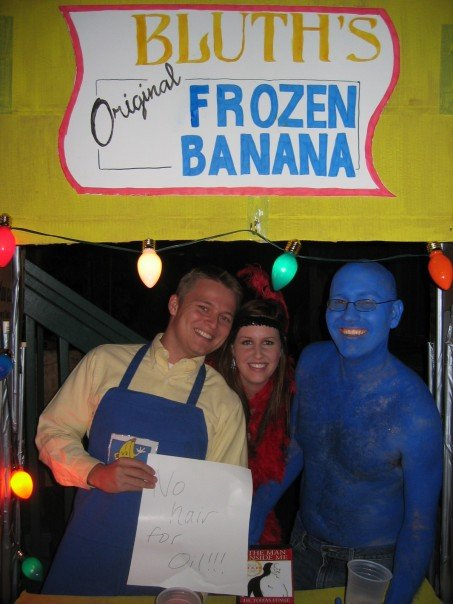 Photo by Millie Kerr (several of my friends once built a life-sized banana stand for Halloween)
Assuming you haven't prematurely blued yourself, grab some low carb popcorn (or frozen bananas) and join me in celebrating the much-anticipated Netflix series. Warning: non-Bluepies who read this document of plea bargain lengths will undoubtedly find themselves lamenting that they've made a huge mistake.
Tobias, esteemed analrapist and author of The Man Inside Me, donned a Barbara Streisand ass-masking skirt and a Bush/Cheney sweatshirt while playing various roles (Frightened Inmate Number 2). He won me over with his audition for the fire (sale) commercial, which ultimately went to Lindsay, who was busy rediscovering the roots (of her hair).
Speaking of hair, fake eyebrows make one feel dressier, according to G.O.B., a magician who takes magic very seriously and loves to perform little tricks when he's not stripping alongside hot cops or accusing Gilligan of killing the skipper. He seeks to get on the cover of Poof Magazine, marries Amy/Blamey on a dare, expresses himself via Franklin (it ain't easy being brown), and delays meeting his son, Steve Holt, who eventually joins him for a son-son camping trip to the Bluth cabin.
"Who'd get in that dusty old claptrap?"
G.O.B. taught us that lawyer is Latin for liar. My name is Judge. My name is... Judge.
He also convinced Michael to use a pseudonym when picking up his first one night stand, which nearly inspired a Jareth Cutestory-Maggie Lizer baby. When Michael wasn't hurling Bibles across courtrooms while pretending to be a maritime lawyer, he tirelessly worked to rid the Bluth Company of his father's corruption. And Kitty.
Whistles were handed out. Parties were scaled back. Afternoon Delight was had, but Michael's good nature prevented him from sleeping with more than five women, much to G.O.B.'s delight, which usually tastes like sad.
Who else from this motley crew was "Solid as A Rock?"
I don't understand the question, and I won't respond to it.
Lucille Bluth, hater of curly fries, lover of early morning cocktails, needed her children despite withholding her affection for them. She loved to subjugate Lupe, who crawled into bed with Buster after he lost his hand to a one-flippered seal and became a monster.
Although Bluth family functions are no place for children, George Michael and Maeby regularly made (out) their way to Lucille's apartment, where they threw candy at Tobias, played games of Go Fish/Uno, and avoided looking at "Uncle" Jack.
"You Said my father was my father, but my uncle is my father."
Tobias probably removed his denim cut-offs to father Maeby, who freaks out her parents by kissing her cousin, George Michael. He falls madly in love with her, and the two subsequently marry, but not on purpose, despite George Michael's on/off relationship with Egg.
When Yam, a weird-looking little dude, isn't protesting debaucherous TV shows (it's a satire!), she goes to church and plans music burning parties. George Michael adores her nose and her mayonegg-cellence and wants to buy her a diamond, but Michael doesn't want him getting her all glittered up for Easter. Besides, her father is a preacher, and the Bluths are devout Jews (faith is a fact).
Other relevant facts? Buster studied cartography, wants to open a checking account and make love to a woman.
Also: the love of the family is more than enough.
Related
Popular in the Community