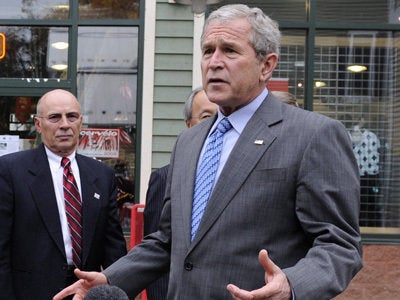 When Politics Became The New Hip Hop, Vol. 3
I wasn't even going to post today, but I was a little disturbed by some comments I read on a bulletin board on HipHopDx.com, the Huffington Post of Hip Hop (shout out to one of the great editors over at HHDx, Jake Paine!). The warring texts were responding to a story about yours truly, and the episode I produced for BET's hit crime documentary series, American Gangster. On Thursday night, October 23rd, 2008, Season Three premiered with the tragic ballad of Larry Davis. The Davis episode of American Gangster was a ratings bonanza for BET, with about 2 million viewers tuning in, making it the #1 Original Series premiere of all time for the BET Networks.
On November 19th, 1986, an army of 30 heavily armed, NYPD police officers, had a warrant for the arrest of Larry Davis. Davis was suspected in the murders of 4 drug dealers in the South Bronx. In the '80s, New York City was truly A Tale Of Two Cities: rich and poor, white and black (and Latino), the powerful and powerless. Heavy-handed police tactics resulted in the death of Michael Stewart, who was arrested after painting graffiti in a subway station. Stewart resisted the officers' attempts to subdue him and was later savagely beaten while in police custody. Michael Stewart died 13 days later in a coma. There was also the murder of Eleanor Bumpurs, an elderly and mentally unstable black woman in the Bronx. The police had come to Bumpurs' apartment two days before Halloween in 1984, to evict her from her apartment, because she was four months behind on her $97 rent. When Bumpurs allegedly tried to throw boiling lye on one of the officers, she was shot and killed with a 12-gauge shotgun.
According to Davis, he didn't want to be another victim. As the cops stormed his sister Regina's house on Fulton Avenue, shots rang out. When the smoke cleared, six cops were seriously wounded, and Larry Davis was in the wind, escaping from the rear window from an apartment next door. For the next 30 days, there was an explosion in the media of a new black monster from the ghetto and an intensive manhunt that stretched across the country. When Davis was apprehended on December 6th, 1986, at the Twin Park Houses in the Bronx, he was cheered by the neighborhood like a Hip Hop John McClain who wasn't about to die hard, as a phalanx of more than 100 police officers, a cadre of NYPD armored cars, and a squadron of mini-cams aiming at the smiling Davis, trapping him in the cross-hairs of their lenses. He told anyone who would listen that he was working for the cops selling drugs. At that moment, the inner city action film had transitioned into a gripping, Sidney Lumet-ish, political thriller (I mean, literally: check out "Night Falls On Manhattan").
Let me cut to the chase. I was an investigative reporter at the Village Voice during that time, and I didn't believe Larry Davis. However, after interviewing Davis, some of his friends, family members (and even a few police officers who gave me the impression that "What happens in the Bronx, doesn't happen anywhere else"), his story began to ring true. In 1988, it rang loud and clear for two Bronx juries that acquitted Davis of both the murders of the 4 drug dealers, and firing on the six police officers in two explosive trials. Davis himself was represented by the late, great civil rights lawyer William Kunstler, and the controversial but brilliant Lynne Stewart. Davis' acquittal was a stunning referendum for New York's black and Latino neighborhoods, on the frightening police brutality and corruption in their communities. But it was a crushing blow for the NYPD, the Bronx Supreme Court, and former Mayor Ed Koch (who also makes a profound appearance in this episode).
In 1991, Davis was eventually convicted for the murder of a Manhattan-based drug dealer, and was sentenced to 46 years. In February of this year--after serving two decades behind bars and suffering from violent beatings from correctional officers and inmates--Larry Davis contacted my good friend and the creator/Executive Producer of "American Gangster", Nelson George (an award winning filmmaker, cultural critic, television producer and prolific author), supervising producer Mark Rowland, and the former president of BET Entertainment, film director Reginald Hudlin, telling them he wanted me to tell his version of the Larry Davis saga.
In my 1988 cover story for the Voice--titled "The Larry Davis Show"--I tried to GPS the locus of a Bronx Native Son who got lost on the road to the riches. Like Richard Wright's "Bigger Thomas", Davis was haunted with intelligence and intelligently misdirected. Had Davis made another choice with all of his precious genius, could he have been the guy we cheered on at Denver's Invesco Stadium, on an August night swelling with the technicolor dreams of change? We'll never know: a week before I was to interview Larry Davis, he was murdered in prison. Some say the killer was an inmate Davis had an ongoing beef with. Some say what happens in the Bronx--especially if you shoot and wound six police officers trying to do their job--will hunt you down to your grave.
I don't know what happened. There are many theories. However, the kids beefing on the HipHopDx message boards about who had the baddest mofos in their particular area codes--Nicky Barnes and Frank Lucas and Larry Davis repping the East Coast, or the Black Mafia Family repping the Atl, or Ricky Ross and the late Tookie Williams repping the West Coast--don't get it. These guys weren't American Gangsters. They were American Lackeys: they lacked real power, and they lacked real insight into the mechanics of The American Dream Machine. Some--like Davis and Williams--died in prison. Some snitched when they got pinched. They ruined lives. They ruined themselves. A few were redeemed, and when they finished their bid, they came back to the 'hood to try and make amends. Those who didn't are left penniless and hungry. Overwhelmed by a ravenous appetite for destruction which afflicted their poisoned souls. That's not Hip Hop. That's the basso profundo section in a Wagnerian mephisto waltz of bad intentions.
Watching a wacky send-up of American Gangster on You Tube, provided me with food for thought: the last days of an American Gangster are not spent in jail, or in the eternity of a graveyard.
The last days of a Real American Gangster are being lived out on 1600 Pennsylvania Avenue. Real American Gangsters can flip the bird at the United Nations, dupe Secretaries of State, alienate powerful allies, invade countries, start wars, snatch oil fields, mourn the deaths of thousands of valiant men and women who risked their lives for a cause that had a dubious beginning and quite possibly, a grievous conclusion. They put their own presidential nominee--a proven war hero--in electoral peril. A nominee who is being swift-boated by a horrible economy, a hasty Veep choice, and the plummeting poll numbers of the Gangsta Opportunist Party. This Real American Gangster seems to have abandoned the teachings of his faith, and ignored the Providential instruction in the Bible, where Daniel 5 warns the king about the inevitable writing on the wall. This Real American Gangster doesn't seem to understand that he has been weighed in the balance, and has been found wanting. I hope This Real American Gangster is beginning to realize that the floorboards of our country have collapsed under the weight of his failed administration. Maybe he doesn't. Maybe he just looks in the mirror and says, "Huh"?
Even if that mirror is Will Farrell on SNL.

Popular in the Community