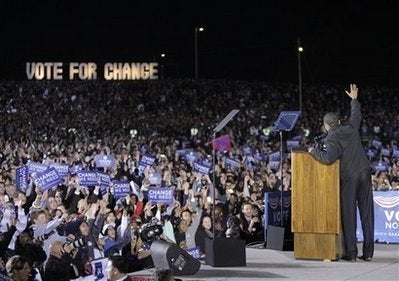 Barack Obama saved his biggest Virginia rally for last -- a jam-packed event in Manassas with 90,000 people reportedly in attendance. For his conclusion, he "reached back to the roots of his campaign to tell an inspirational story that had long ago fallen from his routine."
The story is about a long drive, a rainy day and how one person can make a difference. It was inspired by a woman he met during a visit to a small South Carolina town in 2007 and became a favorite during his Iowa caucus campaign.

It ends with Obama leading a cheer of "Fired up, Ready to Go!"
Obama ended the event on Tuesday by telling the crowd: "In 21 hours, if you are willing to endure rainfall, to take the person who was not going to vote to the polls, if you will stand with me in a fight with me, I know that your voice will matter. I have one question for you, Virginia. Are you fired up? Are you ready to go? Fired up? Ready to go? Fired up! Ready to go! Virginia, let's go change the world!"
Popular in the Community