During March's Behind The Curtain Festival, as I watched semi-staged readings of Meghan O'Connor's In The Wings and Stuart Bousel's Pastorella, my mind wandered to the topic of musicals that deal with backstage life. Cole Porter's 1948 triumph, Kiss Me, Kate (which was made into a brilliant MGM musical in 1953) instantly came to mind. But how many people know about Rodgers and Hammerstein's backstage musical?
Technically, Me and Juliet (1953) cannot be called a flop (it ran for 358 performances at the Majestic Theatre and returned a small profit to the show's investors). Although it was a pet project for its composer, Richard Rodgers, the musical's lyricist, Oscar Hammerstein II, hated the show.
Me and Juliet received no Tony nominations, had no national tour, and launched only one song into the popular culture. In the following clip, Perry Como sings "No Other Love" (which some may recognize as the tune Rodgers composed for Victory At Sea's "Beneath the Southern Cross."
Athough precious little video exists from Me and Juliet, this clip shows Rosemary Clooney singing "Keep It Gay," a number from Act I that could easily have become a camp classic.
Bottom line? You can write a play. You can read a play. But no play truly comes to life until it is performed before a live audience. Me and Juliet holds the curious distinction of introducing a song that describes the fickleness of a theatrical audience. Because I could not get any embed code, you'll have to watch Rosemary Clooney and Tony Martin perform "The Big Black Giant" by clicking here. Hammerstein's lyric reads as follows:
"The water in the river will change every day
As it flows from the hills to the sea
But to people on the shore the river is the same
Or at least it appears to be.
The audience in a theater will change every night
As a show goes along its way
But to people on the stage the audience looks the same
Every night, every matinee.

That big black giant who looks and listens
With thousands of eyes and ears
That big black mass of love and pity
And troubles and hopes and fears.

One night it's a laughing giant,
Another night a weeping giant.
One night it's a coughing giant,
Another night a sleeping giant.
Every night you fight the giant and maybe, if you win
You send him out a nicer giant than he was when he came in.

But if he doesn't like you there's nothing to do.
But to pack up your makeup and go.
For an actor in a flop there isn't any choice
But to look for another show.

That big black giant who looks and listens
With thousands of eyes and ears
That big black mass of love and pity
And troubles and hopes and fears
Will sit out there and rule your life for all your living years."
Earlier this year, I attended the opening nights of two Bay area productions that could not have been more dissimilar.
One play had been written by one of the greatest contemporary playwrights; the other by a young woman in India.
One play had a timelessness which spanned centuries; the other relied heavily on modern telecommunication technology.
One play was obviously a period piece; the other mirrored contemporary culture.
One play was beautifully directed (with an intelligence, sensitivity, and grace that matched the playwright's skill); the other most definitely was not.
In each case, the audience's final response was telling. One play received a long, loud and loving embrace from an audience that had genuinely been moved by the theatrical experience they had just shared. The other received polite applause at best.
Anupama Chandrasekhar's 90-minute one-act play, Disconnect, takes place in a call center in Chennai, India, whose employees are debt collectors trying to get Americans to pay off the balances on their credit cards. Set during the period shortly after Barack Obama was elected President, Disconnect begins as one of the older people on staff, Avinash (Rajesh Bose), is warned by a younger employee, Jyothi (Devon Ahmed), that he hasn't been meeting the monthly numbers expected from members of the company's "New York" team and that his job is on the line.
As a result, Avinash is being demoted to the "Illinois" team (located several floors up) where he must supervise three young debt collectors.
Giri (Ray Singh), a young man who is fairly naive about sex and relationships. Although eager to please and reasonably effective on the phone, Giri has started to fall for the lure of easy credit and begun shopping online for luxury items like a handsome new jacket he can't afford.
Vidya (Sharone Sayegh), a young, single Indian woman whose parents probably do not approve of her remaining unmarried and working outside the home.
Ross (Imran Sheikh), an eager young man whose play-acting skills have transformed him into a "super-collector." Because he has the emotional maturity of a 10-year-old, the last thing Ross wants to do is follow a preordained script at work. Not only does he make the critical mistake of developing a crush on one of his marks (a woman whose husband might be a wife-beater), he's fallen in love with the sound of her voice and started to call her 200 times a week just to listen to the recording on her answering machine.
As directed by Rick Lombardo, the San Jose Repertory Theatre's production marks the third play I've attended in 2013 in which smartphones and telephone headsets have played a critical role.
Anthony Clarvoe's new play, Our Practical Heaven, kept screening text messages sent from one character to another.
Leslye Headland's play, Assistance, featured three people simultaneously talking into their headsets while banging the "mute" buttons on their desk phones.
Disconnect follows suit as three workers at an Indian call center conduct one-sided conversations on their headsets with "marks" located thousands of miles away. Whenever they must interrupt their conversations with the marks to talk to each other, the debt collectors similarly hit the "mute" button on their phones and shift their posture.
With so many one-sided conversations, the biggest problem with Disconnect is that the play's structure makes it impossible to care for any of its characters. Seeing Giri, Vidya, Jyothi, and Ross dress up for an office costume party may seem like a nice gimmick to the playwright. But, by that point in the script, any interest in the happiness of these four pathetic souls has completely evaporated.
While aspiring playwrights are often urged to write what they know, they could learn an important lesson from Leonard Gershe who, in his 1969 hit play, Butterflies Are Free, had one character state that "Diarrhea is also a part of real life, but I wouldn't pay for it as entertainment."
So here's a tip for contemporary playwrights. There's no doubt that the use of cell phones, headsets, and social media has become an integral part of your daily life. In film or television (where either the character or the camera can keep moving as someone keeps talking on a phone), it makes perfect sense for cell phones and headsets to be featured as props on a regular basis. One can even include screen shots of text messages that can easily be read by a film audience.
In live performance, however, such devices are extremely counterproductive. A gimmick which can be milked to great comic effect in a three-minute scene onstage (i.e., Auntie Mame's futile attempt to manage a PBX switchboard) becomes a huge, fucking bore when used like a dramatic crutch for 90 minutes. Not only does it demonstrate a playwright's inherent laziness masquerading as a feeble attempt at craft, it alienates the audience to the point where all anyone can think about is how soon the play will end so they can leave the theatre and go home.
That's pretty much how I felt throughout most of Disconnect. As you'll see in the following trailer, the actors had a much higher opinion of the play than mine.
Last year, when Patrick Dooley directed Voyage (the first part of Tom Stoppard's The Coast of Utopia trilogy), I found it difficult to follow the convoluted unraveling of a play in which numerous characters jump back and forth in time over a period of nearly 50 years. Last month, Shotgun Players performed Voyage on several Saturday matinees prior to evening performance of Shipwreck. Next season, Dooley anticipates staging the the final installment of The Coast of Utopia, Salvage, as well as the entire trilogy at the tiny Ashby Stage (a converted church in Berkeley which is run entirely on green energy and barely seats 150 people).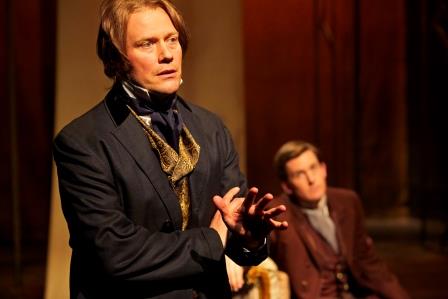 Ivan Turgenev (Richard Reinholdt) and Alexandre Terzen
(Patrick Kelly Jones)in The Coast of Utopia: Shipwreck
(Photo by: Pak Han)
Because Shipwreck follows a chronological unraveling of events running from the summer of 1846 until August 1852 (with a final, heart-rending flashback), it's much easier to understand. And, because much less time is spent debating radical philosophies (and greater attention is focused on personal relationships, marital stress, a child's disability, and the crushing pain of unrequited love), the story becomes far more accessible to audiences.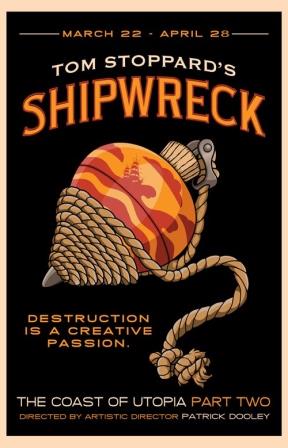 Poster art for The Coast of Utopia: Shipwreck
Considering that both plays use the same set designer (Nina Ball), costume designer (Alexae Visel), share many of the same actors, and were staged by Dooley (who is the artistic director of Shotgun Players), what made Shipwreck so much more enjoyable? At its core, Stoppard's play has a deeper sense of poetry and humanity (the kind which can elevate a soliloquy into a rarefied moment of theatrical artistry and yet melt an audience's heart with the look on an inquisitive but wordless child's face).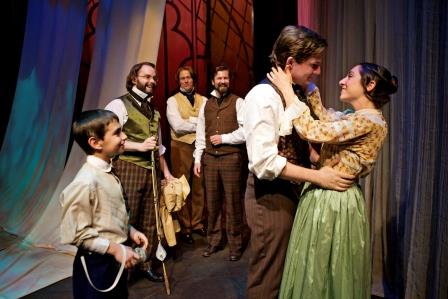 Alexandre (Patrick Kelly Jones) and Natalie Herzen
(Caitlyn Louchard) in The Coast of Utopia: Shipwreck
(Photo by: Pak Han)
At the center of the play are Alexandre (Patrick Kelly Jones) and Natalie Herzen (Caitlyn Louchard), illegitimate children of a Russian nobleman. Upon his father's death, Alexandre inherited an unimaginable fortune. After marrying his first cousin, they had two sons. The older boy, Sasha (Jonah Rotenberg) is a normal child; the younger one, Kolya (Sebastian Mora) is deaf but shows remarkable signs of comprehension.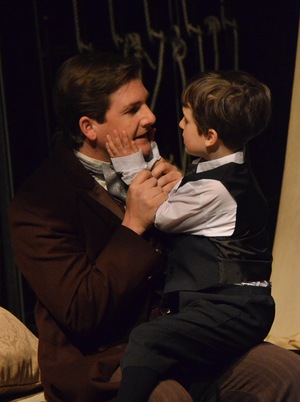 Alexandre Terzen (Patrick Kelly Jones) with his son,
Kolya (Sebastian Mora) in The Coast of Utopia: Shipwreck
(Photo by: Pak Han)
After Herzen receives permission to travel to Europe in search of medical care for Kolya, he arrives in Paris with his family in late 1847 just as the citizens of France (considered Europe's center of change) vote to revert back to a monarchy. Among his idealistic friends who have left Russia and moved to Paris are Ivan Turgenev (Richard Reinholdt), Karl Marx (Dan Saski), Vissarion Belinsky (Nick Medina), Natasha Tuchkov (Megan Trout), and Ogarev's first wife, Maria (Christy Crowley), who is now living with the painter Leonty Ibayev (John Mercer).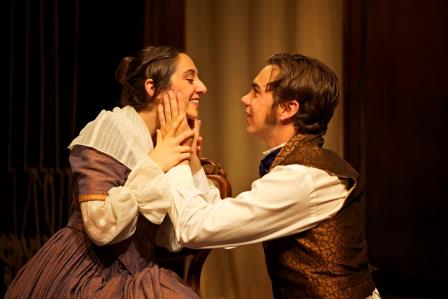 Natalie Herzen (Caitlyn Louchard) with her lover, poet
George Herweghe (Daniel Petzold) in Shipwreck
(Photo by: Pak Han)
As time moves on, the dedicated revolutionary, Michael Bakunin (Joseph Salazar), befriends composer Richard Wagner and Herzen's wife, Natalie, falls under the spell of the German poet, George Herwegh (Daniel Petzold), who can't seem to stay interested in his own wife, Emma (Danielle O'Hare). Meanwhile, Kolya's grandmother, Madam Haag (Monica Cappuccini), is helping the boy to learn how to read lips. When orders come for Herzen to return to Russia, he refuses to go.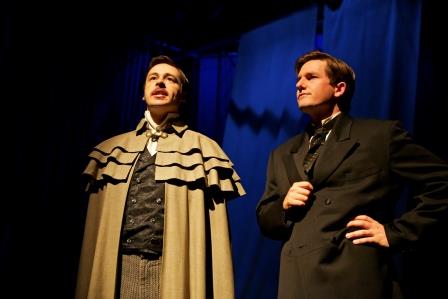 Michael Bakunin (Joseph Salazar) and Alexandre Terzen (Patrick Kelly Jones)
in The Coast of Utopia: Shipwreck (Photo by: Pak Han)
I tip my hat to Patrick Dooley for the constant ambitiousness of his artistic vision, the skill with which he has directed a large cast without ever losing sight of how to craft moments of great intimacy onstage, and the results he has pulled from a magnificently talented ensemble that features actors from multiple generations. Even more than last year's production of Voyage, Shipwreck is a stunning dramatic achievement for this small company whose artistic standards remain "as high as an elephant's eye."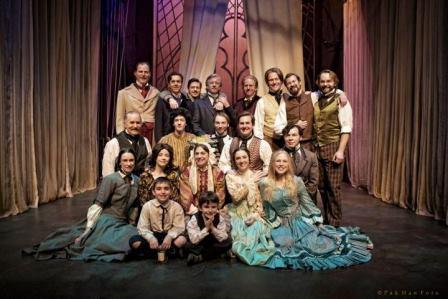 The Shotgun Players' cast of The Coast of Utopia: Shipwreck
(Photo by: Pak Han)