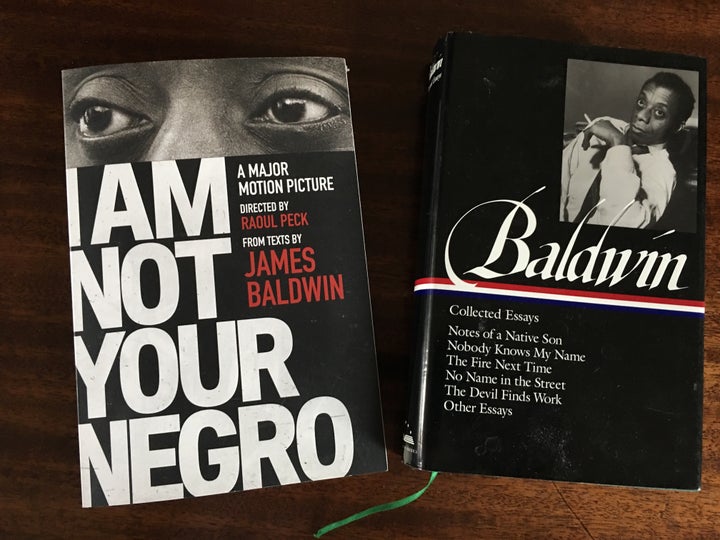 It was in my junior year at Stanford University in 1983 that I first discovered the writing of James Baldwin. I had been late in declaring my major, but it wasn't my coursework in American Studies that led me to his work. Rather, I remember eyeing a collection of essays in the school bookstore, and the title caught my eye: The Fire Next Time. Leafing through the book I was immediately struck by the seriousness, intensity, and stark beauty of Baldwin's sentences. I was quickly hooked. Within days of finishing this and other collections of his essays, I had lined the door and walls of my dorm room with extended quotes from them. When I mentioned on FaceBook recently that I had done this, someone pointed out that I was "posting to my wall" well before the term meant something to social media enthusiasts everywhere. "Yes," I replied, "I used my electric typewriter, lots of typing paper, and plenty of Scotch tape." I can remember some of the sentences verbatim more than 30 years later, like the closing one of this paragraph, which seared itself into my consciousness:
"I do not think ... that it is too much to suggest that the American vision of the world — which allows so little reality, generally speaking, for any of the darker forces in human life, which tends until today to paint moral issues in glaring black and white— owes a great deal to the battle waged by Americans to maintain between themselves and black men a human separation which could not be bridged. It is only now beginning to be borne in on us — very faintly, it must be admitted, very slowly, and very much against our will — that this vision of the world is dangerously inaccurate, and perfectly useless. For it protects our moral high-mindedness at the terrible expense of weakening our grasp of reality. People who shut their eyes to reality simply invite their own destruction, and anyone who insists on remaining in a state of innocence long after that innocence is dead turns himself into a monster."
To this day, when I hear the word "monster," it's not a horrifying but imaginary creature that I picture in my mind, but rather that scariest of real-life beasts: the willfully ignorant human being who does serious damage to the people and the world around him. I can only imagine how horrified Baldwin would have been by Trump and his "innocent" tag-line, "Make America Great Again." Going back was never a direction Baldwin sanctioned going. For him the truth was always ahead, the place we could get to only by fully confronting the evidence in front of us. For Baldwin, the principal reality of his existence was that he was a black man living in a brutally racist country, and there was no other way around the country's most defining problem than for white America to see the truth and own up to it fully and without conditions or equivocation.
Baldwin's life and works are having a major moment in American cultural consciousness right now because of the powerful new film by Raoul Peck. In the shattering documentary I Am Not Your Negro, the Haitian-born director uses Baldwin's own words — read with eloquent gravitas by Samuel L. Jackson — and interview footage of the author to put Baldwin not only into his own historical context, but, through use of contemporary images, into a searing commentary on the racism all too prevalent in America today. Reading the essays is an utterly gripping experience, but hearing Baldwin's words spoken, some coming from his own mouth during interviews I had never seen before, confirmed what I knew from the moment I discovered his work: Baldwin was a prophet of the highest order. On nearly every page of his writing, he held up a mirror to an unjust, violent, and far from compassionate American society in which too many millions of citizens refused to recognize themselves. There are moments watching Peck's film—especially when we are gazing into the author's profoundly expressive face—where Baldwin's visceral description of the physical and psychological pain racism caused black Americans is nothing short of terrifying.
Born in Harlem in 1924 to an extremely poor family, Baldwin suffered through poverty, the harsh treatment from his preacher step-father, homophobia, and most inescapably, the racism that he saw virtually everywhere he looked in American society. Fearing that he would be poisoned by the fear and hatred in and around him, the 24-year-old Baldwin escaped to Paris. As a writer in exile, Baldwin fully found his voice and, perhaps even more importantly, a modicum of inner peace. Over time his work brought him into contact with the leading civil rights activists of the era, which included three friends who were assassinated: Medgar Evers, Malcolm X, and Martin Luther King, Jr. It is actually Baldwin's unfinished work about these three men that is the starting point for Peck's film.
Baldwin's influence on my own life cannot be overstated. It was Baldwin who made me fully understand the racism that I had witnessed as a young child — sadly, the "N" word was one that I heard all too frequently, even under my own family's roof. It was Baldwin who made me realize that words were infinitely powerful (in fact, no other author made me want to be a writer more than he did). It was Baldwin, I think, who, more than anyone else, made me want to confront my own hypocrisies and self-deceptions, who made me want to fully face the truth about myself, and the society I lived in, regardless of the profound discomfort that it might cause. It was Baldwin who showed me that turning away from truth was a kind of spiritual suicide (hence his idea that the well-being of white Americans was tied inextricably to the well-being of black Americans).
Missing his family and friends, Baldwin did return to the United States, the country that he could never, in the deepest sense of the word, call home (though he died in his adopted home of southern France in 1987, he was buried in Ferncliff Cemetery in New York's Westchester County). It surprises some people when they learn that this often referenced quote is actually one of Baldwin's: "I love America more than any other country in this world, and, exactly for this reason, I insist on the right to criticize her perpetually." Being able to love America—given what he and countless black Americans had endured—may actually be Baldwin's most astonishing achievement.
With Peck's documentary in the headlines, and Baldwin's essays and novels widely available—including three handsome volumes from Library of America, of which two are edited by none other than Toni Morrison—there is no excuse for anyone calling himself/herself an American not to discover, or re-discover, James Baldwin. Baldwin's writings are not only essential to understanding the American experience, but are also a path to finding a common humanity that finally and fully embraces justice and dignity for all.
Popular in the Community