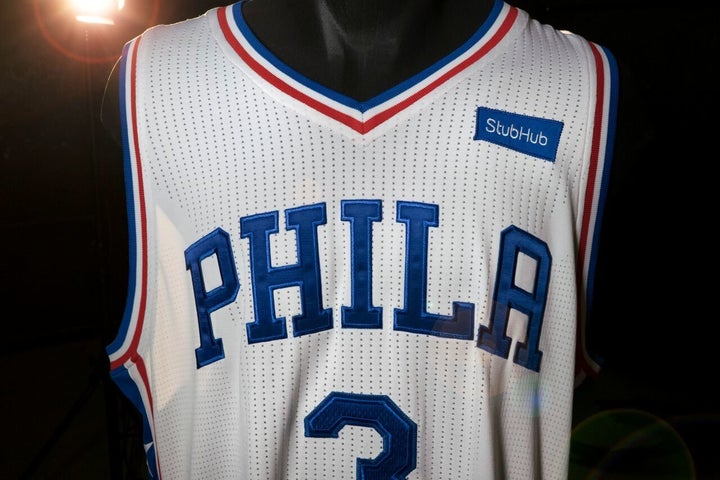 One team down, 29 more to go. On Monday, the Philadelphia 76ers leapt out and announced the first jersey advertisement partnership in NBA history, inking a deal with ticket company StubHub that will start in the 2017-2018 season.
And as seen in the photo above, the actual look of the jerseys has barely changed. "StubHub" isn't stitched across the front in big bold letters. Rather, it's discreetly slipped on the left shoulder. The sponsor's color scheme lines up with the 76ers'. The logo's hardly an eyesore, and 76ers CEO Scott O'Neil is hoping most people will realize that.
"I don't anticipate too much blowback, except for Twitter, which is the platform to get angry on. We're much more focused on the right partnership," O'Neil said over the phone to The Huffington Post on Monday morning, noting that StubHub will also launch a new ticketing platform for 76ers fans that will effectively blend the primary and secondary markets.
Still, fans bothered enough to have an opinion on the matter voiced their displeasure on Twitter: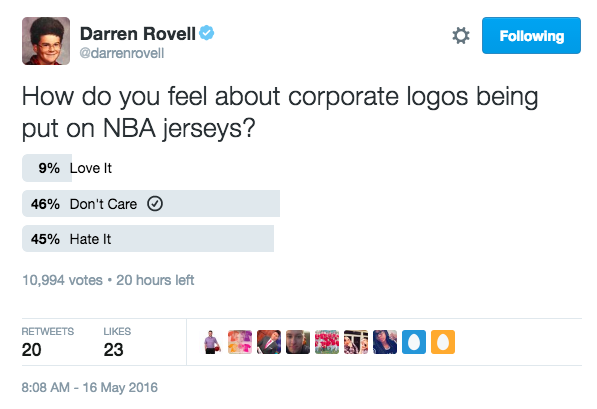 For the 76ers part, they're not too concerned with the bubble of online protest against sponsor logos on NBA jerseys. O'Neil pointed to advertising on European sports uniforms, arguing that sponsored jerseys are just another part of running a modern global sports franchise.
"What I've seen in Europe at basketball, hockey and soccer games, it's natural. It's not like NASCAR where logos adorn drivers suits. I also think millennials are different and will embrace it," O'Neil said.
When asked about the 76ers decision to push their sponsored jerseys to retail -- an optional part of the NBA's pilot program -- O'Neil was bullish about the move, which may indicate that other owners around the league will choose the same path to retail. A sponsorship-free retail jersey option could've pleased the Jersey Purists among fans, but O'Neil believes neither consumers nor retailers will want that.
"If you're a kid, would you want to wear the same thing the players wear on the court? We think the opportunity's fantastic for teams. If I were a retailer, that's the version I want," he said.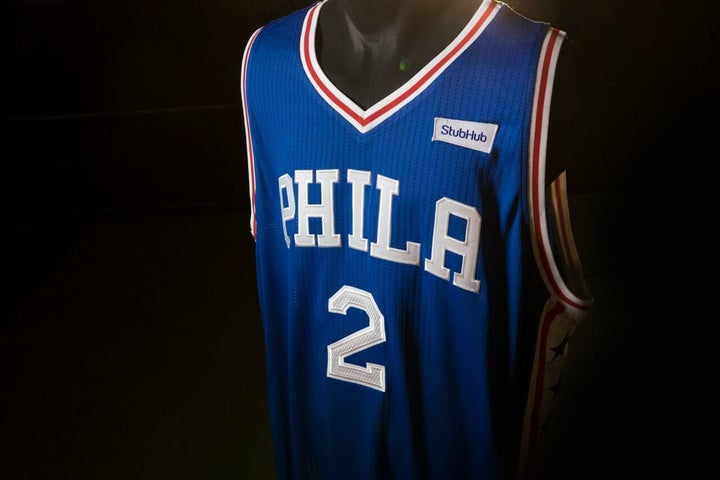 O'Neil's effectively made that choice for consumers already based on his own intuition and logic. In a more democratic fan-owner relationship, it'd be interesting to see an NBA team sell sponsored and non-sponsored jerseys at the same time to see which is more popular, but sponsorship contracts and wholesale retail buyers would likely prevent that.
Regardless of merchandising options and sponsorship choices, the jersey I want is the jersey that's for sale. And if it has a sponsorship logo, who cares? It still represents your tribalistic love for [insert your favorite team here] -- not the brand your team chose to advertise with.
Related
Before You Go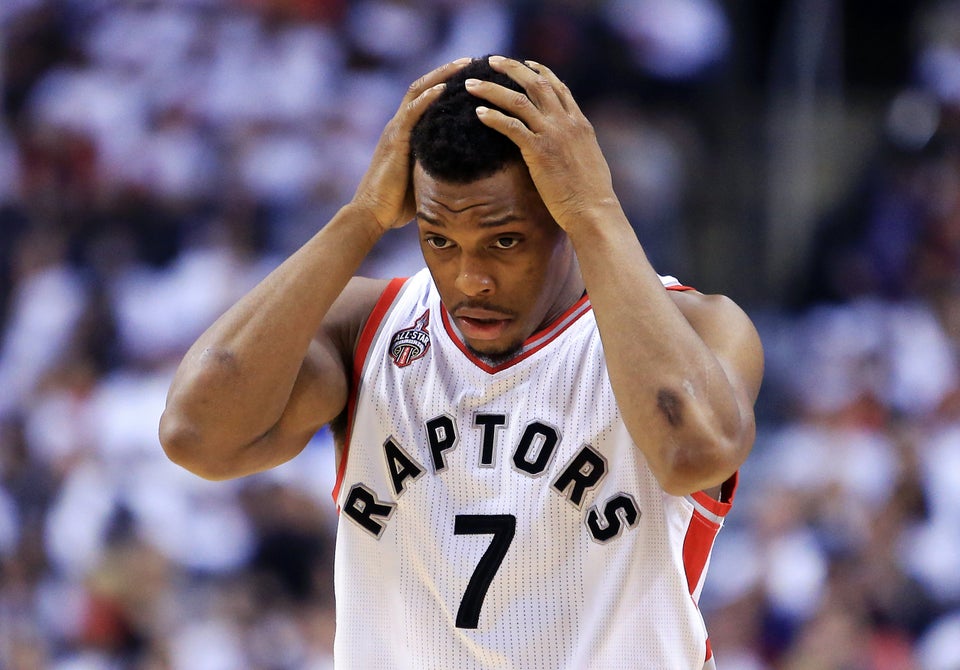 The Most Emotional 2016 NBA Playoffs Moments
Popular in the Community