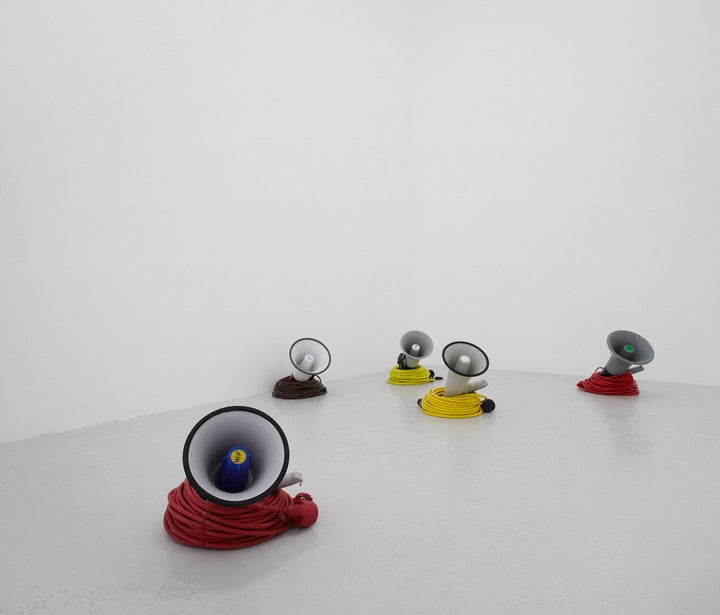 The Dallas Biennale is a curious event, in that it is not technically a biennial, since it will only take place once. (Look out for its doppleganger, DB12, Volume 1.) For this reason, we decided to ask the curator, Florence Ostende, some questions about her experience with the Texas and international art scene; the results are below. Scroll down for images of some of the 19 participating artists' work.
HP: How will this Biennale temporarily change or disrupt the existing cultural scene in Dallas?
FO: Curating the Dallas Biennale is like making up a football team, it allows you to throw the ball hoping the art community will bounce it back! The biennale is joining forces with established art institutions like the Nasher Sculpture Center and the Goss Michael Foundation but it is also partnering with young curatorial initiatives like the Oliver Francis gallery. Our aim is to offer an interesting and challenging game to the audience in Dallas and internationally. There is a fantastic art community in Dallas and the audience is driven by an amazing enthusiasm which you don't often find in cities like New York, London or Paris. This enthusiasm makes Dallas an ideal context to curate exhibitions and test new ideas. There is also an extraordinary and unique exhibition history in Dallas which took place outside art institutions and that I wanted to address -- from the 1936 Texas Centennial Exposition to 1948 Paul Gauguin painting show in the department store Neiman Marcus or more recently artists commissions exhibited in the massive football Cowboys Stadium. The biennale include projects like Sylvie Fleury's shopping windows at Neiman Marcus, Michael Corris' prints on biennale rules of display, Gabriel Martinez's nomadic biennale pavilion or Okay Mountain's video invasion in Le Meridien hotel facilities -- those projects all play implicitly with this historical context.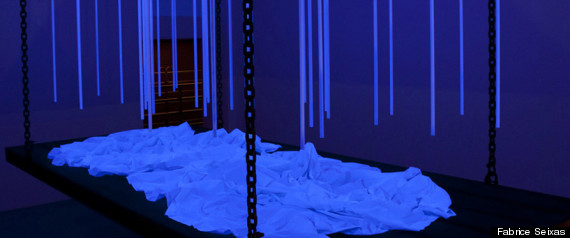 Claude Lévêque, "Wagon," 2011. Suspended truck bed, aluminum tubes, white sheets, black light projectors. Photo: Fabrice Seixas. © ADAGP Claude Lévêque. Courtesy the artist and kamel mennour, Paris.
HP: Why did you decide to critique the Biennale phenomenon? What conversations would you like to come out of it?
FO: The Dallas Biennale is offering an alternative more than a criticism to the phenomenon of commercially driven large-scale exhibitions. Giving opportunities for artists to produce new works that will be seen by a large audience is the best thing a biennale can do and we are certainly willing to create such opportunities with a long term impact.
When I got appointed curator of the biennale, I wanted to try something a bit risky that I had never had the chance to do before: curate without a theme! The more you curate shows the more you feel you get into certain habits and the over-arching theme is something I have been willing to escape for a while. It seemed a bit like a "naked" proposal at the beginning far from anything I had done so far. I wanted to adopt a curatorial method that would remain true to the process of production of an artist mind and not anticipate the discourse before the making of show itself - a kind of soft-curating if you will! I decided I would not curate any group show and that each participating artist would be given an individual space for their work as well as an opportunity to build his or her own project through several works. The truth is that I never felt so much freedom in the making of an exhibition - it was important to go back to the natural process of exhibition-making based on a very empirical method and celebrate the artist individual voice. In that sense, I feel really close to very interesting models of self-reflexive biennales such as the 1st Brussels Biennale or the 28th Sao Paulo Biennale in 2008 whose answer was very radical, for instance leaving the space totally empty.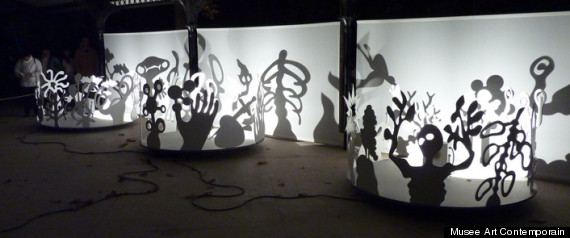 Hugues Reip, "WHITE SPIRIT (Black Soul)," 2009. Plastic cutouts, wood, motors, spotlights, screens. ©Hugues Reip, (collection Musée d'Art Contemporain du Val-de-Marne, Vitry-sur-Seine).

HP: Why is the focus international in scope? How was this decision made and how did you enlist artists?
FO: As a curator you always try to travel as much as you can to meet artists so the scope is naturally very international. This biennale was an amazing opportunity for me to discover and research the Texas art scene and invite Texas based artists like Nick Barbee, Michael Smith, Moreshin Allahyari…
The "unthemed" curatorial premise was liberating and allowed for the decision process to be very intuitive when it came to invite artists. I was able to travel and embrace projects that were emerging in the artists minds and their studios: the biennale ended up being the perfect "host" for artists like Nicole Miller who will be showing a new project based on a Brooklyn-based Caribbean style of dancing called "daggering", or Mario Garcia Torres country song he wrote for Robert Smithson which will be performed by a Texas country band. It was very important not to feel constrained by any theoretical discourse -- it allowed us to react very quickly to ideas and remain as open as an artist mind can be. Even if this biennale is not governed by any preexisting framework, it is producing knowledge which will eventually make sense once the exhibition opens. There is no theme but definitely a mood, something between the anti-spectacular and the celebration which will fit Dallas very well!
HP: In the press release, you mention the "the glory days of past biennales." What were your favorites?
FO: The 7th Gwangju Biennale curated by Okwui Enwezor in 2008 is one of my favorites, especially the section entitled "On the Road" (which was a series of reconstructed fragments of exhibitions the curator had seen the year before while he was researching ideas). I thought it was a very honest, generous and transparent way of curating a biennale -- giving full access to his working methodology and how he enlisted artists. Going through one room after another felt like traveling to places you would never have thought about having the chance to go. It was an amazing experience.
I have vibrant memories of walking from reconstructions of Gordon Matta-Clark retrospective at the Whitney Museum to Sungyoon Yang's exhibition at alternative space Pool in Seoul to Peter Friedl's photographs shown at Galerie Erna Hécey in Brussels. The Documenta 12 curated by Roger M. Buergel in 2007 and the 11th Istanbul biennale in 2009 curated by WHW collective offered the great opportunity to "rediscover" fantastic artists like Charlotte Posenenske and Tamás St. Auby.
HP: What type of art has lately been inspiring you or making you think in a new way?
FO: I am always looking at the way artists step over the traditional frame of a work of art to absorb the exhibition as part of their apparatus, like a machine looking outward -- to the people, the bodies, the institutional mood, even the temperature!
I am back from a research trip in Mexico and this is a conversation I had with many artists there. For instance: Adriana Lara who displays paintings as a fashion show rather than a traditional art exhibition, Pedro Reyes and his Museum of Hypothetical Lifetimes whose scenography represent your life from the cradle to the grave or Tania Perez Cordova who tries to insert pauses within the walkthrough of her exhibitions. Through new rules of display, viewing conditions and temporalities, those artists create different ways to exhibit the world outside. It is really inspiring! Also, right now, I am very much looking at the works of forgotten pioneers such as German artist Anna Oppermann (1940-1993) whose work I am currently showing in the exhibition "The Institute of Savage Archives" at the Villa Arson in Nice.
The Dallas Biennale will take place at Dallas Contemporary from April 13 – August 19, 2012.
Popular in the Community