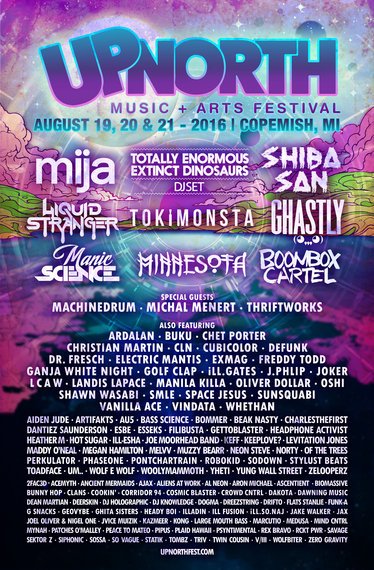 The first annual UpNorth Festival in the rural lands of Copemish, Michigan is already creating a buzz within the festival community. Their mission statement is to "charge and connect the creative community of the Midwest," a region that is quickly birthing new festivals every year. Taking place the weekend of August 19th-21st, UpNorth promises to provide a memorable musical experience as well as a serene, natural getaway.
Copemish, Michigan of Manastiee County is a lush landscape of deciduous forests, green pastures and gurgling streams. Though difficult to predict, its skies are sometimes painted by the stunning colors of the aurora borealis but always illuminated by our radiant Milky Way galaxy. The August moon was deliberately chosen because of its alluring energy and sacred mythology. The lunar orb will be truly full during Thursday night's pre-party with Ganja White Night of Brussels.
The August moon is also referred to by locals as the sturgeon moon because the sturgeon fish are most readily caught in the Great Lakes during this particular lunar cycle. The Copemish community fully supports UpNorth as their relationship extends from cooperated medical support for volunteers to people from the area working with organizers to prepare the property for the festival. They have also been working together with one of Michigan's prime northern resorts, Crystal Mountain, to house headlining artists.
One of the most unique attributes of UpNorth is that three of their stages are curated by artists or labels. Artists such as Mija and Liquid Stranger will be booking various stages creating a lineup of artists that is special to those who curated them. One of the most highly anticipated sets is The Moving Castle & Friends which will be taking place on Saturday at the North Stage. This lineup was curated by Manila Killa's label, Moving Castle's label manager, Brett Blackman, and UpNorth talent buyer, Alistair Stirling, who is a Scotland native and manager of Chet Porter.
UpNorth Music Festival is truly a community convergence of the Midwest. Six months ago, a meeting was held in Michigan's capital city of Lansing at which representatives from Broomhead Music Festival, Motor City Art Machine, Feel Good Now, Brew City Bass, Layercake Presents, and a few other organizations were in attendance. They are also teaming up with many other Midwestern organizations including FyouNK Clothing, Wild Stage Dynamics, Insideout Presents, Young Heavy Souls, and more. The concept was to create a new type of event that continues to set the standard for the community in production, operations, and safety as well as with top notch music and art.
This event is the brainchild of the Midwestern festival community acting as a united front. When great minds act cooperatively there is no limit to what they can accomplish. "It has been about six months now since the first meeting in Lansing where none of us had met or worked together before," explains festival director, Chris Ponder. "We are a tight knit team learning as we go, doing our best to give the community what it deserves and welcome everyone."
Industry workshops will be offered with the intent of connecting artists with promoters from all over the Midwestern markets, discussing general branding and the booking process, plus much more. Out of the 470 local artists that applied to play UpNorth, only 30 were selected but those that organizers were unable to book have been offered discounted tickets and an invitation to take part in one of the three industry workshops available.
UpNorth Festival has been very carefully planned and curated with the music, art and location all playing equal roles in the event's magic. The tight knit crew has put all of their love and energy into this project hoping to create a space for happiness to flourish. With a stellar lineup, full moon, good vibes, and the Milky Way watching over its patrons, there is no doubt that UpNorth Music Festival will be an enchanting experience.
Popular in the Community